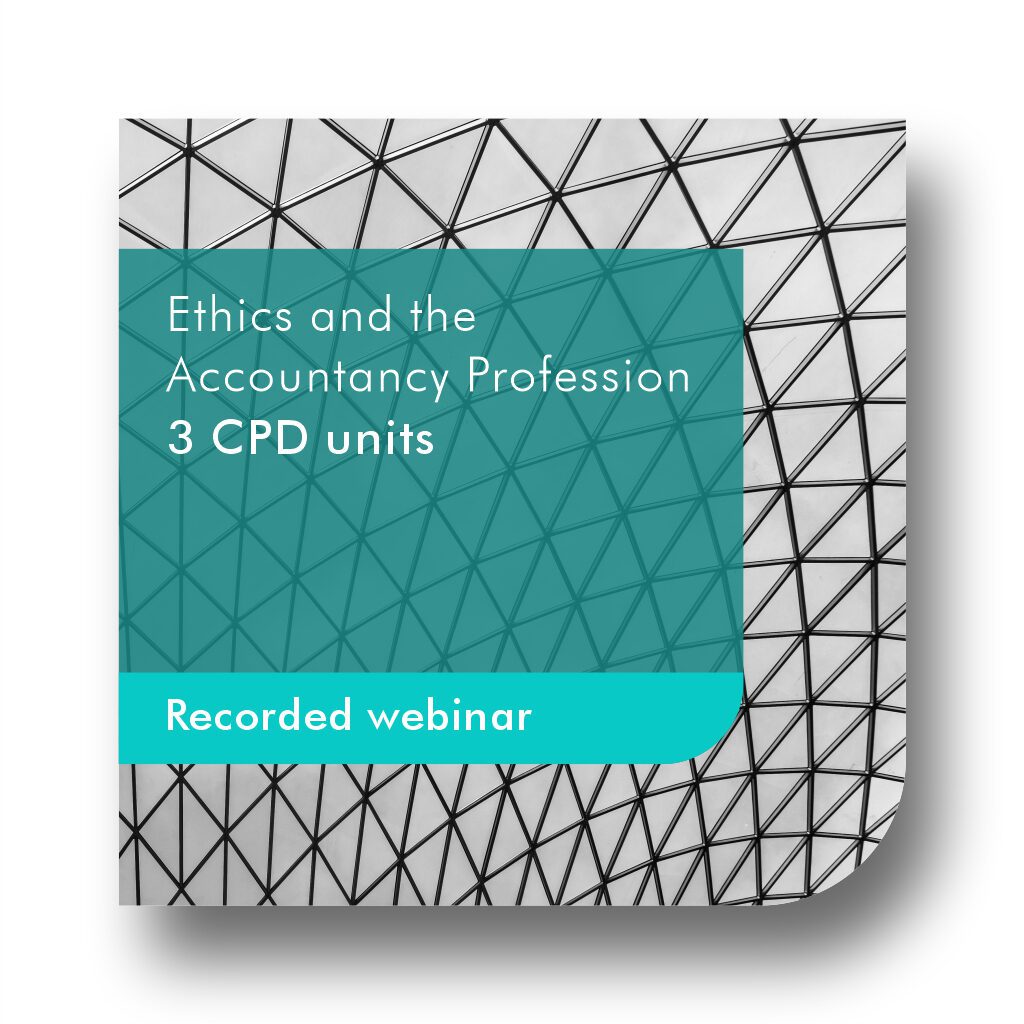 Ethics and the Accountancy Profession
To discuss ethics and how crucial they are to the accountancy profession. August 2022
What you will learn
By the end of this event the attendee should have the following competencies:  
Acting honestly with personal integrity, accountability and trustworthiness when interacting with others.

Have an analytical mind that understands the interrelationship between governance, ethics, work values and the law.

Understand how ethical leadership impacts business and corporate culture. 

Have a strong appreciation of the core concepts of the accountant's Code of Professional Conduct. 

Identify and work through ethical dilemmas through the use of a variety of models that apply ethics-based reasoning.  
Description
Being an accountant in today's environment is a challenge! Our clients are faced with many dilemmas and temptations to stray off the right path as they try to survive in these difficult times. 
We have a huge responsibility to our clients, the profession and ourselves to be held accountable to the highest ethical standards and to instil trust and respect for our advice and guidance. These ideas flow and develop from the personal space, to how we conduct our business and are mantled by our professional responsibilities in terms of the respective professional body's Code of Professional Conduct.  
This session is designed to give you space to reflect on your own personal journey, and consider what you are striving for during these difficult times, as well as what you won't tolerate. Who we are as a person is not separate from who we are as a professional – a concept to be explored during this session.
Price
The following pricing apply:
Ad hoc: R450 for this webinar
Subscription: N/A
Content
Ethics – an introduction.

Ethics and you as a person.

Ethics and you as the accountant.

Current challenges to our ethical compass.

The impact of ethical leadership.

Our Code of Professional Conduct.

Ethical dilemmas and how to solve them.
Requirements
There are no preconditions for this course.
Moderate level.
Recorded webinar made available on a specified date
Presenter
Caryn Maitland CA(SA) 
Caryn Maitland is a Chartered Accountant (SA). She has been a member of IRBA as a registered auditor and accountant since 2002.
Caryn has lectured Auditing and Accounting at various institutions and has conducted independent workshops and seminars for professional accountants since 2006 on various topics. She has presented on the national tour for the annual Legislation Update with ProBeta Training (Pty) Ltd in 2014 and 2015, as well as on the FASSET national tour for the Tax Administration Act in 2014.  
SAIBA Academy Support
Login to SAIBA Academy
Select My Dashboard
Select Submit a Ticket to log a new query