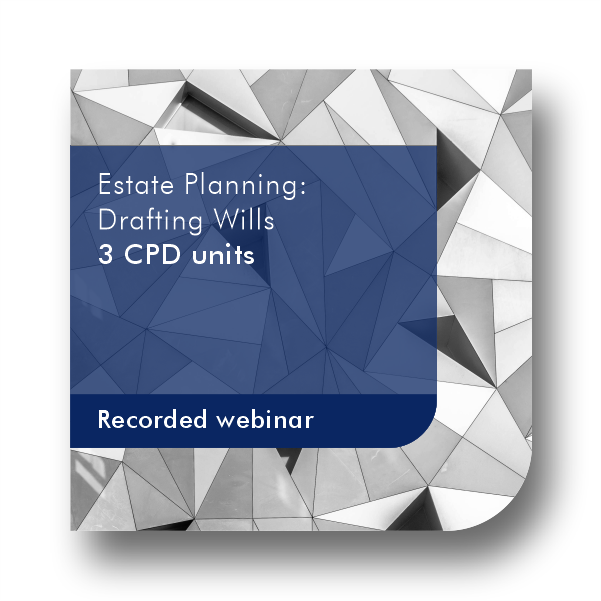 Estate Planning: Drafting wills 2023
To discuss how to draft wills as a value added service to clients and a revenue. June 2023
What you will learn
Attending this webinar will equip you with the following skills:
Gain background knowledge of the legislation that governs wills in South Africa and be able to apply that knowledge in own practice.

Possess an understanding of why it is vital for one to have a legal will.

Appreciate and be able to advise clients on the implications of not having a will. 

Understand and be able to relay information on the costs of death that have a financial impact on one's cash flow. 

Have the knowledge to train your staff to review and draft wills, and identify opportunities to secure appointment as an executor of clients' estates. 
Description
The advisory role of accounting firms can be expanded through the provision of a service that is usually associated with attorneys and banks – the drafting of wills.
The fact that the accountant already knows and understands a client's financial position provides for the accountant to fit perfectly into this role. In this webinar we invite Jako Liebenberg CA(SA) to share insights into how you can expand your practice through the establishment of the role of drafting wills for your clients as well as securing appointment as executor of their estates. 
Price
The following pricing apply:
Adhoc: R450.00
Subscription: Included for free in Accountant in Practice, Accountant in Practice plus Tax.
Content
The webinar will cover the following topics: 
Wills Act No. 7 of 1953.

Requirements of a legal will. 

How to draft a will.

Risks regarding wills.

Establishing a wills service offering to clients.

Becoming executor of clients' estates.
Requirements
There are no preconditions for this course.
Moderate level.
Recorded webinar made available on a specified date.
Presenter
Jako Liebenberg CA(SA)
Jako became a Chartered Accountant and Registered Public Auditor in 2001. His entire career has been in public practice except for a stint as CFO in the Free State Provincial Government from 2010 to 2012.
Jako consults for clients across South Africa on Accounting Standards and Compliance, Broad Based Black Economic Empowerment, Tax and Business Development. He serves as an assessor in the Free State High Court of Appeals as representative in Public Practice. Jako is also a registered SAICA assessor for Trainees. 
CIBA Academy Support
Login to CIBA Academy
Select My Dashboard
Select Submit a Ticket to log a new query