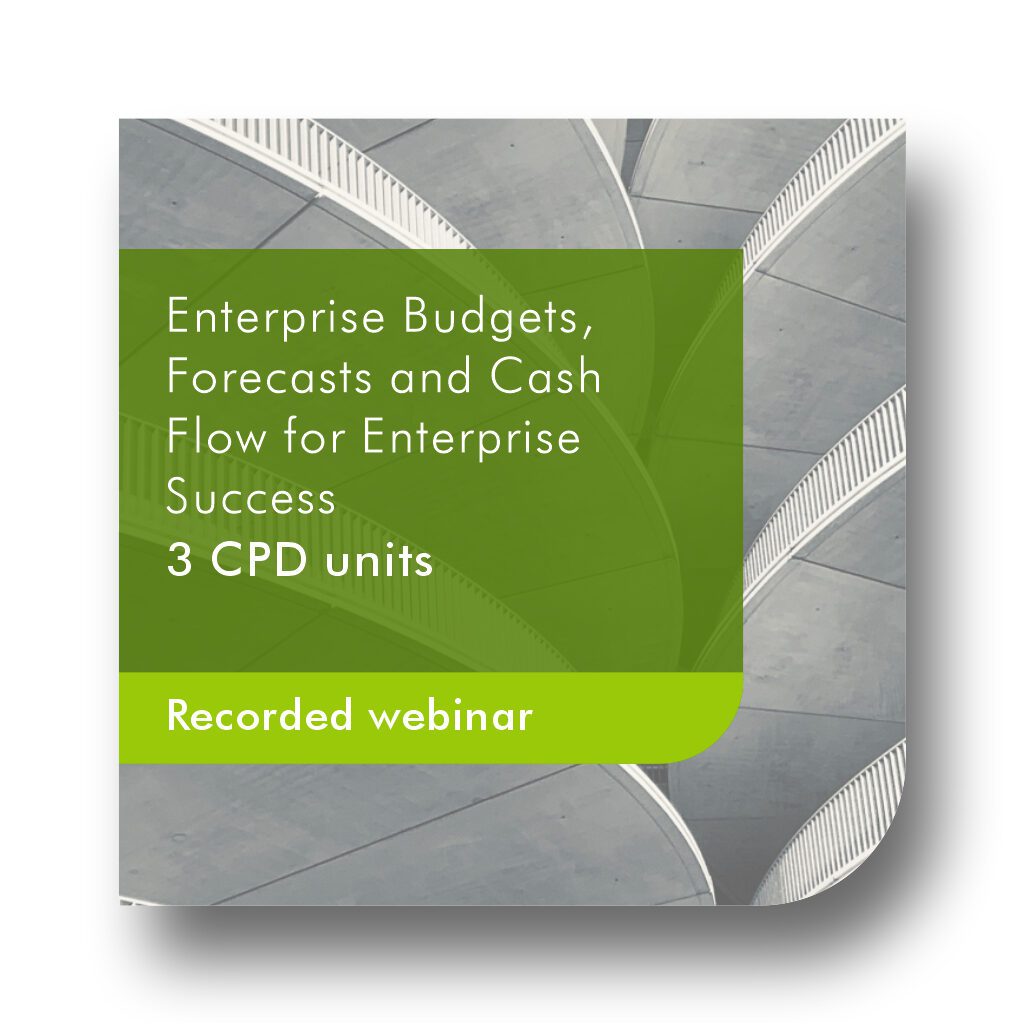 Enterprise Budgets, Forecasts and Cash Flow for Enterprise Success
To discuss budgets, forecasts and cashflow for enterprise success. July 2021
WHAT YOU WILL LEARN
By the end of this event the attendee should:  
Understand the importance of budgeting, forecasting and cash flow analysis;

Understand how to prepare a meaningful and effective budget; 

Understand how to perform a forecast that supports enterprise success;

Understand how to perform a cash flow analysis that supports enterprise success; and 

Understand the advisory role of the accountant.
DESCRIPTION
Besides the preparation and presentation of financial statements, the accountant plays an important advisory role in financial matters of the business. This role assists the directors or owners of the business entity to make sound decisions that ensure the continued existence and growth of the business.  
Competency in the advisory role requires the individual to be an expert in cash flow analysis, budgeting, and forecasting. Never has this skill been more important than now, a time when economies of the world are trying to recover from the ravaging effects of the COVID-19 virus.  
PRICE
The following pricing apply:
Ad hoc: R475 for this webinar
Subscription: Included for free in Accountant in Practice plus Tax, Accountant in Practice and Bookkeeper package.
CONTENT
Study Unit 1
Budgeting and budgetary control. 
Study Unit 2
Effective budgeting methods.  
Study Unit 3
How to forecast. 
Study Unit 4
What is cash flow? 
Study Unit 5
Preparing a cash flow statement. 
Study Unit 6
How to do a cash flow analysis. 
Study Unit 7
Playing your advisory role. 
REQUIREMENTS
There are no preconditions for this course.
Moderate level.
Recorded webinar made available on a specified date
PRESENTER
Nestene Botha CA(SA)
Nestene completed her B.com (Hons) at North West University in 2012. In 2014 she completed her professional articles and her Masters Degree in Chartered Accountancy. 
Nestene has lectured on the audit programme at the University of Cape Town. She started her own audit, tax & accounting practice which she has since grown into a reputable firm in the Tableview area with 60 clients and two staff members.
SAIBA ACADEMY SUPPORT
Go to HTTPS://SAIBA.ACADEMY/LOGIN/
Login
Select MY DASHBOARD
Select SUBMIT A TICKET to log a new query
ADDITIONAL MATERIAL
By attending this webinar, you will be provided with:
– Summarised slide presentation.
– Reference documents and / or course material where available.
– Access to a technical knowledge base.
– Recorded webinar that includes an expert presenter and participant interaction.