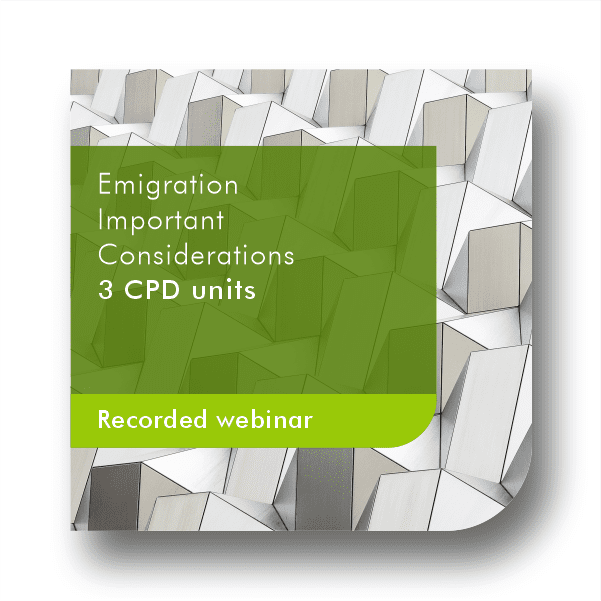 Emigration – Important Considerations 2023
To highlight the importance of the financial and tax obligations of South African who decide to emigrate from South Africa. Inclusive of Tax and exchange control regulations. April 2023
What you will learn
By attending this webinar you will gain the following competencies:
Get a background on the importance of understanding tax residency.
Understanding of section 9H which is deemed as disposal of assets – "exit tax".
Understand the formal process of ceasing tax residency.
Understand the regulations around movement of money out of SA.
Understanding of source of income.
Description
With the current political climate (corruption, scandals, violence and power cuts) in South Africa, more of its citizens are preparing for an exit by securing residency in other countries.
According to a survey conducted in 2022, 53% of university graduates and 43% of those who earned more than R20 000 a month may leave the country according to the findings
Join us as we unpack the practical implications of emigrating from South Africa.
Price
The following pricing apply:
Ad hoc: R450 for this webinar
Subscription: N/A.
Content
The webinar will cover the following foundational to intermediate topics:
What is tax residency and how is it determined in terms of the Income Tax Act, section 1.
How emigration impacts the process to cease SA tax residency.
What are the requirements to expatriate funds from SA in terms of the Income Tax Act and the Exchange Control Regulations and Manuals.
Burden of Proof and the overarching requirements to overcome this against SARS.
Tax treatment of foreign versus local depending on tax residency status.
Requirements
There are no preconditions for this course.
Moderate level.
Recorded webinar made available on a specified date.
Presenter
Maya Nikolova, BAP(SA), MTP(SA), B Com Accounting, PG Dip Tax
Maya is an accountant and registered Tax Practitioner with a demonstrated professional history in the financial accounting and tax industry for over 20 years. She is a Business Accountant in Practice (SA) and Master Tax Practitioner (SA), and she holds a Practice license for Independent Review Engagements and Professional license in Immigration Engagements from CIBA. Maya is the founder and managing partner of Tax Advise Consulting.
CIBA AAcademy Support
Login to CIBA Academy
Select My Dashboard
Select Submit a Ticket to log a new query