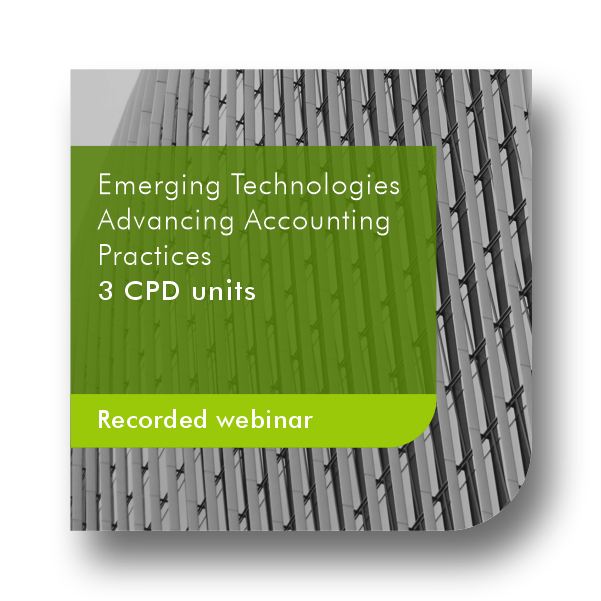 Emerging Technologies Advancing Accounting Practices 2023
This webinar highlights the transformative power of emerging technologies in advancing accounting practices. June 2023
What you will learn
By attending this webinar you will gain the following competencies:
Have an awareness of emerging technologies and their direct impact on the accounting industry. 

Be knowledgeable in how these technologies can be put to good use in different areas of your practice. 

Gain insights into future trends and be in a position to better plan and prepare for the changes ahead.

Possess the skill to develop a digital transformation strategy for your accounting practice that includes choosing the right technologies and how to successfully implement these new tools.

Enhance your decision-making skills by leveraging these emerging technologies.
Description
The last few decades have seen an emergence of new technologies that have, and continue to, transform the traditional methods of doing business. Consider the advancements that have taken place in artificial intelligence (AI), blockchain, robotic process automation (RPA), and cloud computing. 
It is important that accountants take note and learn practical ways in which these technologies can be applied in their daily accounting practices. Nestene Botha CA(SA) presents this webinar where she discusses the transformative power of emerging technologies and how you can harness it to advance your practice. 
Price
The following pricing apply:
Adhoc: R450.00
Subscription: Included for free in Accountant in Practice and Accountant in Practice plus Tax.
Content
The webinar will cover the following foundational to intermediate topics: 
Introduction to Emerging Technologies in Accounting:

The Evolution of Technology in Accounting

The Impact of Digital Transformation on Accounting

Artificial Intelligence (AI) in Accounting

Understanding AI and Machine Learning:

Use Cases: Predictive Analysis, Anomaly Detection, and Automated Bookkeeping

The Role of AI in Auditing and Compliance

Robotic Process Automation (RPA) in Accounting

Defining RPA: What It Is and How It Works:

Use Cases: Invoice Processing, Reconciliation, and Data Entry

Integrating RPA with Existing Accounting Systems

Blockchain Technology in Accounting

Fundamentals of Blockchain and Distributed Ledger Technology:

Use Cases: Transaction Verification, Secure Record Keeping, and Smart Contracts

Blockchain's Potential in Auditing and Transparency

Cloud Computing in Accounting

Basics of Cloud Computing: Public, Private, and Hybrid Clouds:

Use Cases: Cloud-Based Accounting Software, Data Storage, and Collaboration

Security and Privacy Considerations in Cloud Computing

The Future of Accounting: Trends and Predictions

AI-Driven Predictive Analytics:

Blockchain-Based Audit and Compliance

The Rise of Automation in Accounting Processes

Developing a Digital Transformation Strategy

Assessing Technology Needs and Priorities:

Change Management for Digital Transformation

Measuring Success and ROI of Technology Implementations

Leveraging Technology for Enhanced Decision Making

Real-Time Financial Insights:

Data Visualization and Reporting

The Role of Technology in Strategic Business Decisions
Requirements
There are no preconditions for this course.
Moderate level.
Recorded webinar made available on a specified date.
Presenter
Nestene Botha CA(SA)
Nestene Botha completed her B.Com (Hons) at North West University in 2012. In 2014 she completed her professional articles and her Master's Degree in Chartered Accountancy. She then registered with SAICA as a Chartered Accountant in 2015.
Nestene has lectured on the audit programme at the University of Cape Town. She started her own audit, tax & accounting practice which she has since grown into a reputable firm in the Table View area with 60 clients and two staff members.
CIBA Academy Support
Login to CIBA Academy
Select My Dashboard
Select Submit a Ticket to log a new query