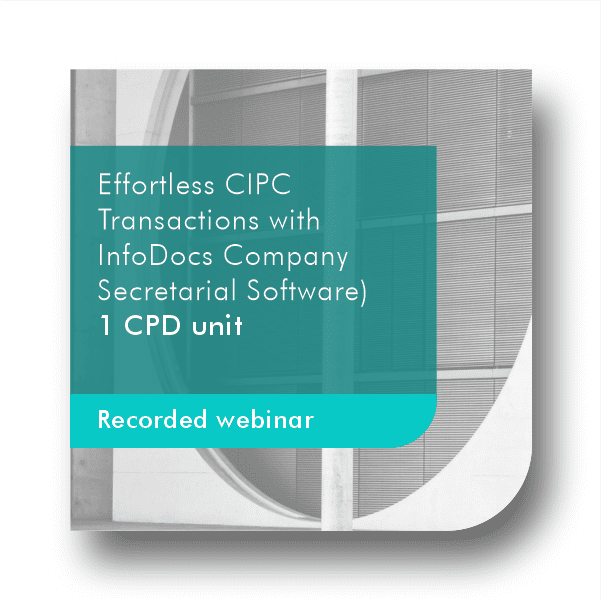 Effortless CIPC Transactions with InfoDocs: SA's Favourite Company Secretarial Software 2023
In this webinar, attendees will learn how InfoDocs simplifies company secretarial functions and facilitates effortless CIPC transactions.  July 2023
What you will learn
By attending this webinar you will gain the following competencies: 
Have a comprehensive understanding of how InfoDocs can simplify CIPC transactions and streamline administrative processes.

Understand InfoDocs and how it assists in compliance with CIPC regulations and requirements, ensuring company legal obligations are met.

Possess knowledge on how InfoDocs can automate various company secretarial tasks, saving time and effort in managing CIPC transactions.

Maximise productivity and ensure accuracy in CIPC transactions by automating repetitive tasks, reducing the risk of errors, and providing tools for efficient data management and document generation.

Become aware of upcoming developments and enhancements that empower attendees to stay ahead in their company secretarial practices.
Description
The requirement for all companies to maintain proper and accurate records is strictly monitored by the CIPC as guided by certain Sections of the Companies Act. The repercussions for non-compliance vary from deregistration, penalty fees, legal action and reputational damage. 
In this complimentary webinar we want to equip accountants with the knowledge and tools to streamline and simplify CIPC transactions through the use of dedicated company secretarial software. InfoDocs is an application that alleviates the administrative burden of company secretarial tasks.  
Price
The following pricing apply:
Adhoc: R0.00
Content
The webinar will cover the following topics:  
Overview of CIPC requirements.

Compliance legislation and filing requirements.

Introduction to InfoDocs. 

Streamlining CIPC transactions with InfoDocs.
Requirements
There are no preconditions for this course.
Moderate level.
Recorded webinar made available on a specified date.
Presenter
Nadia van den Heever
Head of Customer Support – InfoDocs
Nadia van den Heever has made a name for herself in the company secretarial services industry despite only having worked at InfoDocs for a few years. As a self-taught expert and compliance advocate, she plays a vital role in helping company secretaries across South Africa ensure their clients remain compliant with the Companies Act. 
Nadia is passionate about simplifying the compliance processes and she actively introduces SME business owners to InfoDocs as a solution to save time, effort, and money in maintaining their compliance obligations.
CIBA Academy Support
Login to CIBA Academy
Select My Dashboard
Select Submit a Ticket to log a new query