Effective Communication and Negotiation
Examining key communication techniques, to include effective listening, writing emails, and social media concerns, among others.
WHAT YOU WILL LEARN
By the end of this event the participant should:
Recognize the benefits of effective communication
Identify negative effects of poor communication
List reasons which cause poor listening skills
Identify effective writing (email) techniques
DESCRIPTION
This one hour course will examine and walk-through key communication techniques, to include effective listening, writing emails, and social media concerns, among others. Addressing key interpersonal and communication issues that will have a substantial impact on the effectiveness of the financial professional in the workplace.
PRICE
Adhoc – R455
CONTENT
Study Unit 1
Key communication techniques
Study Unit 2
Tips for writing effective emails
Study Unit 3
Effective listening skills
Study unit 4
Social media concerns
Study unit 5
Effective presentation techniques
Study unit 6
Non-verbal communication
REQUIREMENTS
There are no preconditions for this course.
Moderate level.
Recorded webinar made available on a specified date.
PRESENTER
Francis Ryan, CPA, CGMA, MBA

Francis X. Ryan is a CPA, author, commentator and expert in corporate restructuring and management.
Matthew Ryan, CPA, CFE, MBA
Matthew is currently a co-owner of a management consulting firm specializing in turnarounds, workouts, crisis management, strategic planning, and economic forecasting for companies ranging from manufacturing start-ups to established service organizations.
ADDITIONAL MATERIAL
By attending this webinar, you will be provided with:
 Summarised slide presentation
 Reference documents and / or course material where available
Access to a technical knowledge base
Recorded webinar that includes an expert presenter and participant interaction
Additional Course Information
| | |
| --- | --- |
| Category | Practice Management |
| Accredited | CIMA |
| Verifiable CPD Hours | 1 |
| Non-verifiable CPD Hours | N/A |
| Effort | 1 hour |
| Duration | 1 hour |
| Format | Webinar |
| Level | Moderate |
| Assessment | Yes |
| Study Material | No |
| Course Date | 30 July, 2021 |
Business Accountants (SA)
Business Accountants in Practice (SA)
Management Advisors
Financial Managers
Directors
Executive Management
Certified Financial Officer (SA)
Compliance Officers
Risk Analyst
This event is included in the following subscription packages: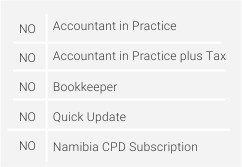 If you are not a subscriber, you need to purchase the event as a stand-alone event or subscribe to a SAIBA subscription package.
Subscribers pay less for their CPD points.
SAIBA offers 4 subscription packages that provides access to everything to run a successful accounting and tax practice.

Pay a small monthly amount and gain access to monthly webinars covering ethics, financials, reporting, audit and assurance, working papers, law, technology, management topics, and tax.