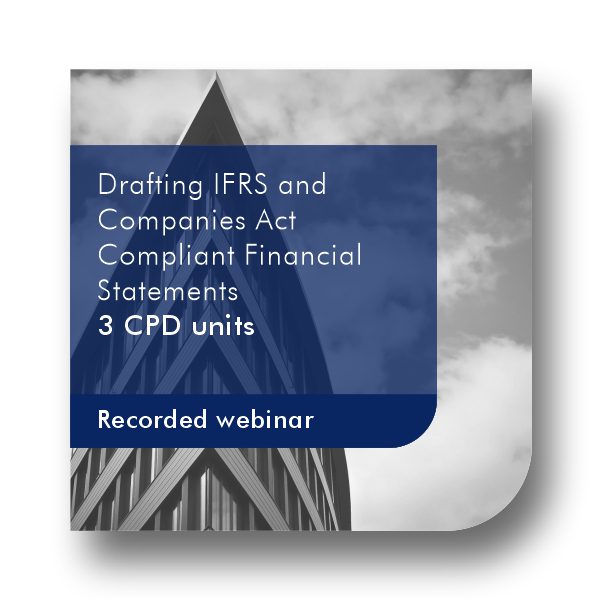 Drafting IFRS and Companies Act Compliant Financial Statements 2023
To inform participants how to draft financial statements that are compliant with the Companies Act and IFRS for SMEs. March 2023
What you will learn
By attending this CPD webinar you will develop the following competencies:
Understand basics of IFRS for SMEs regarding the drafting of compliant financial statements.

Know how to apply the correct financial reporting framework.

Understand financial reporting requirements of the Companies Act.

Be able to draft and present compliant financial statements in the correct reporting format. 

Understand your responsibilities as a compiler and the risks involved. 
Description
Accounting professionals know that the main objective of compiling financial statements is to provide useful information to users of those financial statements. These users (current and future) need to make important decisions regarding their interests in the reporting entity. 
While this may sound obvious, there is need for constant reflection on whether the financial statements we prepare are indeed useful. As compilers, we need to ensure that every financial report we produce is communicating correct information as required by International Financial Reporting Standards as well as the Companies Act. 
Price
The following pricing apply:
Ad hoc: R450 for this webinar
Subscription: Included for free in Accountant in Practice plus Tax and Accountant in Practice package.
Content
The webinar will cover the following topics: 
Drafting useful financial statements.

IFRS for SMEs requirements.

Applying the correct framework.

Companies Act requirements.

Your responsibilities as a compiler.

Risks involved in compilation. 
Requirements
There are no preconditions for this course.
Moderate level.
Recorded webinar made available on a specified date
Pressenter
Jako Liebenberg CA(SA) 
Jako Liebenberg qualified as a Chartered Accountant and Registered Public Auditor in 2001. His entire career has been in public practice except for a stint as CFO in the Free State Provincial Government from 2010 to 2012.
Jako consults for clients across South Africa on Accounting Standards and Compliance, Broad Based Black Economic Empowerment, Tax and Business Development. He serves as an assessor in the Free State High Court of Appeals as representative in Public Practice. Jako is also a registered SAICA assessor for Trainees. 
SAIBA AAcademy Support
Login to SAIBA Academy
Select My Dashboard
Select Submit a Ticket to log a new query