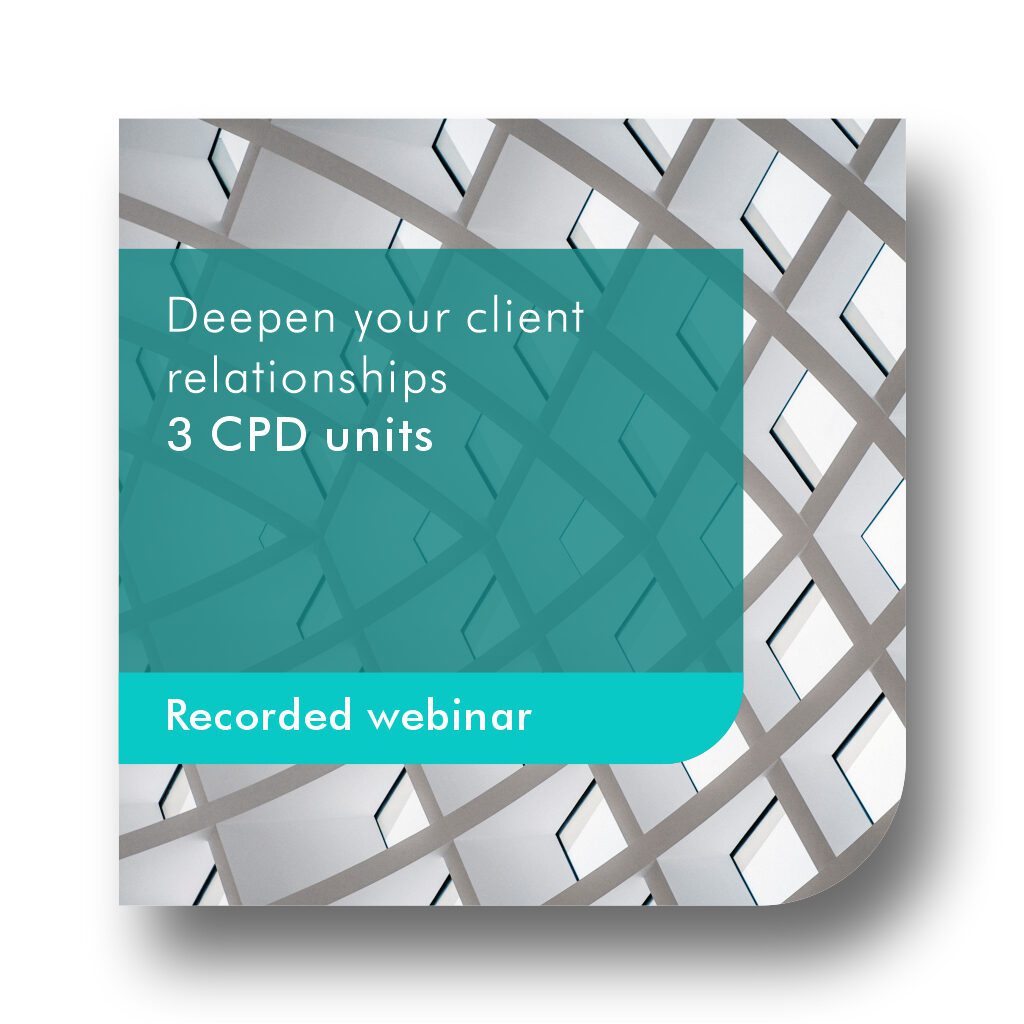 Deepen your client relationships and grow 2022
To discuss the many ways to grow a business/ practice starting with existing clients. April 2022
What you will learn
By the end of this event the attendee should:  
Innovative thinking – develop new ideas, strategies and plans to improve services or products.

Understanding your business' internal and external environments with a view to capitalise on their needs.

Understanding that people are at the centre of economies and markets. 

Have the ability to constantly seek and find new revenue streams.

Know and be able to implement 10 ways to deepen client relationships

. 
Overview
People are at the centre of economies and markets. Without people there would be no need for an economy or a market and this is the reason why business people need to understand their clients as people.
Businesses that either fulfil people's needs or solve their problems are the ones that perform the best. Understanding one's business cycle and having a cycle-focused approach to service offerings is the starting point to business success.    
Price
The following pricing apply:
Non-Subscriber Ad hoc: R450 incl. VAT
Subscriber: Included for free in the Accountant in Practice, Accountant in Practice plus Tax and Bookkeeper packages.
Content
The need-focused and problem-focused accountant.

Placing people at the centre of economies and markets.

Placing offerings along the business cycle.

Stretching your service offerings.

The need for constant re-invention.

10 ways to deepen client relationships.

 
Requirements
There are no preconditions for this course.
Moderate level.
Recorded webinar made available on a specified date
Presenter
Constance Kawelenga CA(SA)
Constance Kawelenga is chartered accountant with a broad proficiency in finance, taxation and auditing. She has attained a diverse range of experience – from Big 4 audit experience, commercial multinational exposure to running an audit and consulting boutique over the past 8 years. In 2013, Constance founded the Zuva Group of entities, focusing on audit, financial management, taxation, secretarial, business mentorship as well as business valuations.
SAIBA Academy Support
Login to SAIBA Academy
Select My Dashboard
Select Submit a Ticket to log a new query