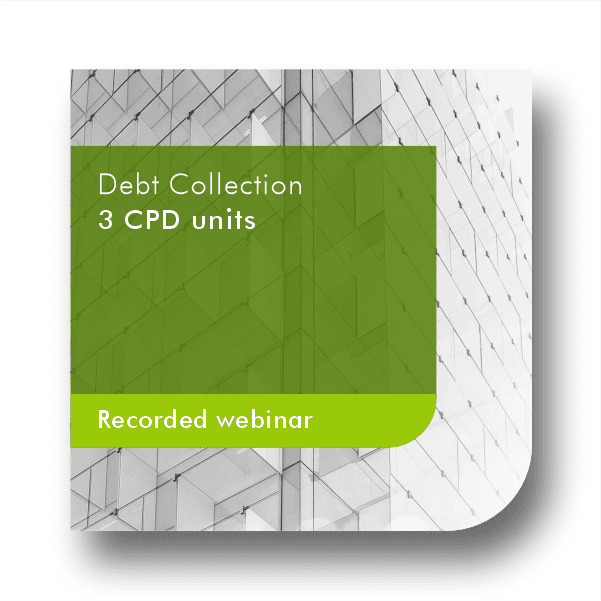 To discuss the dos and don'ts of collecting debt December 2023
What you will learn
After attending this webinar you will:
Be able to identify the applicability of the NCA in matters

Gain an understanding on how to leverage registration requirements, changes in threshold values and the consequences of non-registration in your debt collections practice.

Establish a foundation of legal rationale at the pre-litigation stage to differentiate your debt collection approach from competitors. 

  

Familiarise attendees with the functions and duties carried out by the National Credit Regulator (NCR)

Understand the purpose and authority of the Tribunal and the potential sanctions it can impose

Be able to differentiate between various prescription time periods and identify when they apply to drive compelling legal arguments

Understand the do's and don'ts as a debt collector and legal practitioner

Understand how to be innovative in the execution phase

Be able to identify the underlying causes and proposing remedies in order to distinguish your debt collections offering from the competition.
Description
Debt collection is a critical component of financial management, and staying informed about the latest industry practices and regulations is paramount for both seasoned professionals and newcomers to the field.  
In this comprehensive session, our expert presenters will explore the evolving legal, technological, and ethical aspects of debt collection, ensuring that attendees are well-equipped to navigate this dynamic industry. 
Price
The following pricing apply:
Adhoc: R450.00
Subscription: Adhoc
Content
The webinar will cover the following topics:
Legal Framework for Debt Collection.

Pre-Legal (Litigation) Collection Process.

Legal or Litigation Collection Process.

Ethics in Debt Collection.

Dealing with Consumer Rights and Objections.
Requirements
There are no preconditions for this course.
Moderate level.
Recorded webinar made available on a specified date.
Presenter
Nicolene  Schoeman-Louw
Nicolene  Schoeman-Louw is the Founder and Managing Director of Schoeman Law Inc in Cape Town, South Africa. She is an admitted Attorney of the High Court of South Africa, Conveyancer, Notary Public and Mediator with a passion for assisting entrepreneurs to reach their most ambitious goals.
Nicolene holds an LLB degree cum laude, LLM from the University of the Free State and a postgraduate diploma in financial planning (CFP) from the University of Stellenbosch. She lectured at the University of the Free State during her studies, presently guest-lectures at Stellenbosch Business School. She also presents seminars and workshops on a wide range of legal topics for various organizations. Nicolene is the Co-Founder and Managing Director of PocketAdvisor where she also doubles up as a skilled facilitator.
CIBA Academy Support
Login to CIBA Academy
Select My Dashboard
Select Submit a Ticket to log a new query