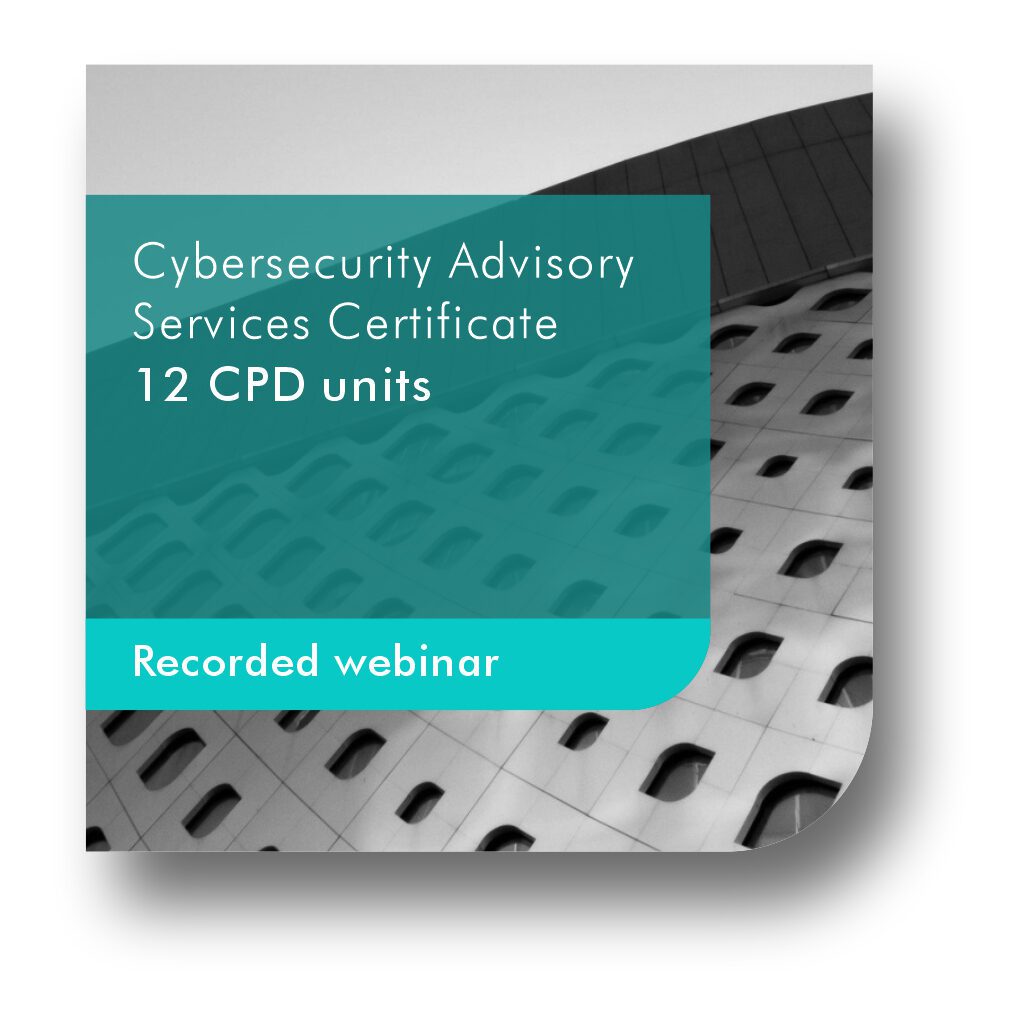 Cybersecurity Advisory Services Certificate
This certificate program will teach students how to help their clients navigate threats by becoming a trusted business advisor for their organization's cybersecurity risk management programs.
What you will learn
Articulate the nature and types of cybersecurity advisory services that can be performed.
Identify key considerations of each of those advisory services.
Recognize what one would need to effectively perform advisory services.
Description
Cybersecurity threats are escalating, unnerving the boards of directors, managers, investors and other stakeholders of organizations of all sizes—whether public or private. Organizations are under increasing pressure to demonstrate that they are managing threats, and that they have effective processes and controls in place to detect, respond to, mitigate and recover from cybersecurity events.
Cybersecurity yields potential business opportunities for a firm to better serve its clients. As a trusted business advisor, firm practitioners can provide advisory services that help companies spot cybersecurity weaknesses, identify potential risks and offer advice on how to safeguard information and systems. Learn how you can help your clients navigate threats by becoming a trusted business advisor for their organization's cybersecurity risk management programs.
Price
The following pricing apply:
Ad hoc: R10,375 VAT inclusive
Subscription: N/A
This is a digital product. You will have access to the content for 365 days after purchase date.
Content
Cybersecurity risk management program overview
Cybersecurity advisory service opportunities
Cybersecurity examination services versus advisory services
Cybersecurity frameworks, including the AICPA cybersecurity risk management program reporting framework
Drivers for cybersecurity advisory needs
Gap analysis and risk assessment
Common cybersecurity advisory services, such as SOC for Cybersecurity readiness assessments and penetration testing
Tools to effectively perform advisory services including qualifications and certifications, backgrounds and expertise, and other resources you would need to market and deliver in a quality manner"
Requirements
There are no preconditions for this course.
Moderate level.
Recorded webinar made available on a specified date
PRESENTER
Drew Hendrickson, CPA, CIPP, CCSFP 
Drew Hendrickson is an Assistant Professor in the Cognitive Science and Artificial Intelligence department at Tilburg University in the Netherlands. His research focuses on understanding how people learn and make decisions by using traditional experimental techniques paired with computational models of behavior. He teaches courses and supervises Master's students in both Data Science and Cognitive Science.
Mark Burnette, CPA, CISA, CISSP, CISM, QSA
Mark Burnette is an evangelist for cybersecurity. He has spent his entire career working to protect sensitive data from compromise, and after learning the ropes at Big 4 accounting firms and then serving as CISO for two publicly-traded companies, he got back into consulting because he realized many organizations needed the help and guidance of someone who had walked a mile in their shoes. When it comes to cybersecurity risks, his team have seen it, done it, measured it, defended against it, and devised ways for every organization, regardless of its in-house expertise or resources, to be more secure.