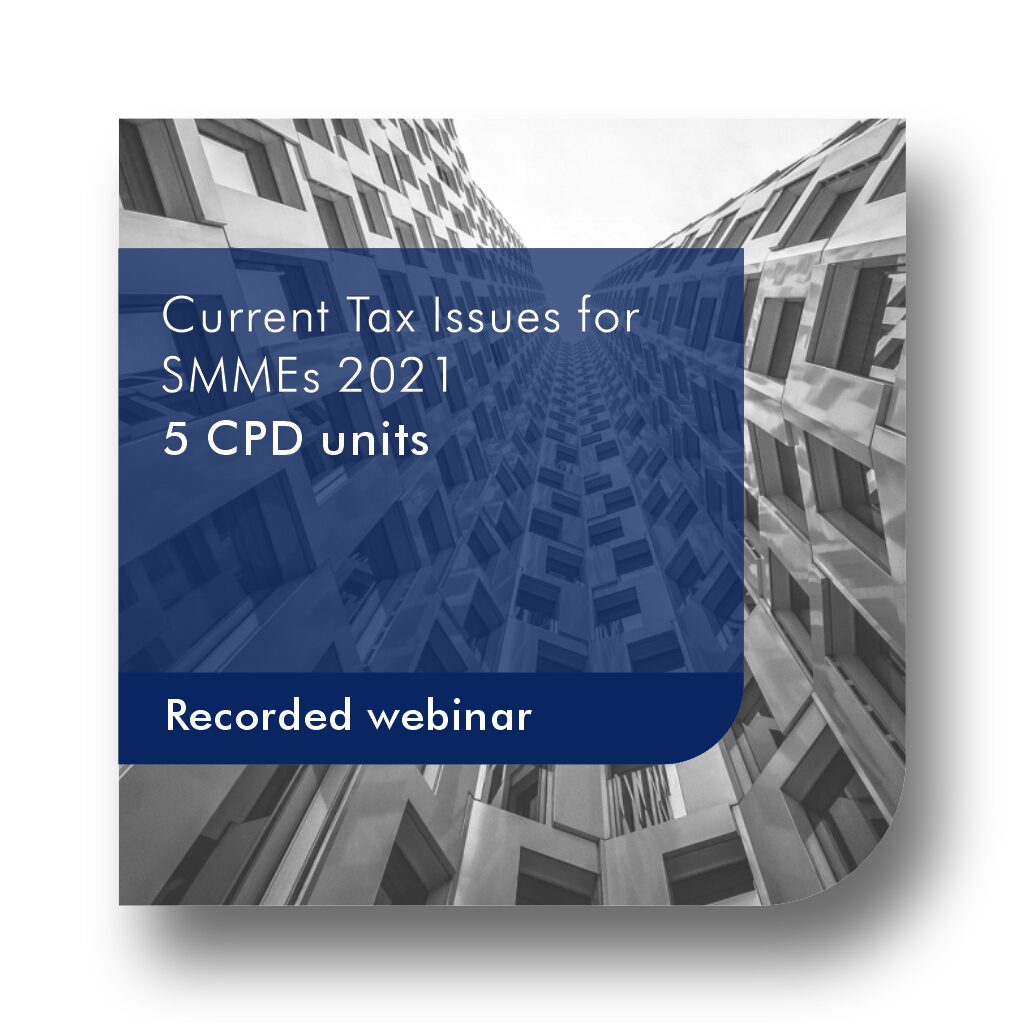 Current Tax Issues for SMMEs – 2021
This webinar-workshop will focus on current tax issues that are particularly relevant to the SMME sector. September 2021
WHAT YOU WILL LEARN
After attending this webinar you will be:
Aware of the tax relief and tax planning opportunities that are available to SMMEs
Know what common risk areas SMME owners and advisors need to watch out for.
DESCRIPTION
This webinar-workshop will focus on current tax issues that are particularly relevant to the SMME sector. The topics that will be covered in the workshop include income tax, dividends tax, capital gains tax (CGT) and VAT. The workshop will also explain all business phases relevant to SMMEs, from incorporation or starting up, to the ongoing running of a business. Furthermore, some of the tax issues that arise in business rescue situations or final winding up will be discussed.
The webinar-workshop will include a discussion of the tax relief and tax planning opportunities that are available to SMMEs and what common risk areas SMME owners and advisors need to watch out for. The investment in attending this workshop will pay for itself many times over as attendees will not only come away with a wealth of information that can be applied immediately but will also save time and costs that might otherwise be incurred in terms of penalties, interest, and disputes with SARS.
PRICE
The following pricing apply:
Ad hoc: R575.00
Subscription: Included for free in Accountant in Practice plus Tax package.
CONTENT
Study unit 1
This webinar-workshop will focus on the tax aspects of small business, including the following:
Tax risk management for SMMEs.
Tax administration provisions that affect small businesses.
Small business corporations – do you qualify and what is the real benefit?
What is turnover tax and how does a business qualify as a micro business?
Dividend's tax and the withholding obligation.
The tax pitfalls of interest-free and low-interest loans.
Provisional tax.
VAT issues and current VAT challenges, including:

Registration and deregistration.
Common VAT errors that you need to avoid.
Selling your business as a going concern.

CGT issues, including:

What happens when you sell your shares or your business?
CGT relief on the sale of small businesses.
Transferring assets to your company.

PAYE, UIF and SDL obligations.
Assessed losses.
Tax challenges in business rescue, liquidation and winding up.
What's the possible way forward with tax incentives for SMMEs?
REQUIREMENTS
There are no preconditions for this course.
Moderate level.
Recorded webinar made available on a specified date
PRESENTER
Professor Jackie Arendse
PhD MTP(SA) Chartered Accountant (SA)
After completing her training at Deloitte and qualifying as a CA (SA), Jackie was Group Financial Accountant for a top-100 listed company before moving to academia where she has authored, lectured and researched on all aspects of tax for more than 20 years.
Jackie has presented tax seminars and webinars to tax practitioners and businesses around the country for many years and has authored numerous books, articles and publications in the field of taxation including Silke on South African Income Tax. She is the managing author of Silke on Tax Administration, published by LexisNexis and updated annually.
SAIBA ACADEMY SUPPORT
Go to HTTPS://SAIBA.ACADEMY/LOGIN/
Login
Select MY DASHBOARD
Select SUBMIT A TICKET to log a new query
ADDITIONAL MATERIAL
By attending this webinar, you will be provided with:
– Summarised slide presentation.
– Reference documents and / or course material where available.
– Access to a technical knowledge base.
– Recorded webinar that includes an expert presenter and participant interaction.