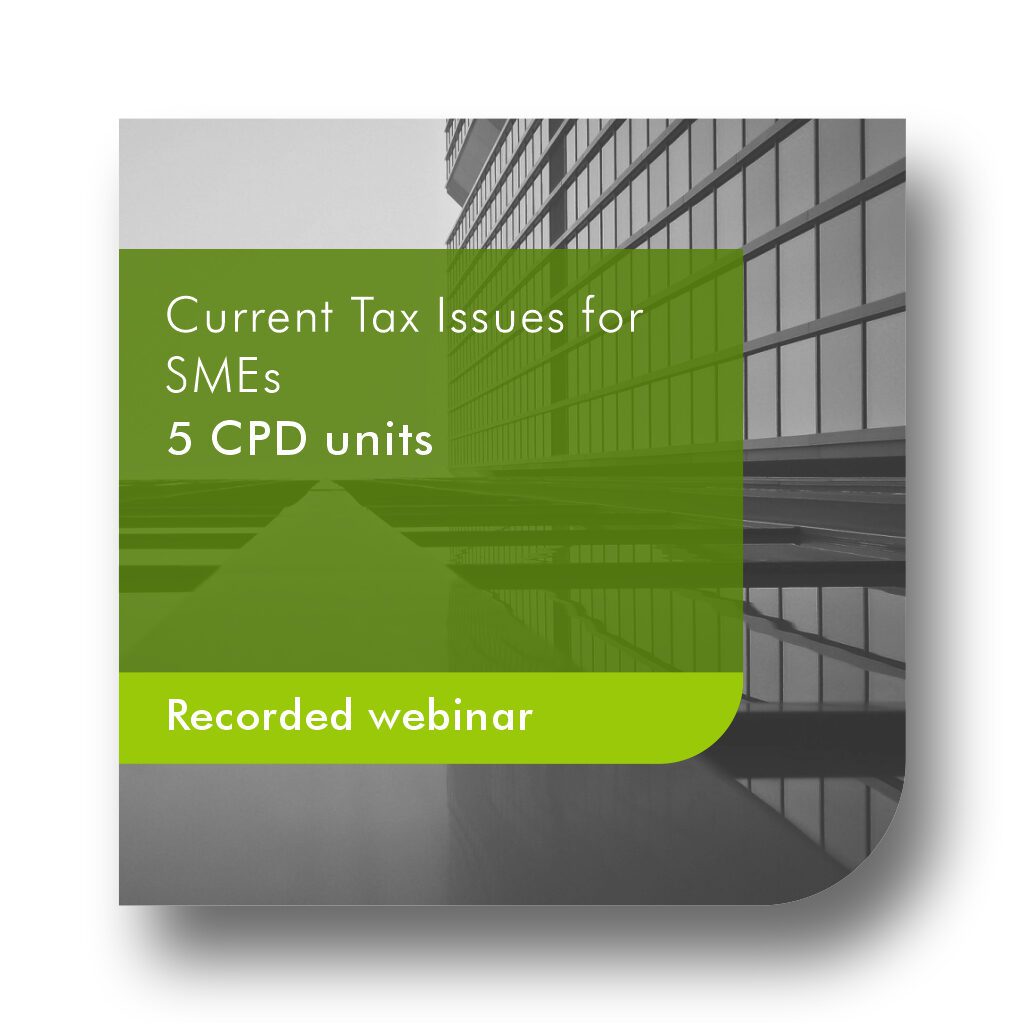 Current Tax Issues for SMEs
To give attendees an update on current tax issues affecting SMEs. October 2021
WHAT YOU WILL LEARN
By the end of this event the attendee should:  
Know all the latest important tax updates from SARS;

Be aware of current tax 

issues affecting SMEs;

Be able to deal with tax issues affecting your SME clients;

Be able to use the latest relevant and up to date information

 in your work

; and 

Know the latest information that keeps you compliant with SARS requirements.
DESCRIPTION
The tax landscape is dynamic and SARS constantly churns out guides, binding rulings, interpretation notes, notices and other publications. Furthermore, the Tax Court passes judgements that are of interest to the individual taxpayer, businesses and tax practitioners.     
SMEs are a very important driver of the South African economy and during this webinar, Russel Ngobeni BAP(SA) brings together current tax issues that directly affect them. Russel will discuss important updates that will assist tax practitioners and accountants to correctly deal with their SME clients using the latest requirements from SARS.
PRICE
The following pricing apply:
Ad hoc: R575 for this webinar
Subscription: Included for free in the Bookkeeper package.
CONTENT
Study unit 1
How to add company to existing eFiling profile. 
Study unit 2
Activating a SARS Registered Representative. 
Study unit 3
Company Income Tax System and Form changes. 
Study unit 4
CIT Audit letters. 
Study unit 5
Introduction of penalties for PAYE. 
Study unit 6
Request for Remission of Administrative Non-compliance Penalty. 
Study unit 7
Interim Dispute Process and Dispute Resolution for PAYE penalties. 
Study unit 8
Pilot of ePenalty System. 
Study unit 9
Pilot of number plate recognition (NPR) system.  
Study unit 10
Crypto Assets and Tax. 
Study unit 11
Tax Relief on Excise Duty. 
Study unit 12
How to claim donations made to the Solidarity Fund. 
REQUIREMENTS
There are no preconditions for this course.
Moderate level.
Recorded webinar made available on a specified date
PRESENTER
Russel is a registered Business Accountant in Practice (SA) through the Southern Institute for Business Accountants (SAIBA), and a registered Tax practitioner. He holds a Bachelor of Accounting Science degree from the University of South Africa and a National Diploma in Financial Information Systems from Tshwane University of Technology. Russel is the founder of Shinyawani Group of Companies (Pty) Ltd.  He has won various entrepreneurial awards in the province of the Free State. 
SAIBA ACADEMY SUPPORT
Go to HTTPS://SAIBA.ACADEMY/LOGIN/
Login
Select MY DASHBOARD
Select SUBMIT A TICKET to log a new query
ADDITIONAL MATERIAL
By attending this webinar, you will be provided with:
– Summarised slide presentation.
– Reference documents and / or course material where available.
– Access to a technical knowledge base.
– Recorded webinar that includes an expert presenter and participant interaction.