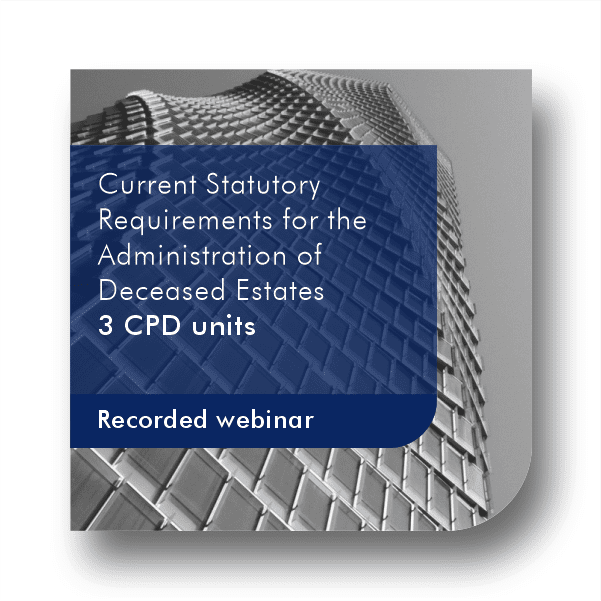 Current Statutory Requirements for the Administration of Deceased Estates 2023
To highlight all the various requirements for the winding up of a deceased estate.  August 2023
What you will learn
By attending this webinar you will gain the following competencies: 
Understand the significance of drafting a valid last will and testament, and the appointment of executors, trustees, and guardians (when required).

Fundamental understanding of the prescribed estate documentation, including completing and submitting the required documents to the Master of the High Court.

Gain effective strategies for meeting and communicating with bereaved families to gather the necessary information required by the Master of the High Court.

Knowledge of the requirements and best practices for preparing the Liquidation and Distribution Account.

Know how to place the relevant advertisements in newspapers and the Government Gazette.
Description
Successful accountants frequently assume the role of guiding and supporting clients in the administration of deceased estates. With their expertise and unwavering fiduciary duty, accountants shoulder the responsibility of overseeing and meticulously managing the entire estate administration process. 
It is worth noting, however, that the winding up of a deceased estate requires a combination of legal acumen and accounting proficiency, underscoring the distinctive nature of this multifaceted undertaking.
Price
The following pricing apply:
Adhoc: R450.00
Subscription: Included for free in Accountant in Practice, Accountant in Practice plus Tax.
Content
The webinar will cover the following topics:  
Overview of the Deceased Estates Act. 

Requesting letters of executorship/administration:

Gathering, completion and signing of prescribed forms.

Gathering of supporting documents. 

Advertising for creditors.

Drawing up of the Liquidation and Distribution Account. 

Submitting the Liquidation and Distribution Account for approval.

Collection and distribution of assets.

Fulfilment of outstanding claims against the estate. 

Awarding the inheritance due to the beneficiaries.

Surrendering the original letters of executorship.

Obtaining the executor's release.
Requirements
There are no preconditions for this course.
Moderate level.
Recorded webinar made available on a specified date.
Presenter
Raymond Hack
Raymond Hack is a practicing attorney experienced in the administration of deceased estates in excess of 35 years. He is Senior Partner at Rapeport Incorporated where his portfolio includes being Arbitrator at the Court of Arbitration for Sports, Sport and Anti-Doping Attorney, Chairman of the Disciplinary Committee of the Confederation Africaine de Football (CAF), Chairman of World Aquatics (previously FINA) Integrity Body, former Chairman of FIFA Players Status Board and Arbitrator for the Court of Arbitration for Sport.
CIBA Academy Support
Login to CIBA Academy
Select My Dashboard
Select Submit a Ticket to log a new query