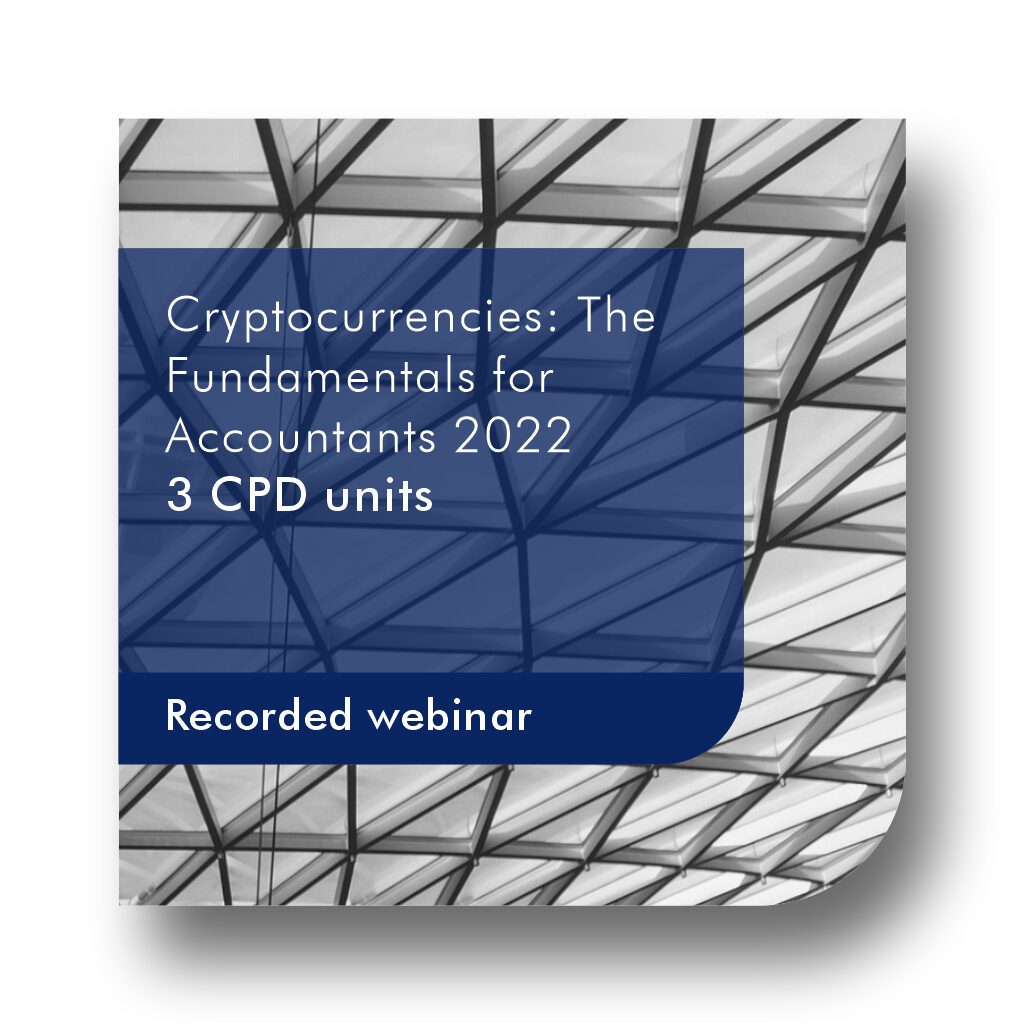 Cryptocurrencies: The Fundamentals for Accountants
To introduce attendees to various aspects of cryptocurrencies and the technology behind them. July 2022
What you will learn
By the end of this event the attendee should have the following competencies:  
Understand 

what cryptocurrencies are.

Possess a foundational understanding of blockchain technology and its current use.

Awareness of the investment opportunities in the market (NFTs, Metaverse, utility tokens etc.).

Be able to advise clients about the tax treatment of cryptocurrency transactions according to SARS.

Be updated on the latest regulatory developments in the cryptocurrency market. 
Description
Cryptocurrencies have existed for more than a decade now but public knowledge of this technology is still limited. Accountants, auditors and tax practitioners must consider important key questions on the treatment of transactions involving cryptocurrencies. 
A common question for an accountant is the accounting treatment of cryptocurrencies and earnings that are derived from them. Careful consideration must also be given to how SARS will assess cryptocurrencies. How would an accountant advise a client who wants to invest in cryptocurrencies?
Price
The following pricing apply:
Ad hoc: R450 for this webinar
Subscription: N/A
Content
What is cryptocurrency?

Blockchain technology.

NFTs and the Metaverse economy.

Accounting for cryptocurrencies.

Taxation matters.
Requirements
There are no preconditions for this course.
Moderate level.
Recorded webinar made available on a specified date
Presenter
Andoni Nicolau
Andoni is the head of Digital Assets at Jaltech and is an Actuarial Science and Statistics graduate from Wits University. In addition, Andoni has completed various bitcoin and cryptocurrency courses through international universities.  Professionally, Andoni has been active in the cryptocurrency industry since 2016, during which time he has invested and traded for private clients. 
With his background and experience Andoni joined Jaltech with the goal of making cryptocurrency investments accessible and understandable to the regulated market.
SAIBA Academy Support
Go to HTTPS://SAIBA.ACADEMY/LOGIN/
Login
Select My Dashboard
Select Submit a Ticket to log a new query