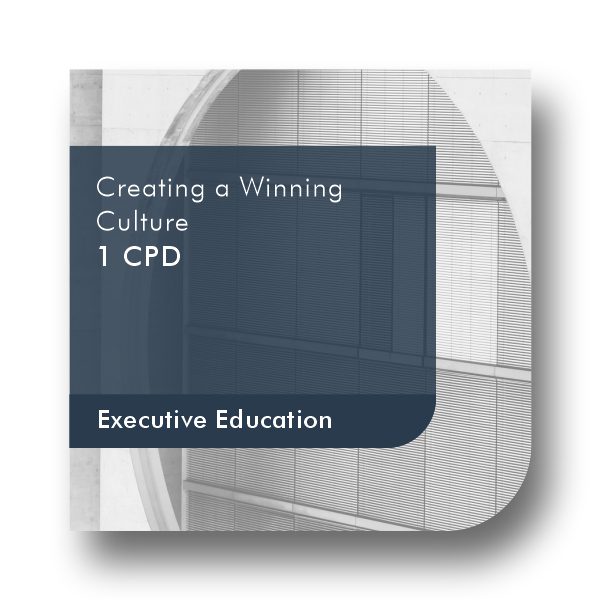 Creating a winning culture (AICPA Event)
Research has shown that a healthy workplace culture isn't just good for morale – it's good for business.
What you will learn
After attending this program you will be able to:
Recognize why culture is so critical today
Identify the four essential characteristics of a magnetic culture
Distinguish the 'force multipliers' of a winning culture
Recognize how to cultivate a winning culture
Indicate how your organization compares to the best practices of winning cultures
Description
Research has shown that a healthy workplace culture isn't just good for morale – it's good for business. In this course, you'll learn how to create a culture that keeps employees engaged, enhances productivity, and helps your organization succeed. We'll provide insights from the latest industry research and real-world case studies to help you understand what makes for healthy workplace cultures and how leaders can foster an environment that encourages collaboration and trust throughout the entire organization.
About AICPA
The Association of International Certified Professional Accountants (the Association) is the most influential body of professional accountants, combining the strengths of the American Institute of CPAs (AICPA) and The Chartered Institute of Management Accountants (CIMA) to power opportunity, trust and prosperity for people, businesses and economies worldwide. AICPA & CIMA represent 689,000 members, students and engaged professionals in public and management accounting and advocates for the public interest and business sustainability on current and emerging issues.
In 2012, AICPA & CIMA established the Chartered Global Management Accountant (CGMA) designation to provide members with a new level of resources and recognition.
Price
Ad hoc Normal Price: R1330.00 incl. VAT incl. CIBA Member Price: R998.00 incl. VAT
This is a digital product. You will have access to the content for 365 days after purchase date.
Content
Culture – Why, What, and the Magnetic Firm
Purpose-driven
Great Leadership
Culture of Growth
Inspiring Workplace
Requirements
There are no preconditions for this course. Moderate level. Recorded webinar made available on a specified date
Presenter
Tom Hood
Tom is known for his work on the CPA Vision Project, the CPA Horizons 2025 Project, and most recently the Future of Finance 2030. In 1999, he co-founded the Business Learning Institute (BLI) with a purpose of "Empowering human capital in a global VUCA world, so that our organizations and communities thrive", based on the findings of the CPA Vision and CPA Horizons 2025 research. This led to the T-shaped Professional and a focus on 'success skills' for CPAs, CGMAs, and finance and accounting professionals.
SAIBA Academy Support
Login to SAIBA Academy Select My Dashboard Select Submit a Ticket to log a new query