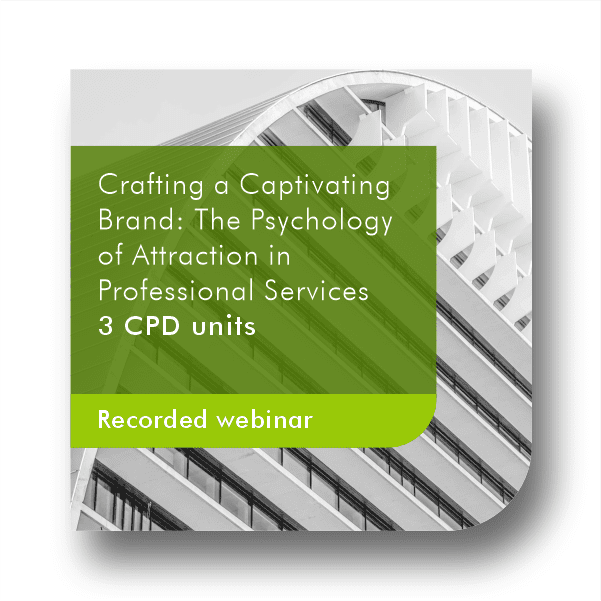 Crafting a Captivating Brand: The Psychology of Attraction in Professional Services 2023
Participants will improve their expertise in attracting clients through branding 2023.
What you will learn
After attending this webinar you will:
Explore the basics of branding, what a brand is and why it is crucial for professional service providers.  

Understand the psychology of shape and colour in branding and the impact it has on our perceptions and decision-making processes.  

Learn strategies of using shapes and colours in branding and how it can create a specific image or feeling in your potential clients' minds.  

Understand how to create a brand that resonates with your clients.

Get a step-by-step guide on how successful brands have managed to create captivating brands.  
Description
Within the highly competitive professional services sector that includes audit firms, accounting practices, law firms, and tax practices, branding plays a crucial role in differentiating one's business and connecting the business to its target audience. 
This extensive webinar explores the intricacies of branding, offering valuable insights to empower you in crafting a compelling brand that authentically resonates with your clientele. This eighth episode of our Attracting New Clients Series, explores the basics of branding, where we start by looking at the psychological impact of shapes and colours, and move on to how your brand can influence perception and decision-making processes. 
Price
The following pricing apply:
Adhoc: R450.00
Content
The webinar will cover the following topics: 
Psychology of shape and colour guide:  

Guide on how shapes and colours influence perceptions and decision-making.

Checklist of Essential Branding Elements: 

A guide that addresses all the essential elements of your brand.  

Case studies of successful professional services brand:    

Illustrative case studies.  
Requirements
There are no preconditions for this course.
Moderate level.
Recorded webinar made available on a specified date.
Presenter
Sommerville Lombard
Sommerville Lombard is an Online Business Manager (OBM) based in Limpopo, South Africa. She is also the Founder of The Sommerville Agency (VA Services), Co-Founder of Explore VAN (Virtual Assistant Network), a Lead Generation Coach & an Online Project Manager.
She has almost 20 years in the teaching industry, specifically IT, Graphics and Web Design, and CAT for all ages. She has a bustling Global Virtual Assistant Agency, with multiple VAs working for her. Explore VAN is very close to her heart as it helps and supports global VAs in their businesses.
CIBA Academy Support
Login to CIBA Academy
Select My Dashboard
Select Submit a Ticket to log a new query