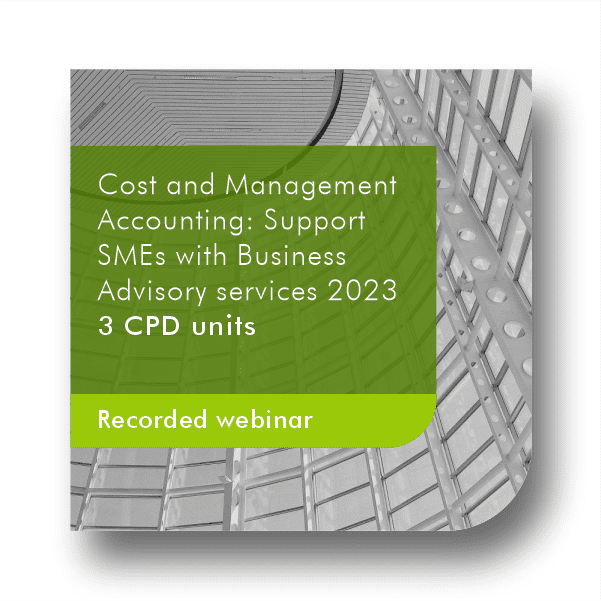 Cost and Management Accounting: Support SMEs with Business 2023
To discuss the importance of cost and management accounting as a service to SMEs. May 2023
What you will learn
Attending this webinar will equip you with the following skills:
Establish an internal reporting system that combines cost accounting, financial accounting, and management accounting.  

Acquire knowledge about the different cost accounting tools and techniques that business advisors can use for SMEs. 

Understand and apply the tools and techniques of management accounting in the daily business operations of SMEs.

Use cost accounting principles to assist SME business owners and managers in their day-to-day decision-making roles.

Apply management accounting methods in an advisory role for SMEs to make optimal decisions regarding resource utilisation.
Description
Small and medium-sized enterprises (SMEs) play a crucial role in the global economy, representing a significant source of employment and growth. However, many SMEs struggle with financial management, particularly when it comes to cost and management accounting.  
To satisfy the needs of all stakeholders, it is important for every SME, with the help of their business advisor, to develop a sound accounting system that incorporates financial accounting, cost accounting, and management accounting.  
Watch this webinar to find out how to assist SMEs to grow and excel using versatile and robust cost and management accounting systems.  
Price
The following pricing apply:
Ad hoc: R450.00 for this webinar
Subscription: Included for free in Accountant in Practice plus Tax and Accountant in Practice.
Content
The webinar will cover the following topics: 
Relationship between cost accounting, financial accounting, and management accounting.

Cost accounting.

Concept of cost.

Objectives, importance, and scope of cost accounting.

Classifications and elements of cost.

Methods and techniques of costing.

Cost accounting standards.

Role of cost accounting in SME decision-making.

Management accounting

Evolution, meaning, objectives, nature and scope.

Tools and techniques of management accounting.

Limitations of management accounting.

Conflicts in profit versus value maximisation principle.

Role of management accountant in decision-making.
Requirements
There are no preconditions for this course.
Moderate level.
Recorded webinar made available on a specified date.
Presenter
Constance Kawelenga CA(SA) 
Constance Kawelenga is a chartered accountant with a broad proficiency in finance, taxation and auditing. She has attained a diverse range of experience – from Big 4 audit experience, commercial multinational exposure to running an audit and consulting boutique over the past 8 years. In 2013, Constance founded the Zuva Group of entities, focusing on audit, financial management, taxation, secretarial, business mentorship as well as business valuations. 
SAIBA AAcademy Support
Login to SAIBA Academy
Select My Dashboard
Select Submit a Ticket to log a new query