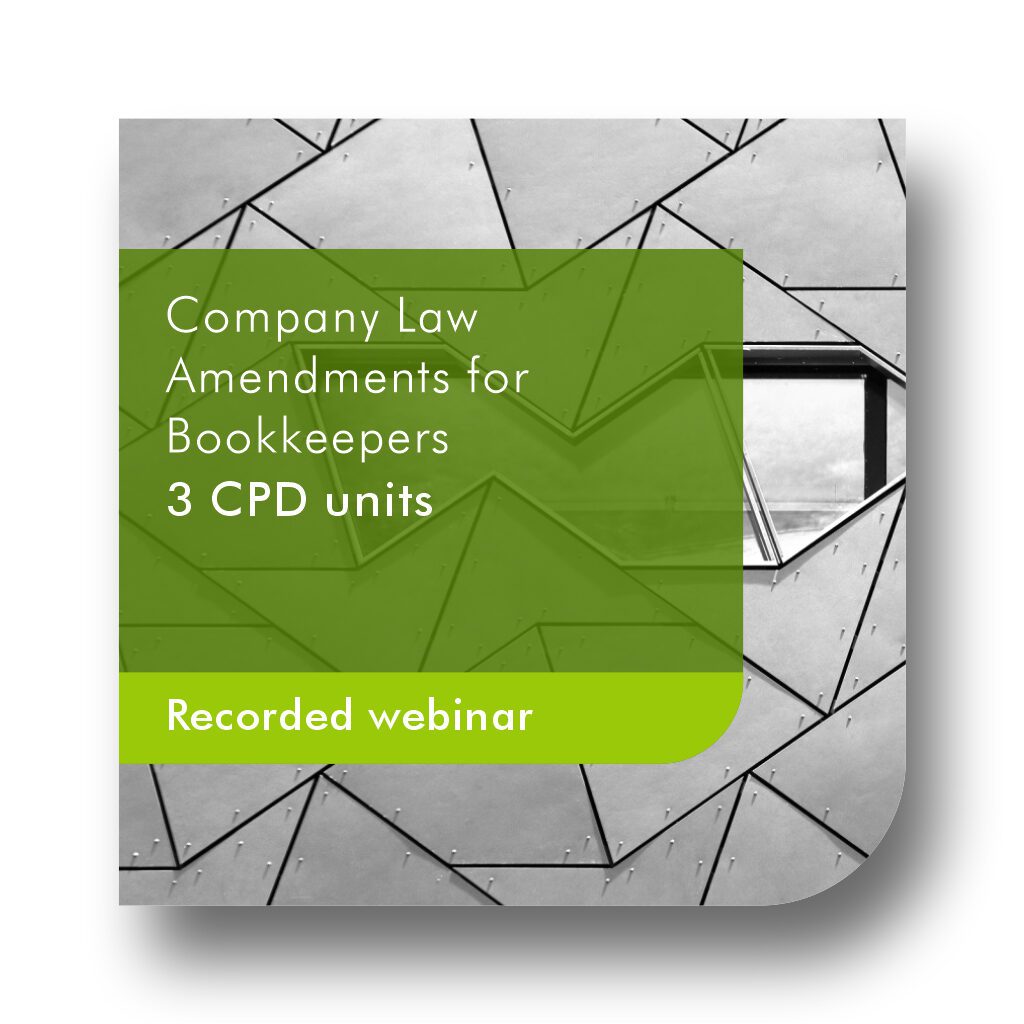 Company Law Amendments for Bookkeepers
How the Companies Act affect the bookkeeper/accountant and highlights of recent amendments. September 2021
WHAT YOU WILL LEARN
By the end of this event the attendee should:  
Understand

 

the purpose of the Companies Act, 2008;

Understand the CIPC's regulatory role.

Be aware of key sections in the Companies Act that directly effect the day to day duties of bookkeepers;

Understand how the

se

 key sections affect the bookkeeper/accountant's work on a practical day to day basis; and

Be aware of practical tips that can be applied on a daily basis, as certain transactions occur.
DESCRIPTION
The Companies Act, 2008 provides for the incorporation, registration, organization, management, and capitalisation of companies. It also defines the relationships between companies and their shareholders and directors/members. 
It is vital that everyone who is in the accounting field understands and can practically apply the Act's provisions in their daily duties. This is especially true for bookkeepers who work with and are responsible for the integrity of the financial records every single day.
The purpose of this webinar is not to discuss all the legal provisions of the Act but to highlight the parts of the Act that affect the bookkeeper/accountant's day-to-day roles and to give practical tips on documentation to keep as part of the bookkeeping process.
Join us to understand the importance of the Companies Act in the bookkeeping role as well as recent important amendments to the Act.
PRICE
The following pricing apply:
Ad hoc: R475 for this webinar
Subscription: Included for free in the Bookkeeper package.
CONTENT
Study unit 1
Introduction to the Companies Act, 2008. 
Study unit 2
The CIPC's regulatory role. 
Study unit 3
Section 16 – Amending Memorandum of Incorporation. 
Study unit 4
Section 25 – Location of company records. 
Study unit 5
Section 26 – Access to company records. 
Study unit 6
Section 30 – Duty to prepare a directors' remuneration report. 
Study unit 7
Summary of other sections affecting the bookkeeper/accountant. 
REQUIREMENTS
There are no preconditions for this course.
Moderate level.
Recorded webinar made available on a specified date
PRESENTER
Nestene Botha
Nestene completed her B.com (Hons) at North West University in 2012. In 2014 she completed her professional articles and her Masters Degree in Chartered Accountancy. 
Nestene has lectured on the audit programme at the University of Cape Town. She started her own audit, tax & accounting practice which she has since grown into a reputable firm in the Tableview area with 60 clients and two staff members.
SAIBA ACADEMY SUPPORT
Go to HTTPS://SAIBA.ACADEMY/LOGIN/
Login
Select MY DASHBOARD
Select SUBMIT A TICKET to log a new query
ADDITIONAL MATERIAL
By attending this webinar, you will be provided with:
– Summarised slide presentation.
– Reference documents and / or course material where available.
– Access to a technical knowledge base.
– Recorded webinar that includes an expert presenter and participant interaction.