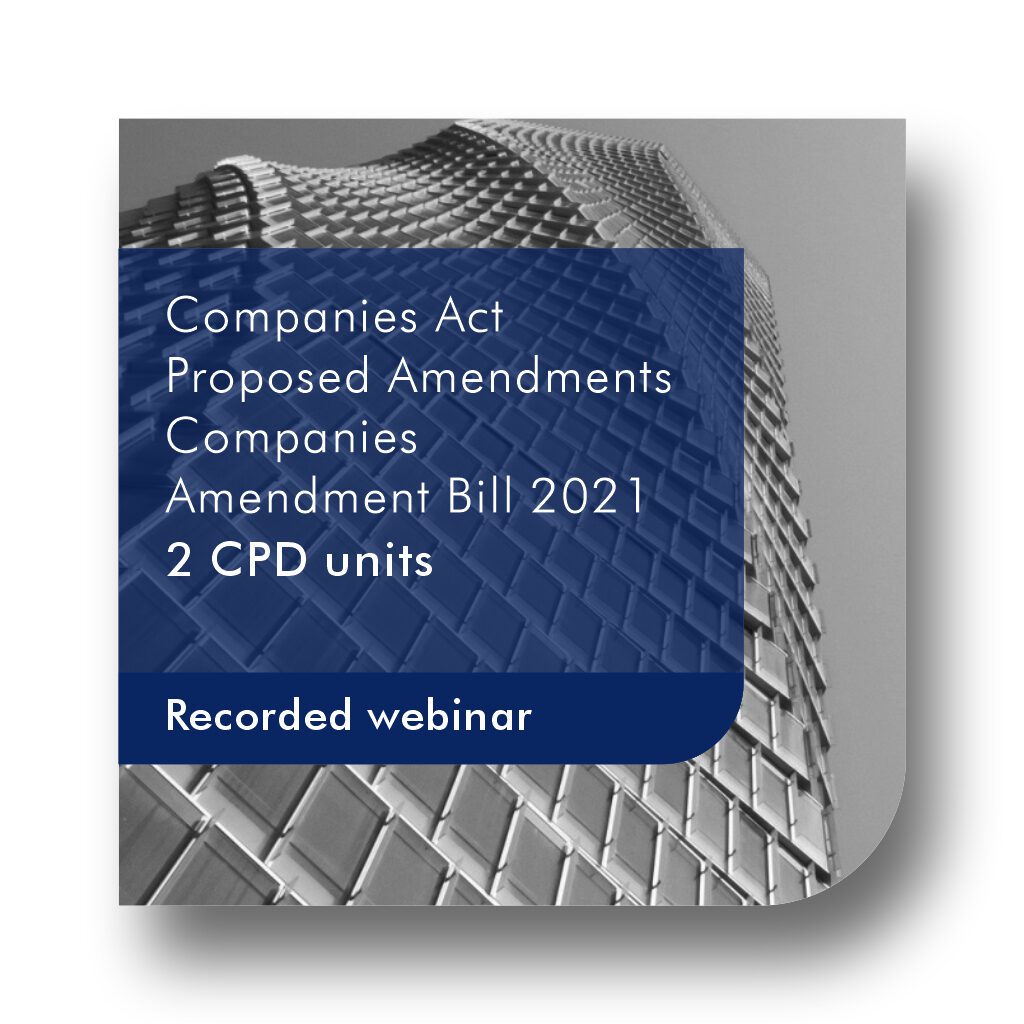 Companies Act Proposed Amendments – Companies Amendment Bill 2021
Discussion regarding the proposed amendments to the Companies Act 71 of 2008. October 2021
WHAT YOU WILL LEARN
By the end of this webinar the participant should:
Have a better understanding of the proposed amendments to the Companies Act 71 of 2008
Be able to consider the impact of regulation changes on your practice and your clients' business
Submit your comments regarding proposed amendments
DESCRIPTION
The Department of Trade, Industry and Competition (DTIC) published the Companies Amendment Bill, 2021 (Bill) for public comment on 1 October 2021. The Bill was originally published for public consultation in August 2018 and subsequently redrafted with revised amendments. The revised amendments provide more clarity in a number of clauses of the Bill, which seeks to reduce regulatory regime on businesses; tighten anti-money laundering gaps; strengthen the disclosure requirements and enhance the shareholder powers in a company
The Bill is the second draft of the Companies Amendment Bill which was published in September 2018 (2018 Draft) which, if passed, will represent the first set of substantive amendments to the Companies Act 71 of 2008 (Act) since it came into effect on 1 May 2011.
Comments must be submitted to [email protected] by no later than Sunday, 31 October 2021.
Should you wish to:
submit comments to the Bill via SAIBA ( SAIBA is collecting these from our members and will collate and submit them to the DTIC), or
submit questions to the webinar presenter to receive a response via email,
click here and submit your comments or questions before Saturday, 20 October at 10:00.
A copy the Companies Amendment Bill, 2021 can be found here.
INFORMATION
Title: Companies Amendment Bill 2021
Date: 28 October 2021
Time: 16:30 -18:30
CPD: 2 non-verifiable
PRICE
The following pricing apply: Free for SAIBA members
REGISTRATION
Click on register to join the webinar.
Check your email for the link from Zoom ([email protected]).
Use the link in the email to login and attend on 28 Oct 2021.
Information available in SAIBA ACADEMY | LOGIN | MY DASHBOARD | MY COURSES | Companies Act Proposed Amendments – Companies Amendment Bill 2021 
REQUIREMENTS
There are no preconditions for this course. Moderate level. Recorded webinar made available on a specified date
PRESENTER
Esmerelda Oosthuizen
Esmerelda Oosthuizen is a Senior Lecturer and former Programme Manager for the Law Faculty at IIE MSA. She has obtained her LLB degree at the University of Pretoria, and her LLM, Master of Laws in International Trade Law at the North-West University. Esmerelda is admitted as an Attorney of the High Court of South Africa with several years of practical experience
SAIBA ACADEMY SUPPORT
Go to HTTPS://SAIBA.ACADEMY/LOGIN/ Login Select MY DASHBOARD Select SUBMIT A TICKET to log a new query
ADDITIONAL MATERIAL
By attending this webinar, you will be provided with:
Summarised slide presentation.
Reference documents and / or course material where available.
Access to a technical knowledge base. 
Recorded webinar that includes an expert presenter and participant interaction.