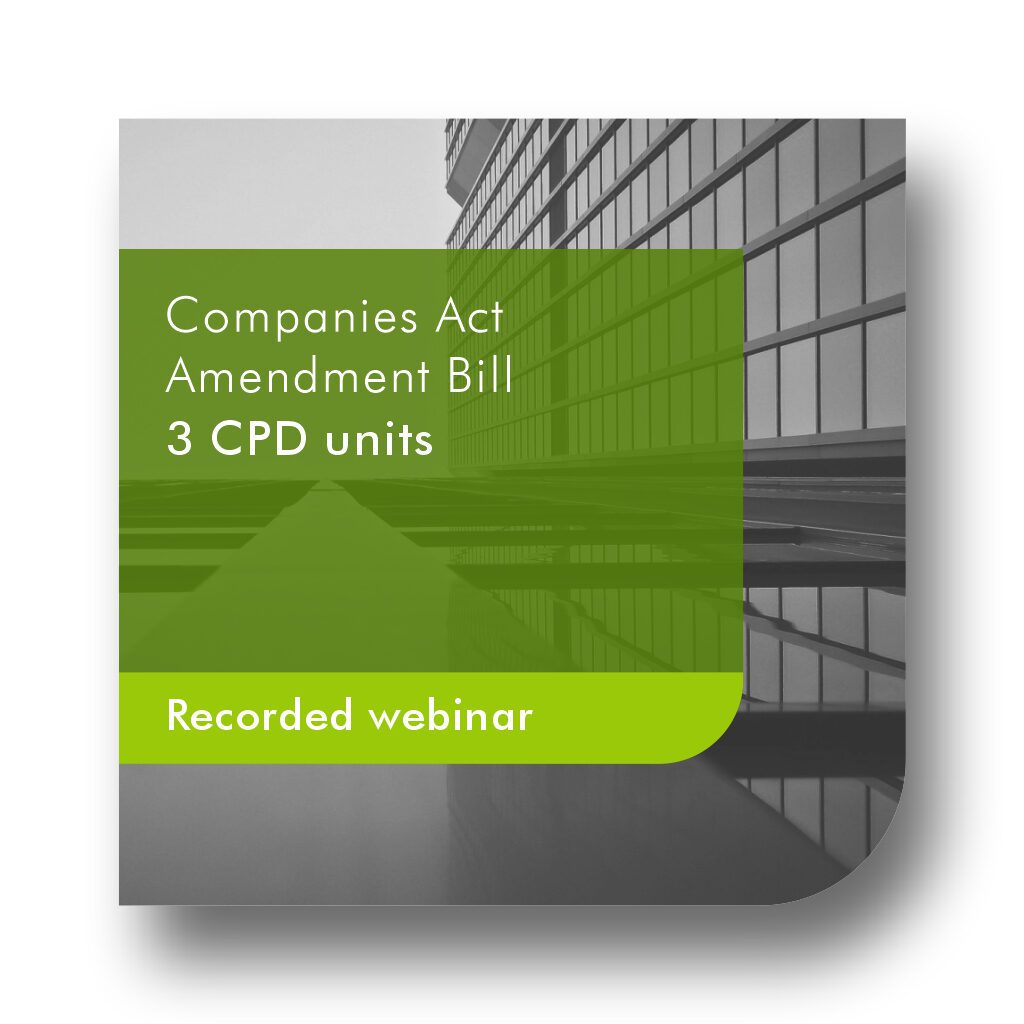 Companies Act Amendment Bill
To discuss the Companies Act Amendment Bill and how it affects attendees. December 2021
WHAT YOU WILL LEARN
By the end of this webinar the participant should:
How the DTI intends to improve the ease of doing business in South Africa.

The provision of greater transparency on wage ratios.

True and beneficial ownership of companies to address money laundering challenges.

What the social and ethics committee is about.

Submission of financial statements and security registers with annual returns.
DESCRIPTION
After much anticipation, the Department of Trade and Industry released a revised version of the Companies Act Amendment Bill on 1 October 2021 (comments by the public were due by 31 October 2021).  This is the second version of the previous Amendment Bill released in 2018. 
What has changed from the first version to the second? Does the second version take interested parties' concerns into consideration, such as those relating to the Public Interest Score?
PRICE
Adhoc – R475
Subscription Package – N/A
CONTENT
Study Unit 1
Access to information. 
Study unit 2
The social ethics committee.
Study unit 3
AFS and security registers submission
Study unit 4
Introduction of the Remuneration Report.
Study unit 5
The definition of true ownership.
Study unit 6
Relief relating to the financial assistance clause.
REQUIREMENTS
There are no preconditions for this course.
Moderate level.
Recorded webinar made available on a specified date
PRESENTER
Caryn Maitland is a Chartered Accountant (SA). She has been a member of IRBA as a registered auditor and accountant since 2002, Caryn has lectured Auditing and Accounting at various institutions and has conducted independent workshops and seminars for professional accountants since 2006 on various topics.
SAIBA ACADEMY SUPPORT
Go to HTTPS://SAIBA.ACADEMY/LOGIN/
Login
Select MY DASHBOARD
Select SUBMIT A TICKET to log a new query
ADDITIONAL MATERIAL
By attending this webinar, you will be provided with:
 Summarised slide presentation
 Reference documents and / or course material where available
Access to a technical knowledge base
Recorded webinar that includes an expert presenter and participant interaction