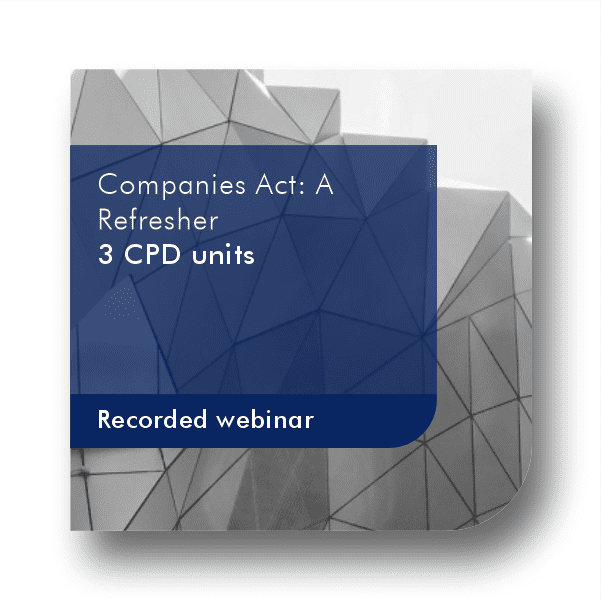 Companies Act: A Refresher 2023
To discuss the amendment to the Companies Act Regulations with regards to lodgement of Beneficial Ownership to CIPC October 2023.
What you will learn
After attending this webinar you will:
Possess a clear overview of the Companies Act and how it shapes the regulatory landscape for companies.
Have an awareness of the recent amendment requiring the lodgement of Beneficial Ownership registers.
Comprehend the reasons behind these amendments and their significance in the business environment.
Be updated on the latest FICA and Beneficial Ownership requirements.
Know and be able to follow the correct procedure for filing of Beneficial Ownership registers.
Description
The Companies Act shapes the way businesses function, disclose information, and interact with their stakeholders. It is a must that every accounting practitioner understands this Act and keeps abreast of any amendments to it.
Recently, an important amendment was made requiring companies to file Beneficial Ownership (BO) information to the CIPC by 1 October 2023. We have invited Edith Wilkins to explore this change and equip you with insights to effectively integrate these changes into your business practices.
Price
The following pricing apply:
Adhoc: R450.00
Subscription: Included for free in Bookkeeper.
Content
The webinar will cover the following topics:
Overview of the Companies Act.
Recent amendments to the Act.
Important definitions:

Beneficial ownership.
Beneficial Interests.

Companies affected by beneficial ownership amendment.
Applicable Sections of the Act.
Lodgement of BO register.
Requirement to appoint a company secretary.

Duties of the company secretary.
Keeping of company records.
Access to Statutory records.
Fees and penalties.
AFS vs FAS.
Compliance checklist.

Reportable irregularities.
Requirements
There are no preconditions for this course.
Moderate level.
Recorded webinar made available on a specified date.
Presenter
Edith Wilkins – Director Sekratari
Edith Wilkins has been in the Company statutory services environment since the beginning of her career in 1990 and gained knowledge and understanding of the Companies Act and related legislation throughout the years. She obtained a Certificate in Advanced Corporate Law at the Tshwane University of Technology in 1999; a Certificate in Advanced Corporate and Securities Law from UNISA in 2013 and a Certificate in The Introduction to Corporate Governance from UNISA in 2018. She is also the holder of certificates from the University of Cape Town in Corporate Due Diligence and Corporate Governance.
Edith is the sole director of a company called Sekretari. Her team performs all duties relating to company secretarial services, including drafting agendas and minutes of meetings, preparing board packs, attending meetings and liaising with the CIPC on a daily basis. Edith has been responsible for in-house training on company secretarial duties for more than 11 years and presented seminars and webinars in conjunction with the Institute of Accounting and Commerce, 20/20 Innovation, and SA Accounting Academy.
CIBA Academy Support
Login to CIBA Academy
Select My Dashboard
Select Submit a Ticket to log a new query