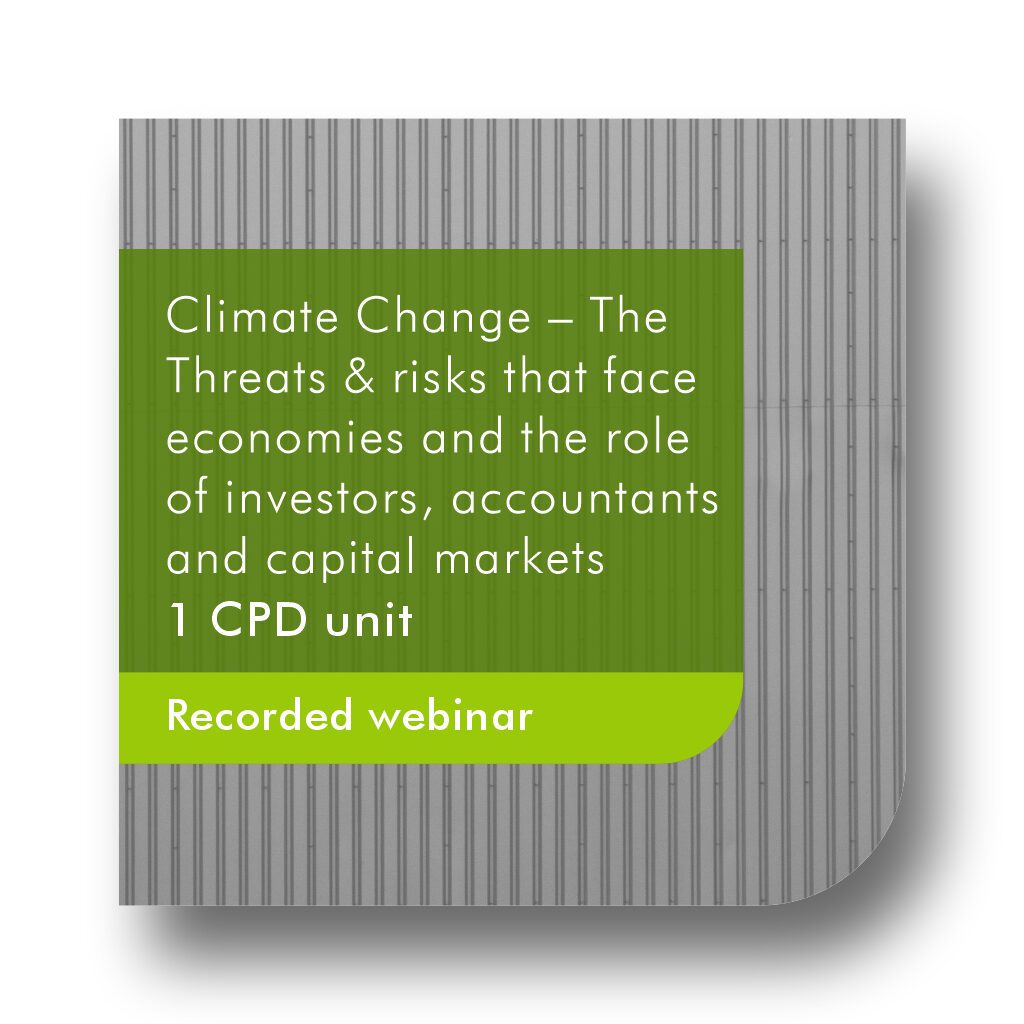 Climate Change – The Threats and risks that face economies and the role of investors, accountants and capital markets.
Online panel discussion to discuss the threats and risks that face economies and assisting accountants to steer business and capital markets toward decarbonization. September 2021
WHAT YOU WILL LEARN
By the end of this event the attendee should:  
Understand the significant impact of climate-related matters on organizations' business models, cash flows, financial performance and the immediate attention it requires from accountants.
Know how to assess climate change risks and opportunities.
Understand how accountants' skills and knowledge around integrated reporting, encompassing capitals be they natural, financial, manufactured, human, social/relationship or intellectual, have a vital role in tackling the threats and risks that face economies due to climate change.
Understand the information gap between business and investors and what might be done to address it.
DESCRIPTION
This event will bring together investors and finance & accounting professionals to discuss how climate information and reporting can be improved to meet business and investor needs. As chief stewards of business information, accountants need to ensure that investors and decision makers within organizations have access to high-quality climate-related information to understand the current and prospective impact of climate change on an organization, and its strategy, risk management and financial position and prospects.
The online panel discussion will address these critical areas in building a bridge between accountants, decision makers within organizations and investors so they have the information they need to steer business and capital markets toward decarbonization.
PRICE
The following pricing apply:
Ad hoc: Free webinar
CONTENT
CFO/controller priorities for understanding, measuring, and communicating climate impacts, risks and opportunities and their challenges in improving decision making and external reporting.
Investor and asset manager priorities for enhancing transparency and reporting on climate change.
The Financial Stability Board's Taskforce on Climate-related Financial Disclosures (TCFD) recommendations to ensure that climate-related risk and opportunities are strategically managed and communicated. Although TCFD disclosures are improving, climate risks tend not to be quantified and the current and prospective financial impacts on revenues, expenditures, assets, and liabilities can be unclear.
Implications for the new International Sustainability Standards Board (ISSB) and its development of a climate-related reporting standard.
Key points to keep in mind for the upcoming 2021 reporting cycle
REQUIREMENTS
There are no preconditions for this course.
Moderate level.
Recorded webinar made available on a specified date
PRESENTER
A panel discussion moderated by Patrick Temple-West, Financial Times, will feature:
Merilee Buckley, Chief Accounting Officer, Etsy
Richard Manley, Managing Director, Head of Sustainable Investing, Global Leadership Team at CPP Investments

Munazzeel Riasat, Chief Executive Officer, IBC Power Limited
WEBINAR REGISTRATION
Members, who do not require a CPD certificate, have the option to register directly for the webinar here. (https://ifac-org.zoom.us/webinar/register/WN_Vh4UcBDHSc-B-YEc261Ibg?utm_source=Main+List+New&utm_campaign=ce7cb95784-EMAIL_CAMPAIGN_2021_08_30_08_06&utm_medium=email&utm_term=0_c325307f2b-ce7cb95784-80687292)
Members who require:
Access to the recording after the event
A CPD certificate
Should register on SAIBA Academy:
Select the REGISTER NOW button.
Follow the check-out procedures
Gain access to the information via your SAIBA Academy login: LOGIN | MY DASHBOARD | MY COURSES.
Select START Next to Climate Chante – The Threats and risks that face economies and the role of investors, accountants and capital markets
The following information will be available after you have selected start:

The webinar registration link and Zoom code
The recording after the event
A short quiz after the event to obtain your CPD certificate.
SAIBA ACADEMY SUPPORT
Go to HTTPS://SAIBA.ACADEMY/LOGIN/
Login
Select MY DASHBOARD
Select SUBMIT A TICKET to log a new query