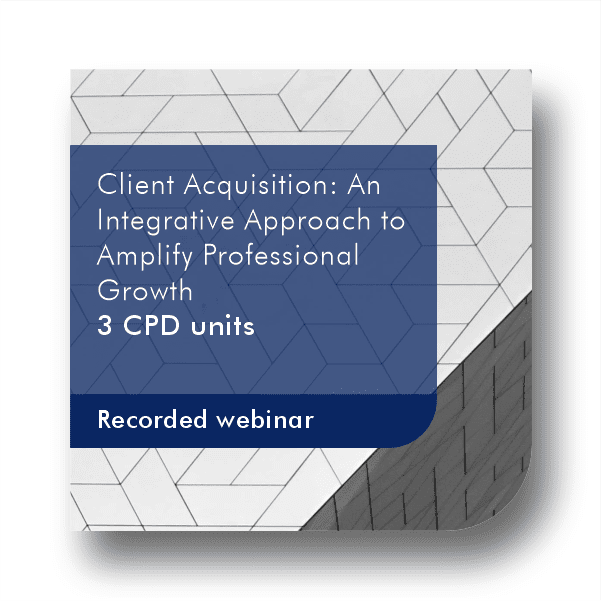 Client Acquisition: An Integrative Approach to Amplify Professional Growth 2023
Participants will improve their expertise in attracting clients through networking and referrals to drive business growth 2023.
What you will learn
After attending this webinar you will:
Briefly recap the key points from each of the previous webinars in the series. 

Understand the importance of an integrated approach to client acquisition.   

Get an insights on how to pull together strategies from all the previous webinars. 

Guide participants through the process of creating a comprehensive client acquisition strategy, integrating insights from all the webinars.  

Give participants best practices and tips for effectively implementing the client acquisition strategy. 
Description
In our tenth and final episode of our Attracting New Clients Series, we will bring together the best strategies and tips shared in all the previous webinars. This comprehensive session aims to provide an integrative approach to mastering client acquisition, amplifying professional growth, and ensuring sustainable success.
Price
The following pricing apply:
Adhoc: R450.00
Content
The webinar will cover the following topics:
Client Acquisition Strategy Template: 

This template would provide a structured format for participants to outline their client acquisition strategy, with sections corresponding to each topic covered in the webinars. 

Webinar Series Action Steps Checklist: 

This checklist would list the key action steps from each webinar, providing a clear roadmap for participants to implement what they've learned. 
Requirements
There are no preconditions for this course.
Moderate level.
Recorded webinar made available on a specified date.
Presenter
Monja van Zyl CA(SA)
Monja van Zyl completed her CA(SA) articles in Durban and qualified as a chartered accountant in 2006. She then worked for both listed and unlisted companies in various industries where she mentored and led teams of different sizes. 
Recognising the importance of balancing work and life, Monja started her own business called Aim Business Advisory Services in 2019. Her target market is the small-to-medium sized companies to whom she gives access to her vast skills and experience at a fraction of the cost on an outsourced retainer model. 
CIBA Academy Support
Login to CIBA Academy
Select My Dashboard
Select Submit a Ticket to log a new query