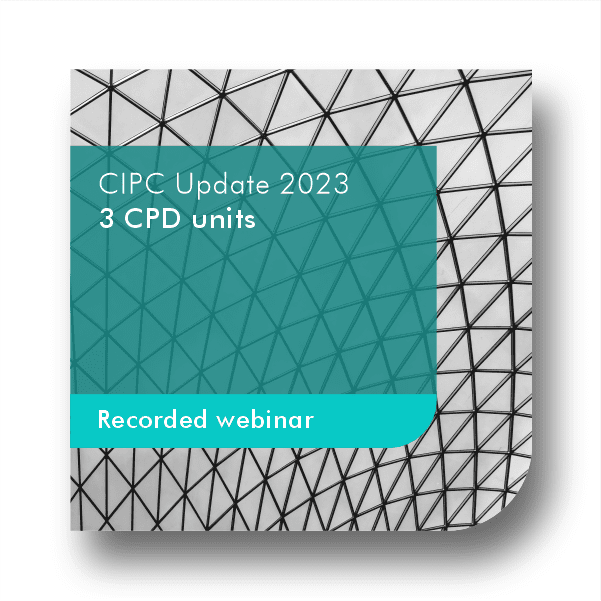 CIPC Update for Bookkeepers 2023
To discuss the changes implemented by CIPC throughout the past year 2023.
What you will learn
After attending this webinar you will:
Appreciate the role of the CIPC and what it requires you to comply with as provided for by the Companies Act.
Gain an awareness of and an understanding of notices that have been issued by the CIPC in the past year.
Acquire full knowledge of the general information the CIPC requires you to lodge with them.
Competently lodge information and documents for beneficial ownership as required by the CIPC.
Be able to correctly and adequately submit any company change information to the CIPC.
Description
The CIPC issues compliance notices on a regular basis. This year to date, they have issued over 50 notices that cover a wide range of topics.
In this webinar, Edith Wilkins collates important information that has been published in this past year's notices. Some of this information includes requirements to record information of beneficial ownership, annual returns, the CIPC compliance checklist and information on company directors and registered office address changes.
Join Edith as she takes you through the fundamental compliance principles of the Companies Act impacting accountants, company secretaries, and directors as well as a run through of notices issued by the CIPC.
Price
The following pricing apply:
Adhoc: R450.00
Subscription: Included for free in Bookkeeper.
Content
The webinar will cover the following topics:
The role of the CIPC.
Notices issued by the CIPC.

Purpose of the notices.
Clarification of requirements.

Companies Amendment Act.
Lodging documents with the CIPC.

Required supporting documents.
Prescribed forms and formats.

Recording beneficial ownership.
Compliance Checklist.
Requirements
There are no preconditions for this course.
Moderate level.
Recorded webinar made available on a specified date.
Presenter
Edith Wilkins – Director Sekratari
Edith Wilkins has been in the Company statutory services environment since the beginning of her career in 1990 and gained knowledge and understanding of the Companies Act and related legislation throughout the years. She obtained a Certificate in Advanced Corporate Law at the Tshwane University of Technology in 1999; a Certificate in Advanced Corporate and Securities Law from UNISA in 2013 and a Certificate in The Introduction to Corporate Governance from UNISA in 2018. She is also the holder of certificates from the University of Cape Town in Corporate Due Diligence and Corporate Governance.
Edith is the sole director of a company called Sekretari. Her team performs all duties relating to company secretarial services, including drafting agendas and minutes of meetings, preparing board packs, attending meetings and liaising with the CIPC on a daily basis. Edith has been responsible for in-house training on company secretarial duties for more than 11 years and presented seminars and webinars in conjunction with the Institute of Accounting and Commerce, 20/20 Innovation, and SA Accounting Academy.
CIBA Academy Support
Login to CIBA Academy
Select My Dashboard
Select Submit a Ticket to log a new query