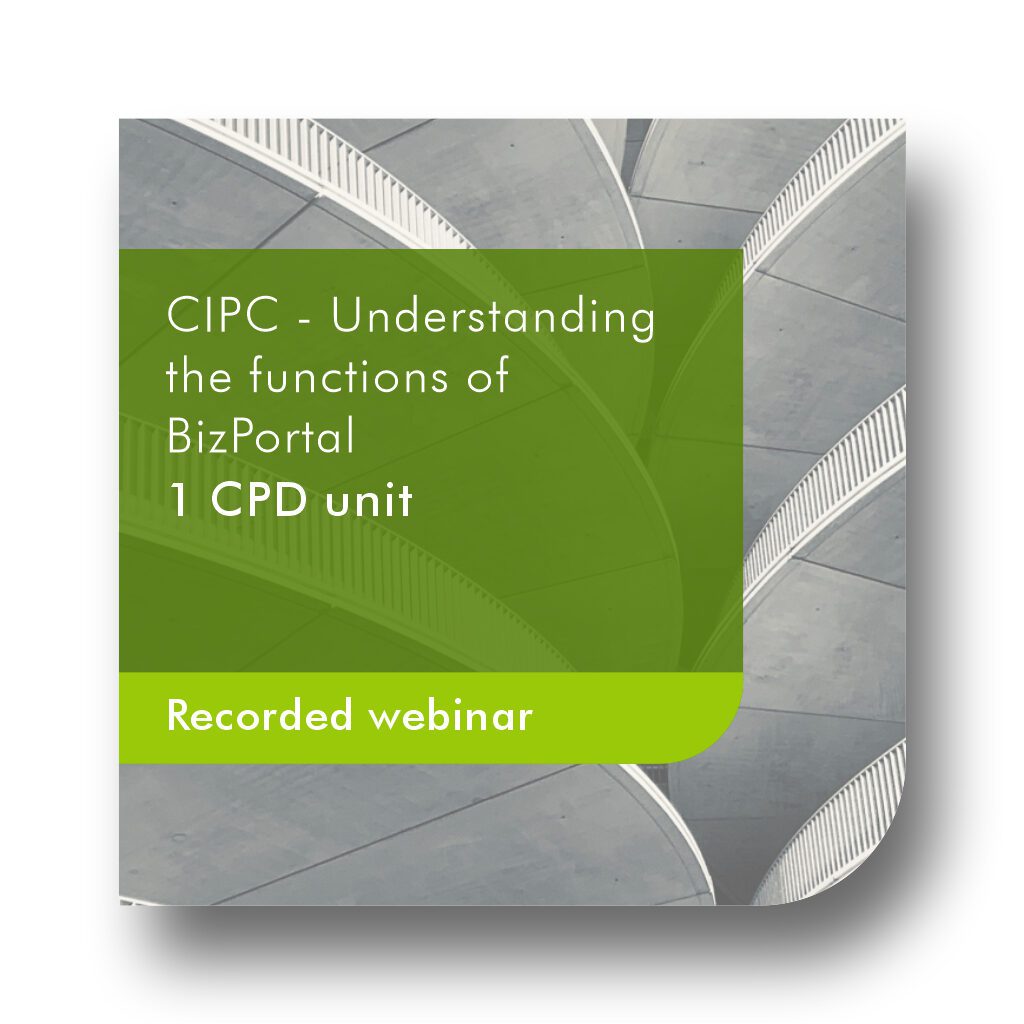 CIPC – Understanding the functions of BizPortal
To show how to use the CIPC's BizPortal, a platform for company registrations and related services. June 2022
What You Will Learn
By the end of this webinar the participant should be able to:
Train staff to use functions of the CIPC-enabled BizPortal.

Improve business process by the effective use of CIPC-enabled digital technologies.

Effectively use the CIPC's digital platform.

Resolve common BizPortal user issues
Description
Considering the number of technical and operational queries received in recent months, it is apparent that the useful functionalities of the CIPC-enabled BizPortal are not fully known by all users. 
We invited BizPortal to present a practical webinar session. Lettie Janse van Vuuren CA(SA) will facilitate a discussion with the CIPC Education Specialist, Ms. Shanee Kelly. 
This one-hour complimentary webinar session will include a presentation about the BizPortal functions, operational processes, channels, compliance functions, online certificates, funds, etc. 
Price
Content
Introduction to the CIPC.

The concepts of 

Learn-i-Biz

 and bulk emails.

BizPortal:

What is the BizPortal?

What should you know before using BizPortal?

Which services are available?

How does fee payments work?

B-BBEE Certificates.

Password Reset.

Navigating 

BizPortal

, including:

Services.

BizProfile.

Enterprise details.

Allocation of funds and refunds.

Main queries received by CIPC.
Requirements
There are no preconditions for this course.
Moderate level.
Recorded webinar made available on a specified date
Presenter
Shanee Kelly 
Ms Shenee Kelly is performing the duties of an Education Specialist at the Corporate Education and Compliance Unit of the CIPC. She started her career at the Department of Trade and Industry in April 2002. Ms Kelly is equipped with a BBA degree and has travelled throughout South Africa educating existing and upcoming SMMEs and Entrepreneurs on CIPC Product and Online Services as well as CIPC Business Compliance. Since the start of the COVID-19 pandemic, she diverged into online webinars promoting CIPC virtually.  She also represents CIPC at Presidential and Ministerial outreach events of the Department of Trade, Industry and Competition.
Lettie Janse van Vuuren CA(SA), RA  
Lettie is a Chartered Accountant, Registered Auditor, as well as an Assessor and Moderator. She joined SA Accounting Academy in November 2017 as Head of Technical. As a professional trainer and webinar host, she is able to hold the attention of an audience with her relaxed and humorous presentation style.  She has a unique ability to communicate with delegates at their respective levels of knowledge and experience.  Over the last 20 years, she has trained thousands of partners, managers, trainee accountants and other professionals.  
She is responsible for researching, compiling and presenting our MCLU (Monthly Compliance and Legislation Updates). She was the Professional Development Manager at SAICA for 4 years and in charge of accrediting new training offices and monitoring existing ones (including the moderation of training offices and trainee assessments). 
SAIBA Academy Support
Login to SAIBA Academy
Select My Dashboard
Select Submit a Ticket to log a new query