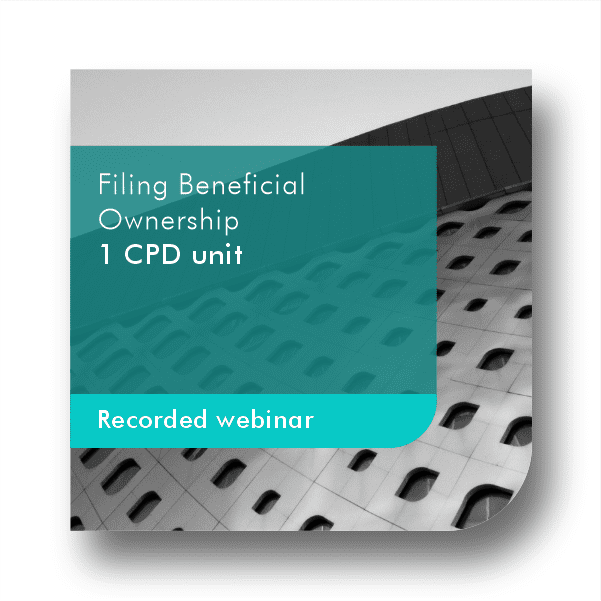 CIPC: Filing Beneficial Ownership
This webinar highlights the seamless and efficient process of generating share registers and filing beneficial ownership using InfoDocs. August 2023
What you will learn
By attending this webinar you will gain the following competencies: 
Simplify share registers and beneficial ownership management comprehensively with InfoDocs.

Ensure you comply with CIPC regulations that will enable you to stay current with regulatory requirements.

Unveil the power of InfoDocs' automation, efficiently managing company secretarial tasks like share registers and beneficial ownership, saving precious time and effort.

Discover how InfoDocs boosts productivity and accuracy in CIPC transactions.

Explore InfoDocs' best practices for managing share registers and beneficial ownership, empowering you to strengthen your company's corporate governance framework.
Description
Companies are required to file Beneficial Ownership (BO) information to the CIPC. The filing requirements were created by the General Laws (Anti-Money Laundering and Combating Terrorism Financing) Amendment Act, 2022 and the Companies Act Amendment Regulations 2023 (GN R3444).   
By attending this webinar, you will gain the following competencies: 
Streamline the maintenance of company share registers and the management of beneficial ownership for clients.

Be updated 

with current CIPC practice and regulations to assist clients with their statutory compliance. 

 

Knowledge about the latest automation and technologies to efficiently manage company secretarial functions for clients.
Price
The following pricing apply:
Adhoc: R0.00
Content
The webinar will cover the following topics:  
Introduction:

Share Registers.

Beneficial Ownership.

Challenges in traditional record-keeping.

Best practices:

Share register management.

Beneficial Ownership filing.
Requirements
There are no preconditions for this course.
Moderate level.
Recorded webinar made available on a specified date.
Presenter
Nadia van den Heever
Head of Customer Support – InfoDocs
Nadia van den Heever has made a name for herself in the company secretarial services industry despite only having worked at InfoDocs for a few years. As a self-taught expert and compliance advocate, she plays a vital role in helping company secretaries across South Africa ensure their clients remain compliant with the Companies Act. 
Nadia is passionate about simplifying the compliance processes and she actively introduces SME business owners to InfoDocs as a solution to save time, effort, and money in maintaining their compliance obligations.
CIBA Academy Support
Login to CIBA Academy
Select My Dashboard
Select Submit a Ticket to log a new query