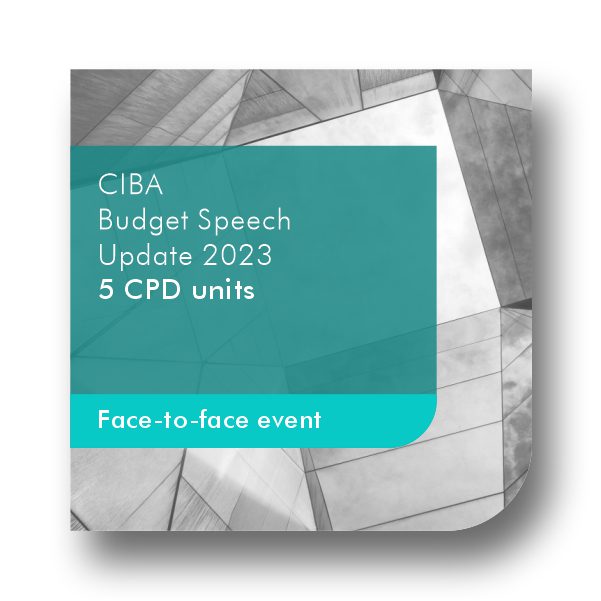 CIBA Budget Speech Update 2023 (In-Venue Event)
The 2023 Budget Speech 2023 Review will unpack the economic and tax impact of the Budget Speech. We look at the key pronouncements from the speech and how these will impact your business and your personal finances.
What you will learn
By the end of this webinar, you will:
Be updated with important and current changes in tax legislation introduced in the Budget Speech.
Understand how the proposed 2022 tax amendments will affect your business and your personal finances.
Learn the important amendments and their impact to revise the tax planning strategy of clients for the 2023/2024 tax year.
Understand topics to include in a client communique to alert your clients about the specific tax implications introduced in the Budget Speech.
Description
The Annual Budget Speech is the most anticipated event on the financial calendar as the finance minister faces the tough decisions to strike a balance of the conflicting priorities of the nation.
Will the government continue to re-prioritise its spending while staying committed to fiscal consolidation?
Will the fiscal and economic risks posed by Eskom, Denel, Sanral and Transnet be addressed?  What level of support will be allocated to municipalities to cover cost increases in free basic services? And what does all this mean for you as an accountant?
Book your seat today as tax experts and economists explain the proposals in a practical and comprehensible manner and understand how to apply the amendments and their impact on business and personal finances.
Information
Date: Tuesday, 28 February 2023
Time: 08:00 – 14:30
Included: Half-day conference and lunch
Format: In-person 50 seats (first come first served)
Venue: Maslow, Menlyn Maine, Pretoria
CPD: 5 CPD Units
Normal price: R795.00
Programme
Welcome:

Michael Avery (Master of Ceremonies)

Keynote: South Africa's Economic outlook, Jacob Mamabolo (Gauteng MEC of Finance)

South African Tax Update

:

Impact on local business and taxes, Johan Heydendrych (Kreston SA Tax Services Director)

International Tax Update: Impact on transfer pricing and international taxes, Musa Manyathi (Deloitte Director: Transfer pricing and International Tax)

Economic Update: Highlights of the economic impact of the 2023 Budget Speech, Mamello Matikinca-Ngwenya (FNB SA, Chief Economist)

Panel discussion: Were South Africa's economic issues adequately addressed in the budget speech?

Closing: Nicolaas van Wyk (CIBA CEO)
Michael Avery
Financial Journalist
Classic Business Show
Our Master of Ceremonies is a financial journalist and broadcaster with over a decade's experience and holds a degree in journalism from the University of Johannesburg.

Jacob Mamabolo
Gauteng MEC for Finance
National Government of South Africa
MEC Mamabolo has worked as a civil servant for over 10 years and was appointed as Gauteng MEC for Finance during November 2022.

Johan Heydendrych
Kreston SA
Director: Tax Services
Johan is a Chartered Accountant who specialised in taxation since 1991. He completed various degrees Cum Laude and has extensive tax experience on a national and international level.

Musa Manyathi
Deloitte Director:
Transfer Pricing and International Tax
Musa is an admitted attorney and director in the transfer pricing department of our South African practice, based in Johannesburg. He has vast experience advising
multinational organisations.

Mamello Matikinca-Ngwenya
Chief Economist
FNB SA
Mamello plays a critical role in providing macroeconomic insight to FNB and broader FirstRand group and its clients. She is a member of the Presidential Economic Advisory Council and has served as a member of the National council on innovation and the Statistics South Africa CPI Advisory committee.

Nicolaas van Wyk
CEO
CIBA
Nicolaas holds qualifications in Bcom Hons, MBA and Dipl Corporate Law and is a founding member of CFO Alliance and Area President Africa for IAFEI.
How to register
Select the Register Now button and follow the 3 steps:
STEP 1: Insert billing information, coupon code and approve Terms and Conditions.
STEP 2: Process payment. Managed by external payment gateway.
STEP 3: Receive confirmation.
After registration
You will receive an email from SAIBA Academy <info@saiba.org.za> with ticket with an unique QR Code . Safe keep the ticket and present it at the venue on 28 Feb 2023.
After successful registration, the event will be listed as a course under your SAIBA Academy profile. Login, My Dashboard, My Courses. Select start next to: CIBA Budget Speech Update 2023. A recording will be made available in this course page to all delegates who registered awithin 48 hours of the event.
There are no preconditions for this course.
Moderate level.
SAIBA Academy Support
Login to SAIBA Academy
Select My Dashboard
Select Submit a Ticket to log a new query