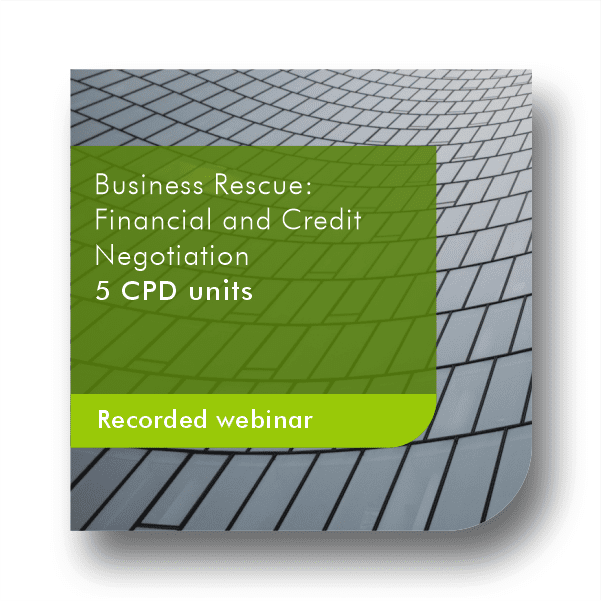 Business Rescue: Financial and Credit Negotiation 2023
To show attendees how they can advise their clients regarding business rescue, and also perform the business rescue process themselves. June 2023
What you will learn
Attending this webinar will equip you with the following skills:
Gain a full understanding of the business rescue process.

Acquire the ability to identify when a business is in financial distress. 

Possess knowledge of how to decide w

hen business rescue is a viable option.

Act in an advisory role to company directors as far as their duties and responsibilities are concerned in accordance with the Companies Act.

Have the practical knowledge to guide your financially distressed clients through the business rescue process.
Description
Business rescue is a process that is designed to help struggling companies overcome financial difficulties and avoid insolvency. The latest report from the CIPC on the status of business rescue proceedings reveals that 4370 business rescue proceedings have taken place since the inception of business rescue in South Africa. 
Accountants and lawyers meeting certain criteria, can qualify to become business rescue practitioners accredited with the CIPC. One of the aims of this webinar is to show you how you can become a business rescue practitioner. The presenter will also highlight financial and credit negotiation, which is a crucial part of the business rescue process where struggling companies are assisted with debt restructuring and cash flow management for their survival.   
Price
The following pricing apply:
Adhoc: R575.00
Subscription: Included for free in Accountant in Practice, Accountant in Practice plus Tax, Bookkeeper.
Content
The webinar will cover the following topics: 
Business rescue – Chapter 6 Companies Act 71 of 2008.

Directors' obligations. 

Business rescue proceedings. 

Important definitions.

Court order or voluntary business rescue?

General moratorium on legal proceedings within business rescue. 

Investigation of affairs of company.

Rights of affected persons. 

Development and approval of business rescue plan.

Classification of companies undergoing business rescue.

How to become an accredited business rescue practitioner.
Requirements
There are no preconditions for this course.
Moderate level.
Recorded webinar made available on a specified date.
Presenter
Tania Lopes  
Tania Lopes is a licensed business rescue practitioner with over 13 years' experience in the financial sector. A graduate from the University of South Africa, Tania also completed the Certified Rescue Analyst Programme with the University of Pretoria. 
Tania is a member of the South African Restructuring Insolvency Practitioners Association and she's also a member of the Turnaround Management Association of Southern Africa. She's currently a director Salvis Gratia where she takes on appointments for the restructuring of financially distressed companies as well as consult for other business rescue practitioners. 
CIBA Academy Support
Login to CIBA Academy
Select My Dashboard
Select Submit a Ticket to log a new query