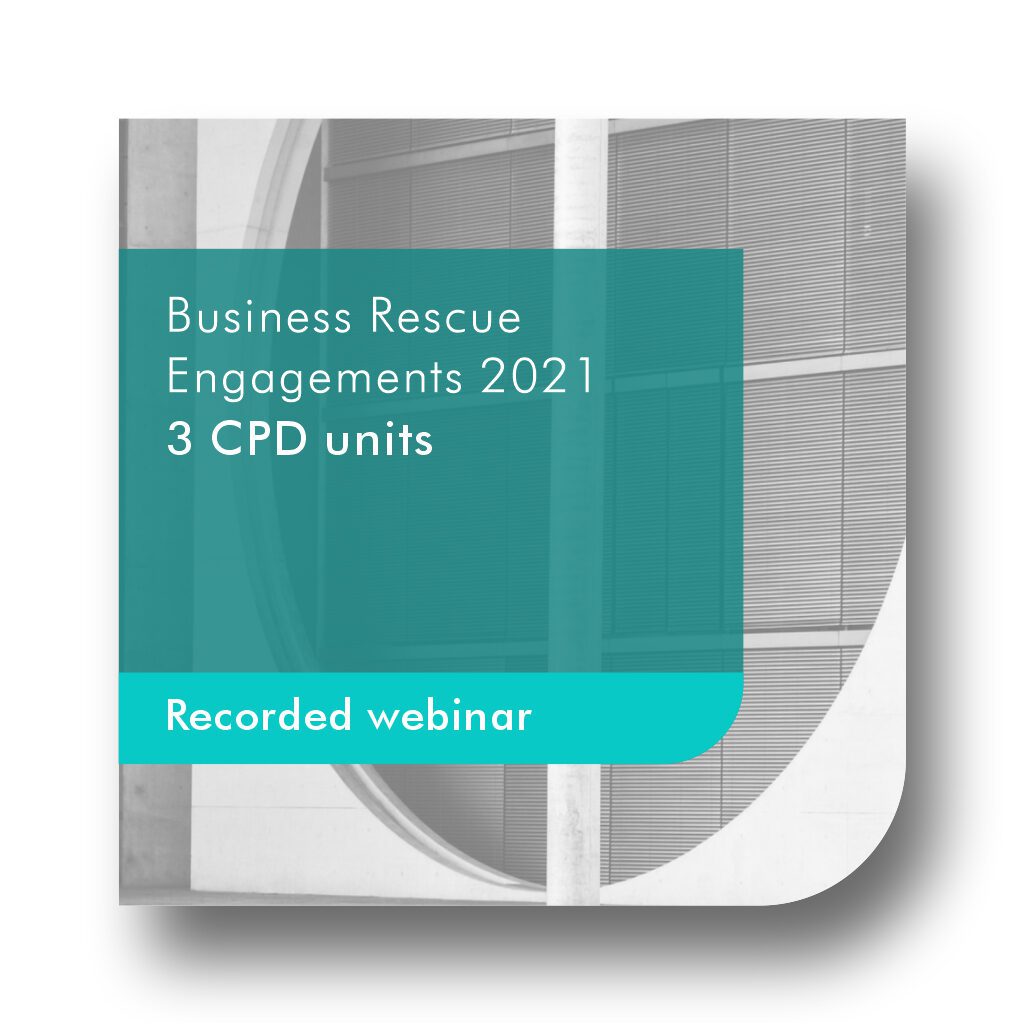 Business Rescue Engagements 2021
To discuss business rescue and how one can become a business recue practitioner. July 2021
WHAT YOU WILL LEARN
By the end of this event the attendee should:  
Understand business rescue in its full context;

Understand financial distress vs going concern;

Understand business rescue proceedings;

Understand the roles, rights and responsibilities of stakeholders; and 

Know how to become a licenced business rescue practitioner.  

 

 
DESCRIPTION
Many enterprises have recently filed for voluntary business rescue. Notable examples are SAA, SA Express, Edcon, Ster-Kinekor, and Comair. Although the COVID-19 national lockdown had some part to play in this situation, these business were already financially distressed pre-lockdown.
The accountant is usually the first person to see that their client's business is facing financial problems. He or she should be able to determine whether the business is factually insolvent or financially distressed.  This "discovery" should then be guided by the Companies Act as far as duties and obligations are concerned in this regard.  
Business rescue is now an established area of specialisation and qualifying accountants can become registered business rescue practitioners who can be engaged by financially distressed businesses to "rescue" these businesses from their impending demise. 
PRICE
The following pricing apply:
Ad hoc: R475 for this webinar
Subscription: Included for free in Accountant in Practice plus Tax, Accountant in Practice and Bookkeeper package.
CONTENT
Study Unit 1
What is business rescue?  
Study Unit 2
The business rescue test. 
Study Unit 3
To rescue or to liquidate?   
Study Unit 4
Business rescue proceedings.  
Study Unit 5
Stakeholders' rights, roles and responsibilities.   
Study Unit 6
Voluntary vs involuntary winding up of a company. 
Study Unit 7
Deregistration of a company. 
Study Unit 8
Becoming a licenced business rescue practitioner.
REQUIREMENTS
There are no preconditions for this course.
Moderate level.
Recorded webinar made available on a specified date
PRESENTER
Caryn Maitland is a Chartered Accountant (SA). She has been a member of IRBA as a registered auditor and accountant since 2002, Caryn has lectured Auditing and Accounting at various institutions and has conducted independent workshops and seminars for professional accountants since 2006 on various topics.
SAIBA ACADEMY SUPPORT
Go to HTTPS://SAIBA.ACADEMY/LOGIN/
Login
Select MY DASHBOARD
Select SUBMIT A TICKET to log a new query
ADDITIONAL MATERIAL
By attending this webinar, you will be provided with:
– Summarised slide presentation.
– Reference documents and / or course material where available.
– Access to a technical knowledge base.
– Recorded webinar that includes an expert presenter and participant interaction.