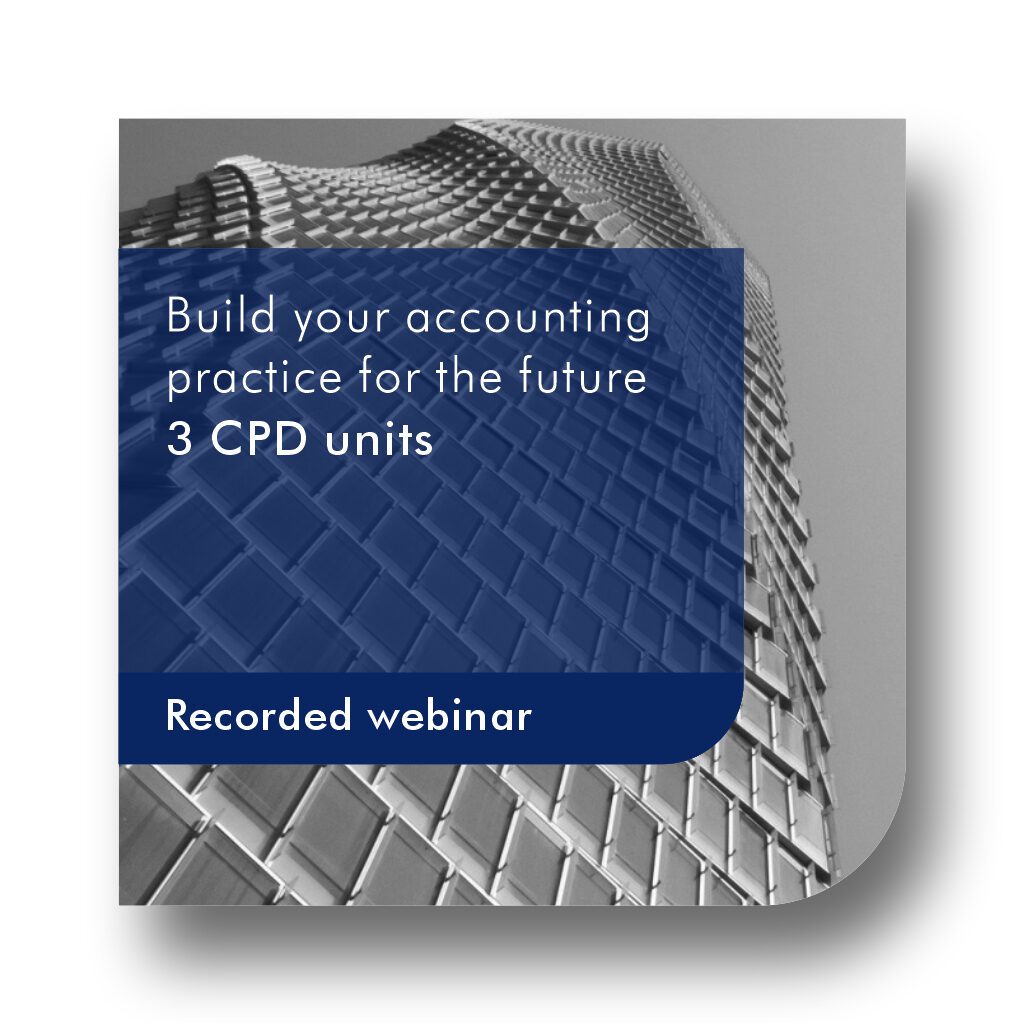 Build your accounting practice for the future
To discuss the ways through which practitioners can build and run successful firms into the future. February 2022
What you will learn
By the end of this event the attendee should:  
Have an understanding of the current economic space and the most likely future outlook. 

Have an understanding of the challenges, opportunities and risks inherent in the current economic space and how this relates to planning for future growth.

Have an understanding of the major global trends that impact on business building and expansion.

Knowledge of the crucial components that any accounting practice that is built to survive the future must have.

Have a practical to-do list that is implementable immediately for increased profits and future-proofing your business.
Description
While accountants are giving strategic business advice to their clients, who is strategising for the future of their own businesses (the accounting practices)? 
Is it possible to help clients look into the future with sound business advice while the advisor is not looking at the future of their own business? Probably not!
This webinar will show accounting practitioners the importance of understanding the current economic space in which they operate, and how this is the basis upon which the future can be predicted and strategies made.
Price
The following pricing apply:
Ad hoc: R450 for this webinar
Subscription: Included for free in the Bookkeeper package.
Content
Study unit 1
The current economic space.  
Study unit 2
Major global trends impacting the accounting profession. 
Study unit 3
Risks, opportunities and challenges. 
Study unit 4
Components of a successful future-proof accounting practice.  
Study unit 5
Practical steps to take now.  
Requirements
There are no preconditions for this course.
Moderate level.
Recorded webinar made available on a specified date
Presenter
Nestene Botha
Nestene completed her B.com (Hons) at North West University in 2012. In 2014 she completed her professional articles and her Masters Degree in Chartered Accountancy. 
Nestene has lectured on the audit programme at the University of Cape Town. She started her own audit, tax & accounting practice which she has since grown into a reputable firm in the Tableview area with 60 clients and two staff members.
SAIBA Academy Support
Login to SAIBA Academy
Select My Dashboard
Select Submit a Ticket to log a new query
Additional Material
By attending this webinar, you will be provided with:
– Summarised slide presentation.
– Reference documents and / or course material where available.
– Access to a technical knowledge base.
– Recorded webinar that includes an expert presenter and participant interaction.