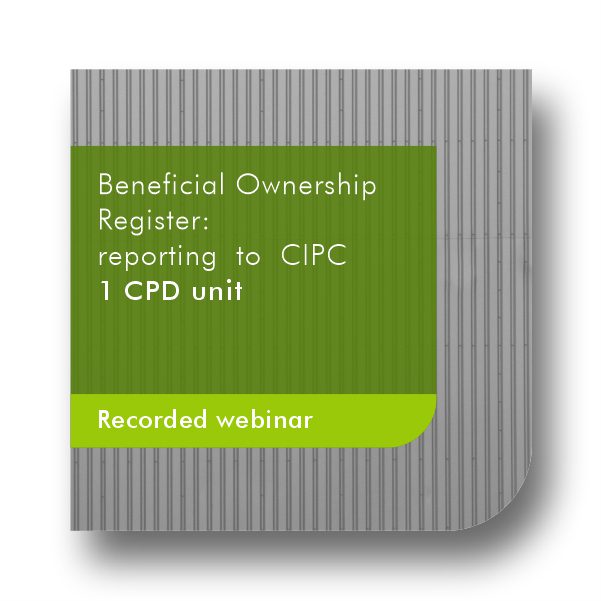 Beneficial ownership register: Reporting to CIPC
This webinar will provide a brief overview of the purpose and use of beneficial ownership information. June 2023
Overview
Beneficial ownership reporting by companies is a vital mechanism that aims to enhance transparency and combat financial crimes. In terms of this reporting obligation businesses must disclose information about individuals who ultimately own or control them. The reported information can be used for multiple purposes by the relevant authorities, including preventing money laundering, terrorist financing, tax evasion, and corruption.
Beneficial ownership information is a requirement by the Financial Action Task Force (FATF) and it is crucially important for South Africa in order to get off the FATF greylist where it was included in February 2023.
The General Laws Amendment Act was promulgated early in January, amending the Companies Act to include new requirements to report on their beneficial ownership information. The CIPC is required to collect beneficial ownership (BO) information from companies and close corporations and keep a register.
What you will learn
By the end of this webinar you will understand the following:
What is beneficial information and why is it important to report it?
What do companies need to report on beneficial ownership?
What are the processes and deadlines for reporting on beneficial ownership?
Who should complete the return?
Where can companies find more information on how to submit the information?
What are the deadlines for submission?
Information
Format: Recorded event
Content/Topics
Welcome
Introduction and background to beneficial ownership
FATF requirements and the mutual evaluation report
Link to greylisting and why were changes necessary
Amendments brought in by the GLA Act on BO reporting and the impact on the Companies Act.
The impact of BO reporting on companies
What does beneficial ownership mean?
Why is BO information important?
What are the differences between legal (direct) and beneficial (indirect) ownership?
What are 'affected' and 'not affected' entities?
What are the requirements for listed companies?
Do subsidiaries have to report separately from the holding company?
Are close corporations part of this?
Reporting requirements
What is the mandate of CIPC with respect to BO?
How do companies and close corporations submit their beneficial ownership information?

Where and how are the BO information entered and filed?
How do reporting requirement differ for 'affected' and 'not affected' entities?
What is the 5% threshold and how does it work?
What information do entities need to have?
What supporting documents need to be submitted online?

What are the timelines for submitting BO information? Do entities need to do it annually? Is there a set deadline?
How is beneficial ownership information going to be used?
Who will be able to access the BO information?
Additional information and assistance
CIPC: Guide on CIPC website / YouTube webinar / other assistance (FAQ)
CIBA guidance and webinar / technical support
How to register
Select the Register Now button.
After registration
You will receive an email from Z00m (email: no-reply@zoom.us) with your unique link. Do not share the link publicly to ensure you gain access. The email will be send to the email address you listed under the heading Webinar Attendee in the Checkout Form.
After successful registration, the event will be listed as a course under your SAIBA Academy profile. Login, My Dashboard, My Courses. Select start next to: Accountants as Accountable Institutions 2023. A recording will be made available to all delegates who registered and attended the online webinar.
Price
The event is free to attend.
Presenter
Eszter Rapanos, Technical Manager, CIBA
Eszter has over 20 years' experience in financial accounting, auditing, and education, including capacity building and framework development. She is a qualified Chartered Accountant CA(SA), who completed her Bcom Financial Accounting degree at the University of Pretoria, her Bcompt Hon and a Postgraduate diploma in auditing at Unisa. She started her career in the Auditor-General South Africa as an audit manager. She completed various professional projects financed amongst others by the European Union, World Bank, the German Cooperation Agency (GIZ) and KFW. Her career included being the Training and Quality control manager at an accounting firm, before joining CIBA as Technical Manager.
Lucinda Steenkamp
Lucinda obtained her LLB at the University of the Free State in 2004 and was admitted as an
attorney with right of appearance in the High Court in 2005. She practiced as an attorney from
2005 until 2009, in various areas such as criminal, family and corporate law, estates, etc. She
joined the CIPC in 2009 as an Assistant Director: MOI's and Shares, heading up the MOI
amendments division.
In January 2017 Lucinda accepted the appointment of Senior Legal Advisor within the
Corporate Legal Division. As Legal Advisor her responsibilities include Companies Act (and
other legislation) interpretation and management, as well as liaising with other regulators, law
enforcement agencies and the Companies Tribunal on matters pertaining to the different
legislation that the CIPC is responsible for. She is also the CIPC Deputy Information Officer –
PAIA and POPIA. With the General Laws Amendment Act, 22 of 2022 being written into law on
29 December 2022 and the subsequent amendment of the Companies Act Regulations, CIPC's
role as Regulator of corporate entities in the governance and monitoring of beneficial ownership
became apparent. Beneficial Ownership, falls under the umbrella of Corporate Legal within the
CIPC, headed up by Mrs Steenkamp.
CIBA Academy Support
Login to SAIBA Academy
Select My Dashboard
Select Submit a Ticket to log a new query