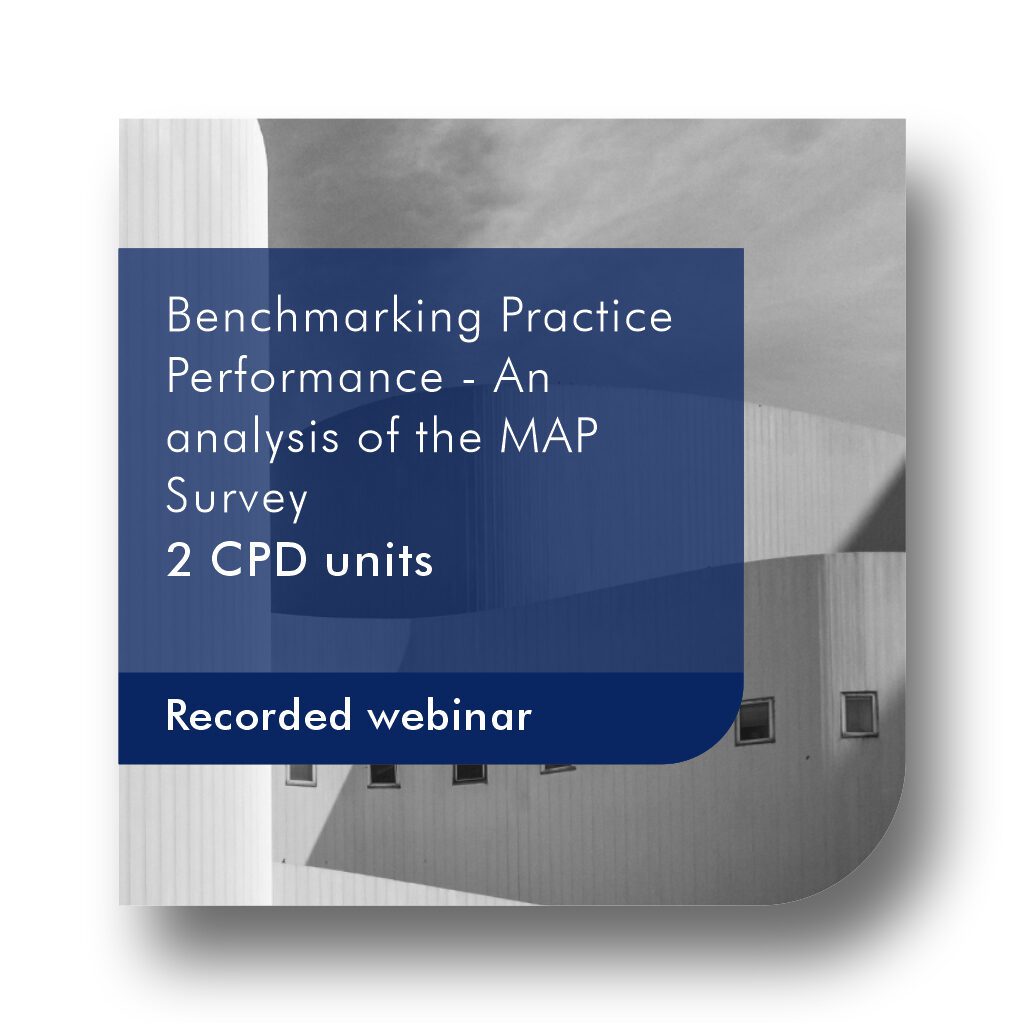 Benchmarking Practice Performance – An analysis of the MAP Survey
To show attendees how small to medium-sized firms are currently being managed in South Africa, and what needs to be done to ensure their long-term survival based on MAP survey results. June 2022
What You Will Learn
By the end of this webinar the participant should:
 

Appreciate 

the accounting environment and be aware of prevailing client management techniques in use by you

r peers. 

Have factual data that compares practice management in different firms and use this to benchmark own performance.

Adapt to changing practices in the accounting environment in alignment with organisational goals and objectives. 

Use this market data to create an innovative, viable solution to sustain your firm's long-term growth and survival.

Ability to make use of the best client management techniques available. 
Description
The accounting profession has experienced major environmental changes and traditional theories of strategy predict that firms need to adapt to their external environment. This requires that firms continually evaluate and re-align their organisational capabilities in order to ensure long-term survival. 
The only way that small firms can achieve this is by having access to market data. The SA Accounting Academy's Management of an Accounting Practice (MAP) Survey, now in its third iteration, is the only survey of its kind that provides an in-depth analysis of how small and medium accounting firms are managed in South Africa. This survey's results provide answers to some of the most pressing questions asked by practitioners: 
W

hat is the best method to obtain new clients? 

What are the average fees charged for typical services? 

What are benchmark staff costs? 

Are there technology trends that practice owners need to be aware of? 

What are the best client management techniques? 

 
Price
Content
Objectives of the MAP Survey.

Overview and background to MAP Survey.

Survey methodology.

MAP Survey 2021 Results: 

Business operations.

Practice turnover.

Software used.

Billing methods and fees.

Staffing.

Success factors.

Impact of COVID-19.

Future outlook and the need to adapt.
Requirements
There are no preconditions for this course.
Moderate level.
Recorded webinar made available on a specified date
Presenter
Caryn Maitland CA(SA) 
Caryn is a Chartered Accountant (SA). She has been a member of IRBA as a registered auditor and accountant since 2002 and is also a registered member of SAICA. 
Caryn has lectured Auditing and Accounting at various institutions and has conducted independent workshops and seminars for professional accountants since 2006 on various topics. She has presented on the national tour for the annual Legislation Update with ProBeta Training (Pty) Ltd in 2014 and 2015, as well as on the FASSET national tour for the Tax Administration Act in 2014.  Caryn is also involved with the annual SAICA SMP Technical tour.
Paul De Vantier 
Paul De Vantier founded a research business called KA SMART in 2002.  The company merged with Response Group Trendline (RGT) and listed by way of private placement on JSE in 2010.  The company was subsequently purchased by the Lightstone Group, renamed Lightstone Consumer and de-listed in July 2013.
Paul has been involved in the Market Research and Marketing Consulting business for almost 30 years. Paul's experience base and expertise span a variety of industries including Automotive, Banking, Government, Component and Retail.  Positive outcomes of many projects with blue chip clients has resulted in enduring relationships and growth.
Earl Steyn CBA(SA) 
Earl Steyn is the founder and CEO of Draftworx™ – a fully integrated, automated drafting and working paper suite that guarantees full compliance with accounting and auditing standards as well as requirements of CIPC and SARS. 
Earl is a qualified CBA(SA) with more than ten years post articles experience in the accounting profession. He is also an expert in iXBRL, a digital reporting system that is used by the CIPC.  
SAIBA Academy Support
Login to SAIBA Academy
Select My Dashboard
Select Submit a Ticket to log a new query