Join us and become part of an inclusive accounting community
IF YOU WANT TO
start your own accounting practice and require a statutory license to perform regulated services
AND
want to earn extra income operating as an
Independent Reviewer,
Tax Practitioner,
Business Rescue Practitioner or
Immigration Engagement Practitioner
THEN
You need the
BAP (SA) designation.
HOW DO I QUALIFY AS A BAP(SA)
With your commerce based degree or national diploma, that includes the following subjects:
(a) Accounting III
(b) Auditing II
(c) Tax II
(d) Management Accounting II
(e) Corporate Law II
AND
4 years relevant accounting/tax experience.
BUT,
If you don't qualify based on the above, but have working experience, you could follow the route of obtaining the designation via the process of
RECOGNIZED PRIOR LEARNING (RPL) or
SAIBA'S QUALIFY PROGRAMME
YOUR NEXT STEPS
Forward the following documents to membership@saiba.org.za:
CV
Identity document
Academic Qualification
Academic Record
Completion of Articles or RPL Form (request from membership@saiba.org.za)
Your membership application will be assessed by the membership department for approval, should there be any additional factors for example RPL, the application will then be sent to the Edcom committee for review. On approval you can enrol in the specific core subject required to obtain your BAP(SAP) designation.
CONTACT
Contact us on 012 643 1800 or send an email to membership@saiba.org.za should you require more information about the process.
Additional Course Information
| | |
| --- | --- |
| Category | Accounting |
| Accredited | SAIBA |
| Verifiable CPD Hours | N/A |
| Non-verifiable CPD Hours | N/A |
| Effort | |
| Duration | |
| Format | |
| Level | |
| Assessment | |
| Study Material | |
| Course Date | 1 January, 2020 |
Membership is open to anyone involved in the accounting and finance sector.
This event is included in the following subscription packages: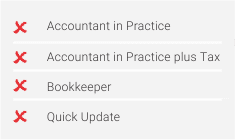 If you are not a subscriber, you need to purchase the event as a stand-alone event or subscribe to a SAIBA subscription package.
Subscribers pay less for their CPD points.
SAIBA offers 4 subscription packages that provides access to everything to run a successful accounting and tax practice.

Pay a small monthly amount and gain access to monthly webinars covering ethics, financials, reporting, audit and assurance, working papers, law, technology, management topics, and tax.