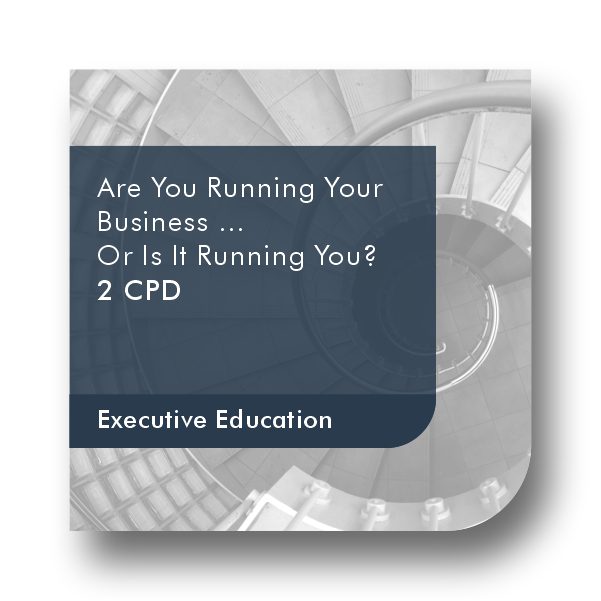 Are You Running Your Business or is Your Business Running You? (AICPA event)
Attendees will walk away focused, clear on priorities and issues, healthier as a leadership team, and using tools that help them gain more traction.
What you will learn
After attending this program you will be able to:
Identify the six key components of running your business … and the tools needed to become 100 percent strong in each of those components.
What are the eight key questions that leaders must answer to present a unified front on their organization's vision?
Description
If you are the owner, leader, or manager of an organization that wants to see your business consistently run better and grow faster, Bill Sheridan and EOS can help you and your team simplify, clarify, and achieve your vision. Attendees will walk away focused, clear on priorities and issues, healthier as a leadership team, and using tools that help them gain more traction.
About AICPA
The Association of International Certified Professional Accountants (the Association) is the most influential body of professional accountants, combining the strengths of the American Institute of CPAs (AICPA) and The Chartered Institute of Management Accountants (CIMA) to power opportunity, trust and prosperity for people, businesses and economies worldwide. AICPA & CIMA represent 689,000 members, students and engaged professionals in public and management accounting and advocates for the public interest and business sustainability on current and emerging issues.
In 2012, AICPA & CIMA established the Chartered Global Management Accountant (CGMA) designation to provide members with a new level of resources and recognition.
Price
Ad hoc Normal Price: R1,908.00 incl. VAT. CIBA member price R1,430.00 incl. VAT
This is a digital product. You will have access to the content for 365 days after purchase date.
Content
Vision: How to get your leadership team 100 percent on the same page with where your organization is going and how it will get there.
People: How to get the right people in the right seats … because we can't achieve our vision unless we have great people helping us achieve it.
Data: How to get laser-focused on the numbers … because the numbers never lie. They will give us an absolute pulse on what's happening in our organization at any given time.
Issues: How to solve our problems. Great organizations simply have gotten great at solving the obstacles that stand in their way of achieving their vision.
Processes: How to document the processes that drive our business forward. When everyone on our team is following the same processes, work becomes more efficient, more effective, more fun, and more profitable.
Requirements
There are no preconditions for this course. Moderate level. Recorded webinar made available on a specified date
Presenter
William D. Sheridan
Bill Sheridan is a knowledge hunter, content curator, lifelong learner, and EOS implementer. As chief communications officer for the Maryland Association of CPAs and the Business Learning Institute, he created and co-authors the association's acclaimed blog, CPA Success; he created and hosts the MACPA's weekly "Future-Proof" podcast; and he manages the association's member communications and numerous social networks. He was named one of Accounting Today's "100 Most Influential People in Accounting" for 2016.
SAIBA Academy Support
Login to SAIBA Academy
Select My Dashboard
Select Submit a Ticket to log a new query