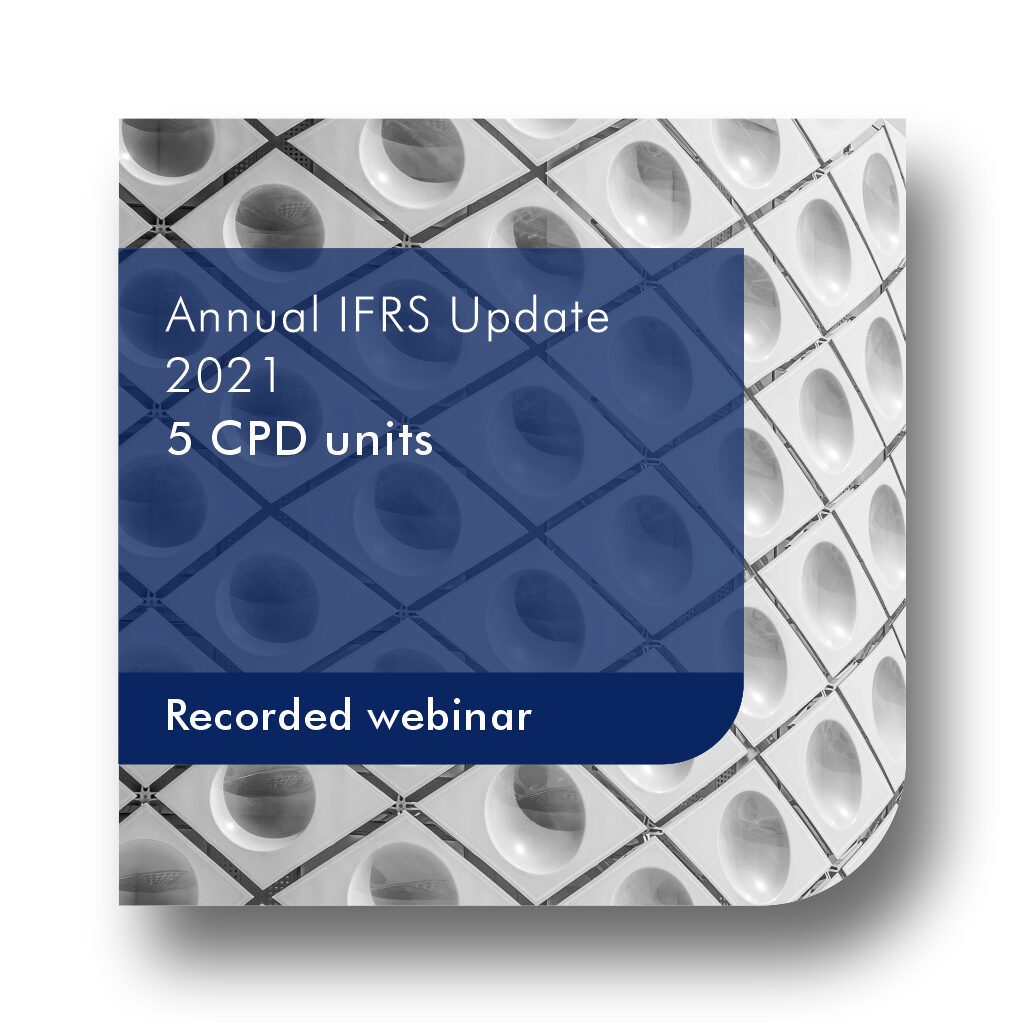 To give attendees an update of IFRS, any related guidance and interpretations that directly affect the accounting profession. August 2021
WHAT YOU WILL LEARN
By the end of this webinar the participant should:
Be aware of all relevant amendments 

made 

to IFRS.

Be aware of recently discussed matters at the IFRS Interpretations Committee.

Understand how all recent pronouncements affect accountants and their clients.

Understand how to practically apply the changes.

Understand the impact of the pandemic on financial reporting.
DESCRIPTION
The IASB regularly updates, amends and issues new IFRS and Interpretations as required by stakeholders and in response to occurrences such as the COVID-19 pandemic.  
Due to the devastating effect of this pandemic on business, the preparation of AFS on a going concern basis has naturally come in the spotlight. What are the requirements of IAS 1 – Presentation of Financial Statements in this regard? What about IAS 8 – Accounting policies, changes in accounting estimates and errors?
This webinar discusses at full length, all pertinent issues relating to IFRS as well as all recent changes that have been made to these Standards.  
PRICE
Adhoc – R575
Subscription Package – Accountant in Practice, Accountant in Practice plus Tax, Bookkeeper
CONTENT
Study Unit 1
Recent changes and their effect:
Definition of a business – IFRS 3.

Interest rate benchmark reform – IFRS 4, IFRS7, IFRS 9 and IAS 39.

Definition of "material" – IAS 1 and IAS 8.

Classification of liabilities – IAS 1.

PPE: Proceeds before intended use – IAS 16.

Contracts – IAS 37.
Study unit 2
Other amendments. 
Study unit 3
Practical application of amendments. 
Study unit 4
Proposed changes currently under discussion.  
REQUIREMENTS
There are no preconditions for this course.
Moderate level.
Recorded webinar made available on a specified date
PRESENTER
Milan van Wyk CA(SA)
Milan van Wyk is a qualified CA (SA). He obtained his B.Acc degree (Cum Laude) at the University of the Free State in 2007 and his B.Acc (Hons) degree in 2008. 
He is currently lecturing accounting at Honours level at the University of Johannesburg. He is also involved in the JSE Proactive Financial Monitoring Project where financial statements of companies listed on the JSE are reviewed on a rotational basis in a five-year cycle for IFRS compliance. 
ADDITIONAL MATERIAL
By attending this webinar, you will be provided with:
 Summarised slide presentation
 Reference documents and / or course material where available
Access to a technical knowledge base
Recorded webinar that includes an expert presenter and participant interaction