Annual IFRS for SMEs Update 2021
To give attendees an update of IFRS, IFRS for SMEs, any related guidance and interpretations that directly affect the accounting profession. June 2021
WHAT YOU WILL LEARN
By the end of this webinar the participant should:
Be aware of all relevant amendments to IFRS for SMEs.

Reference IFRS for SME in client consultations.

Be aware of the Comprehensive Review Project.

Understand how these changes affect accountants and their clients.

Understand how to practically apply the changes.

Understand the impact of the pandemic on financial reporting.
DESCRIPTION
After navigating the chaos of 2020, 2021 is about settling into our new normal and getting back to basics.  IFRS for SMEs has been the subject of an intensive comprehensive review, so this session will focus on consolidating where IFRS for SMEs is currently, and discussing the proposed changes to the standards.
The "Big 3" Standards (namely IFRS 15 Revenue from Contracts with Customers, IFRS 16 Leases and IFRS 9 Financial Instruments) have all come on line in the last few years.  These Standards have been identified as being targeted for alignment into IFRS for SMEs.  As such, we will spend some time discussing these Standards, the practical challenges and implementation issues that have been raised by these Standards for IFRS.
Register to join us for all the important updates that are crucial for the accountant going forward.
PRICE
Adhoc – R575
Subscription Package – Accountant in Practice, Accountant in Practice plus Tax, Bookkeeper
CONTENT
Study Unit 1
Summary of relevant changes:
Affecting the accountant.

Affecting the accountant's clients.
Study unit 2
A focus on the "Big 3" Standards:
IFRS 15 

Revenue from Contracts with Customers.

IFRS 16 

Leases.

IFRS 9 

Financial Instruments.
Study unit 3
Comprehensive review of IFRS for SMEs – a summary of proposed changes. 
Study unit 4
Impact of the pandemic on financial reporting. 
REQUIREMENTS
There are no preconditions for this course.
Moderate level.
Recorded webinar made available on a specified date
PRESENTER
Caryn Maitland is a Chartered Accountant (SA). She has been a member of IRBA as a registered auditor and accountant since 2002, Caryn has lectured Auditing and Accounting at various institutions and has conducted independent workshops and seminars for professional accountants since 2006 on various topics.
ADDITIONAL MATERIAL
By attending this webinar, you will be provided with:
 Summarised slide presentation
 Reference documents and / or course material where available
Access to a technical knowledge base
Recorded webinar that includes an expert presenter and participant interaction
Additional Course Information
| | |
| --- | --- |
| Category | Accounting |
| Accredited | SAIBA |
| Verifiable CPD Hours | 5 |
| Non-verifiable CPD Hours | N/A |
| Effort | 5 hours |
| Duration | 5 hours |
| Format | Webinar |
| Level | Moderate |
| Assessment | Yes |
| Study Material | No |
| Course Date | 14 June, 2021 |
Accountants in practice
Accounting officers
Independent reviewers
Engagement team members
This event is included in the following subscription packages: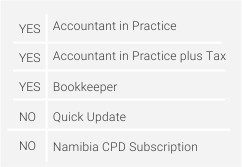 If you are not a subscriber, you need to purchase the event as a stand-alone event or subscribe to a SAIBA subscription package.
Subscribers pay less for their CPD points.
SAIBA offers 4 subscription packages that provides access to everything to run a successful accounting and tax practice.

Pay a small monthly amount and gain access to monthly webinars covering ethics, financials, reporting, audit and assurance, working papers, law, technology, management topics, and tax.