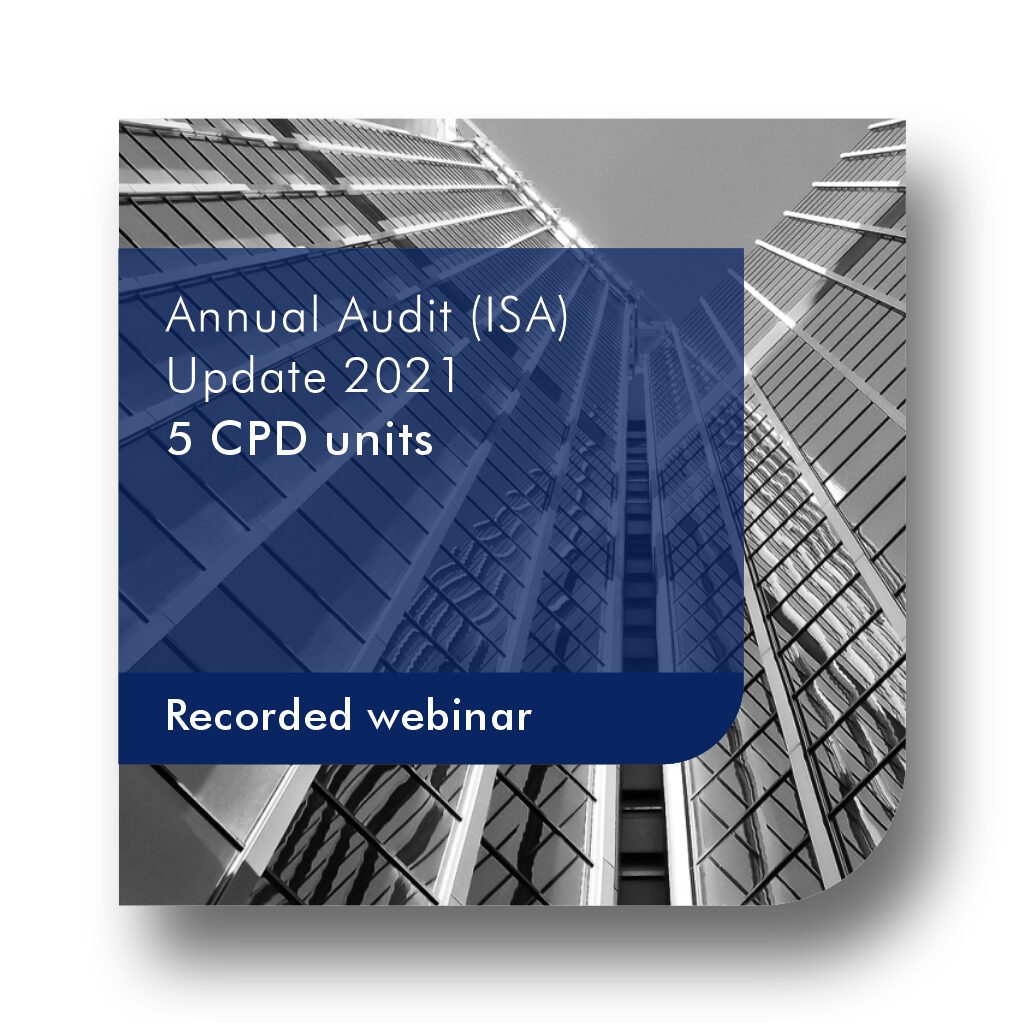 Annual Audit (ISA) Update
To update attendees on updates to ISA and quality management standards. October 2021
WHAT YOU WILL LEARN
By the end of this webinar the participant should:
Have a working knowledge of Quality Management Standards and ISAs

;

Apply the principles of the new structure of standards. 

Understand 

the contents of the latest standards on audit quality. 

Identify and assess the risk of material misstatement and the auditing of estimates

;

Apply recent amendments to ISAs; and 

Understand 

recent publications by the IESBA affecting ethical requirements. 
DESCRIPTION
The International Auditing and Assurance Standards Board (IAASB) regularly reviews and updates International Standards on Auditing (ISA) in order to improve the quality of audits. Recently, significant changes were made by the IAASA to audit risk assessment, risk assessment response, ethics and audit quality (see full list below under content). These changes require auditors to significantly change elements of their audit quality management and potentially their audit methodologies as well. 
This webinar deals with the relevant quality management standards, relevant ISAs, their objectives, and application as well as other related explanatory material. The webinar will guide delegates in meeting the requirements of ISA 200 which requires that a registered auditor must have an understanding of the entire ISA standard, its application, explanatory material, and objectives, as well as the requirements of the new suite of quality management standards. 
PRICE
Adhoc – R575
Subscription Package – Accountant in Practice, Accountant in Practice plus Tax, Bookkeeper
CONTENT
Study Unit 1
Overview of IAASB's projects in 2020 and 2021. 
Study unit 2
The new suite of Quality Management Standards:
ISQM1: Quality Management for Firms that Perform Audits or Reviews.

ISQM2: Engagement Quality Reviews.

ISA220 (Revised): Quality Management for an Audit of Financial Statements.
Study unit 3
ISA315 (Revised): Identifying and assessing the risk of material misstatement. 
Study unit 4
ISA540 (Revised): Auditing Accounting Estimates and Related Disclosures. 
Study unit 5
Unpacking IRBA's Public Inspections Report and related global trends. 
Study unit 6
New pronouncements by IESBA:
Impact on ethics.

Impact on practice management.
REQUIREMENTS
There are no preconditions for this course.
Moderate level.
Recorded webinar made available on a specified date
PRESENTER
Bronwyn MacCallum CA(SA)
Bronwyn qualified as a CA(SA) in 2004 and has spent time in private practice as a partner and later director of small and medium firms as well as a tenure at the Auditor-General of South Africa as a Senior Manager.
ADDITIONAL MATERIAL
By attending this webinar, you will be provided with:
 Summarised slide presentation
 Reference documents and / or course material where available
Access to a technical knowledge base
Recorded webinar that includes an expert presenter and participant interaction