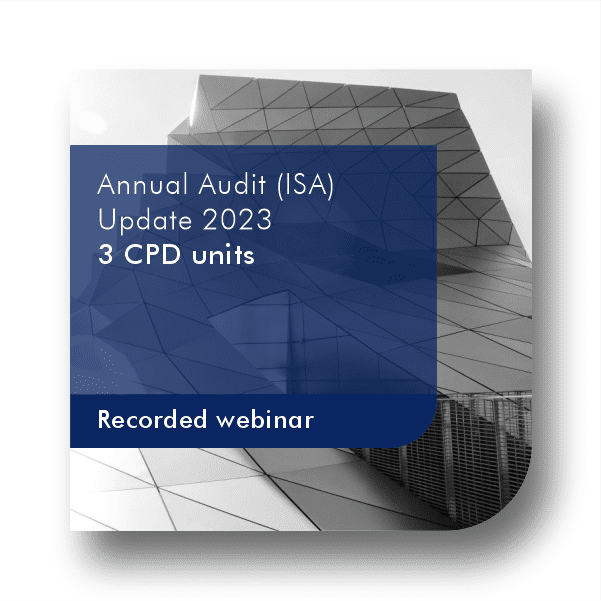 Annual Audit (ISA) Update 2023
To discuss the changes that have taken place in the past 12 months in the auditing arena (ISAs and other pronouncements). September 2023
What you will learn
By attending this webinar you will gain the following competencies: 
A high level understanding of the various auditing Standards and related resources that are new, or have been updated or revised.

Knowledge of technical areas to look out for with regards to new Standards becoming effective in the coming year.

Have a general summarised understanding of the substance of the changes in auditing Standards and related resources. 

Have full awareness of all projects that are in progress and proposed projects that inform you of future developments. 

Improve the quality of your assurance engagements through access to resources that can be used for internal training purposes.  
Description
The International Auditing and Assurance Standards Board (IAASB) recognizes that the landscape of auditing and assurance is ever-evolving. As a result, the International Standards on Auditing (ISA) are subject to regular updates and replacements to ensure an ongoing enhancement of audit quality.
Concurrently, the International Standard on Quality Management (ISQM) is also a dynamic framework that continues to evolve to meet the changing demands of the profession and maintain high standards of quality in audit engagements (ISQM 1 and ISQM 2 are recent changes). Some of the IAASB's other projects include:
ISA 500 (Revised) 

– Audit Evidence

ISA for Audit of Financial Statements of Less Complex Entities

ISA 240 – 

The Auditor's Responsibilities Relating to Fraud in an Audit of Financial Statements

ISA 570 (Revised) 

– Going Concern 
Price
The following pricing apply:
Adhoc: R450.00
Content
The webinar will cover the following topics:  
Auditing standards and pronouncements (new ones issued). 

Auditing standards (released in the past – effective now).

Updated illustrative reports (for industry-specific engagements).

Amendments to the ethical Code of Conduct.

Guides and circulars (new and updated). 

IAASB projects (proposed and in progress).

IESBA projects (proposed and in progress).

Additional resources available.
Requirements
There are no preconditions for this course.
Moderate level.
Recorded webinar made available on a specified date.
Presenter
Lettie Janse van Vuuren CA(SA),  RA
Lettie is a Chartered Accountant, Registered Auditor, as well as an Assessor and Moderator. She joined SA Accounting Academy in November 2017 as Head of Technical. As a professional trainer and webinar host, she is able to hold the attention of an audience with her relaxed and humorous presentation style.  She has a unique ability to communicate with delegates at their respective levels of knowledge and experience.  Over the last 20 years, she has trained thousands of partners, managers, trainee accountants and other professionals.  
She is responsible for researching, compiling and presenting our MCLU (Monthly Compliance and Legislation Updates). She was the Professional Development Manager at SAICA for 4 years and in charge of accrediting new training offices and monitoring existing ones (including the moderation of training offices and trainee assessments). 
CIBA Academy Support
Login to CIBA Academy
Select My Dashboard
Select Submit a Ticket to log a new query