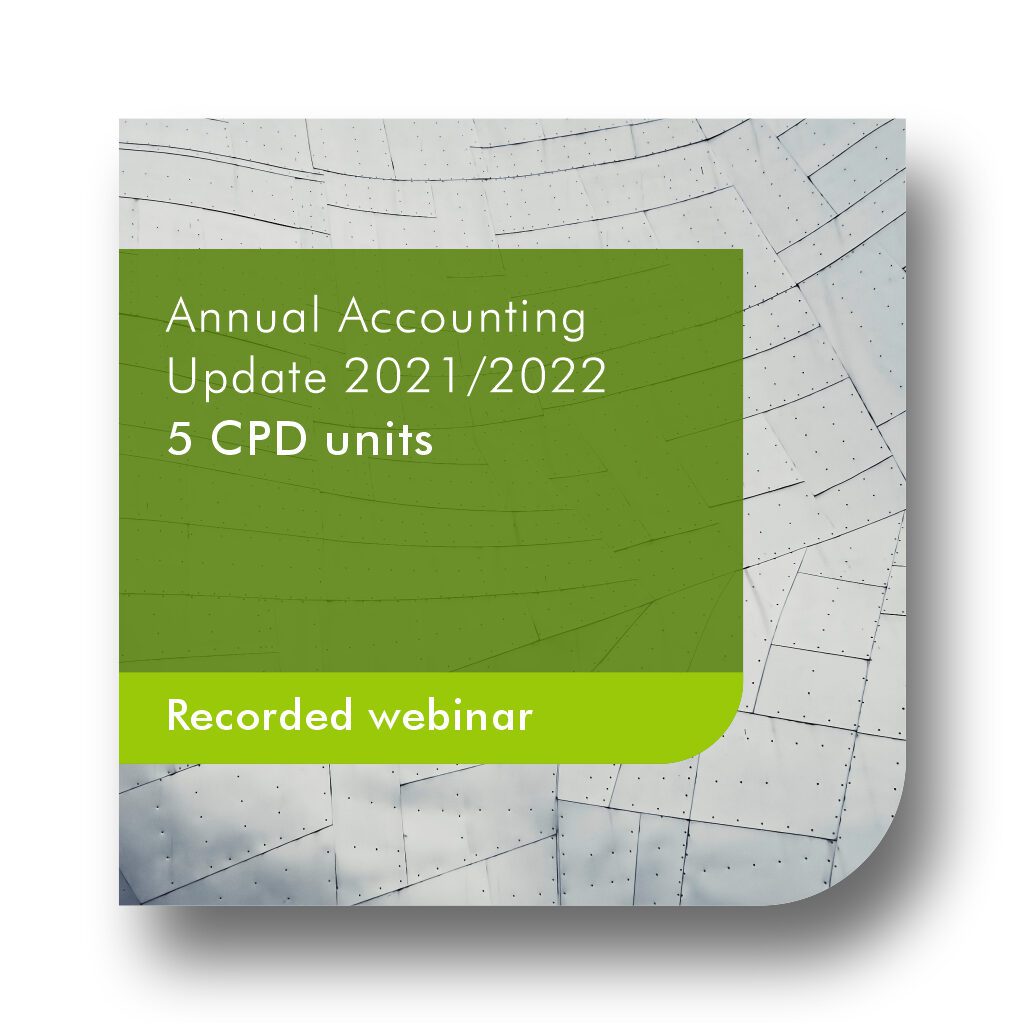 Annual Accounting Update 2021/2022
To give attendees an update of IFRS, IFRS for SME's and related guidance and interpretations that directly affect the accounting profession. November 2021
What you will learn
By the end of this webinar the participant should:
Be aware of important amendments to existing IFRS;

Be aware of new Standards that have recently been issued;

Understand how these changes affect accountants and their clients; 

Understand how to 

practically 

apply the changes; and 

Know how the COVID-19 pandemic has affected financial reporting and what can be done about it

.
Description
As the world around us changes, and what never was becomes the new normal, are there any financial reporting standards that might have slipped under the radar while we focused on how to recover from the effects of the COVID-19 pandemic? 
IFRS 17 Insurance Contracts came online last year. This Standard is deceiving as many think that it only applies to those in financial services. Quite the opposite is true as the concepts within it relate to the general principles of offering insurance even for those that may not be aware that they are in the insurance game! 
Price
Adhoc – R575
Subscription Package – Accountant in Practice, Accountant in Practice plus Tax, Bookkeeper
Content
Study Unit 1
Amendments to Standards effective now in 2021:
IFRS 1 – 

First Time Adoption of IFRS.

IFRS 3 – 

Business Combinations.

IAS 8 – 

Accounting Policies, Changes in Accounting Estimates and Errors.

IAS 12 – 

Income Taxes.

IAS 16 – 

Property, Plant and Equipment.

IFRS 17 – 

Insurance Contracts 

(Tentatively delayed to 1 January 2022)
Study unit 2
COVID-19: Effects on financial reporting and what to do about it. 
Study unit 3
A quick run through IFRS for SMEs. 
Requirements
There are no preconditions for this course.
Moderate level.
Recorded webinar made available on a specified date
Presenter
Caryn Maitland is a Chartered Accountant (SA). She has been a member of IRBA as a registered auditor and accountant since 2002, Caryn has lectured Auditing and Accounting at various institutions and has conducted independent workshops and seminars for professional accountants since 2006 on various topics.
SAIBA Academy Support
Login to SAIBA Academy
Select My Dashboard
Select Submit a Ticket to log a new query
Additional Material
By attending this webinar, you will be provided with:
 Summarised slide presentation
 Reference documents and / or course material where available
Access to a technical knowledge base
Recorded webinar that includes an expert presenter and participant interaction