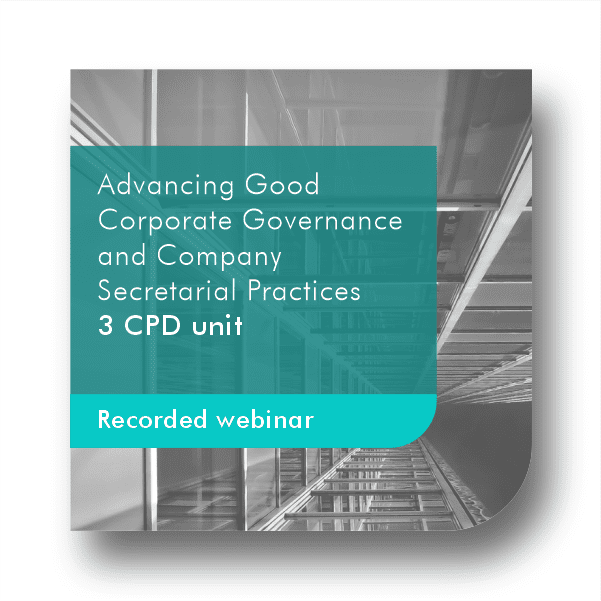 Advancing Good Corporate Governance and Company Secretarial Practices 2023
 To discuss updated and consolidated corporate governance and company law as it stands in September 2023.
What you will learn
By attending this webinar you will gain the following competencies: 
Understand corporate governance and its significance in business. 

Identify the fundamental principles of corporate governance and recognize how they contribute to effective organisational management and stakeholder relationships.

Understand the impact of South Africa's greylisting on the management of corporate entities.

Realise why transparency and the identification of beneficial owners has become so relevant.

Have full understanding of the risks and responsibilities that directors need to manage in their roles.
Description
Establishing a robust and suitable governance framework, overseen by ethically guided directors capable of navigating the company towards prosperity, stands as a pivotal approach for securing the company's enduring success.
In light of the recent developments stemming from South Africa's greylisting in February, this webinar serves as a refresher on the fundamentals of robust corporate governance and the obligations of directors in steering organisations effectively amidst adversity. It also digs into their duties concerning adherence to compliance requirements and the pertinent laws and regulations that intricately influence the operations of corporate entities.
Price
The following pricing apply:
Adhoc: R450.00
Content
The webinar will cover the following topics:  
General Laws Amendment Act 2022.

The Companies Act 2008.

The Companies Laws Amendment Bill.

The Financial Intelligence Centre Act.

Breaking down King IV.
Requirements
There are no preconditions for this course.
Moderate level.
Recorded webinar made available on a specified date.
Presenter
Caryn Maitland CA(SA)
Caryn Maitland is a registered auditor and chartered accountant since 2002. Caryn has lectured Auditing and Accounting at various institutions and has conducted independent workshops and seminars for professional accountants since 2006 on various topics.
CIBA Academy Support
Login to CIBA Academy
Select My Dashboard
Select Submit a Ticket to log a new query