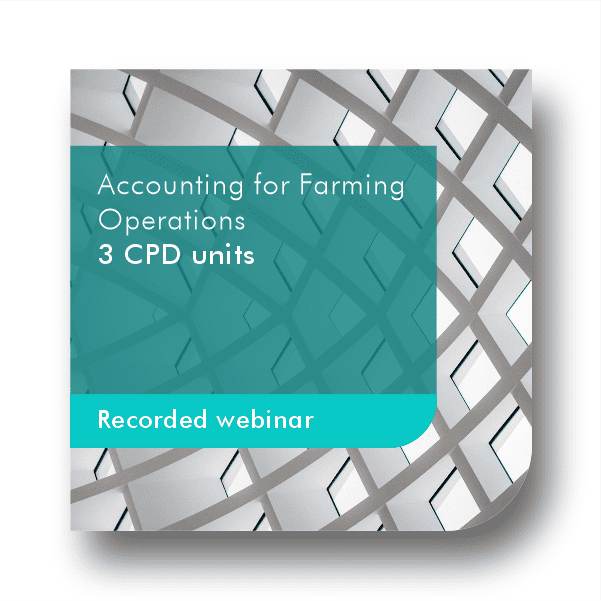 Accounting for farming operations 2023
To discuss agricultural account and its peculiarities. April 2023
What you will learn
By attending this webinar you will gain the following competencies:
Understand the unique aspects of accounting for agricultural operations.
Apply the financial reporting standard for farming, IAS 41 – Agriculture.
Train your staff on accurately measuring, recognizing, and disclosing agricultural assets in financial statements.
Evaluate the impact of agricultural accounting on IFRS for SMEs.
Calculate deferred tax for agricultural activities with precision.
Description
Accounting for farming operations can be unique and challenging due to the biological nature of the assets (livestock and plants) and other characteristics of this type of business.
Two questions accountants frequently grapple with:
How can a farming operation value biological assets (both mature and still growing)?
Do you depreciate farmland due to the loss of nutrients?
In this session, you will acquire valuable knowledge on the best practices and essential factors involved in accounting for farming operations as well as some deferred taxation implications.
Price
The following pricing apply:
Ad hoc: R450 for this webinar
Subscription: N/A
Content
The webinar will cover the following foundational to intermediate topics:
Overview of IAS 41 – Agriculture.
Application of IAS 41 – Agriculture.
How to recognise and measure biological assets.
Accounting for intangible assets related to farming.
Government grants in agriculture.
Agriculture: Bearer plants (Amendments to IAS 16 and IAS 41)
Taxation of income from agricultural activity – an overview.
Requirements
There are no preconditions for this course.
Moderate level.
Recorded webinar made available on a specified date.
Presenter
Caryn Maitland CA(SA)
Caryn has been a member of IRBA as a registered auditor and accountant since 2002. Caryn has lectured Auditing and Accounting at various institutions and has conducted independent workshops and seminars for professional accountants since 2006 on various topics. She has presented on a national tour for the annual Legislation Update in 2014 and 2015, as well as on the FASSET national tour for the Tax Administration Act in 2014
CIBA Academy Support
Login to CIBA Academy
Select My Dashboard
Select Submit a Ticket to log a new query