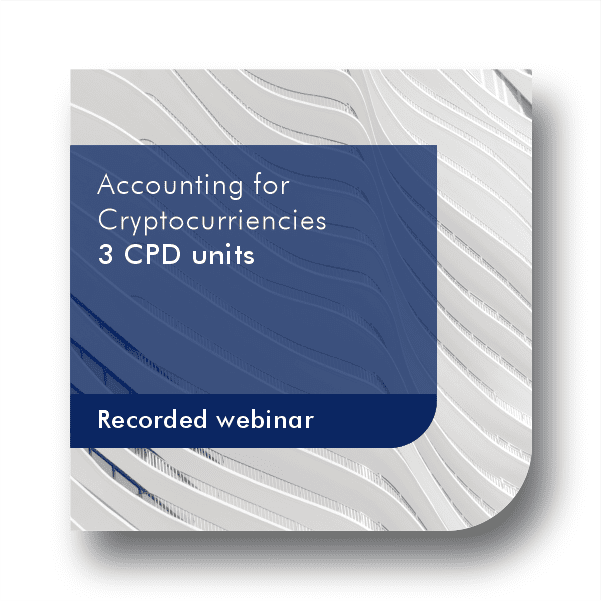 Accounting for Cryptocurrencies and Digital Assets 2023
To discuss the accounting treatment of crypto assets from the perspective of the holder. April 2023
What you will learn
By attending this webinar you will gain the following competencies:
Knowledge of what can be classified as a crypto asset/ cryptocurrency.
A basic understanding of the technology that drives crypto assets, i.e. blockchain.
Foundational knowledge of digital assets and related concepts such as the metaverse, NFTs, and utility tokens.
Practical knowledge of the accounting treatment of transactions involving crypto assets.
Awareness of the alternatives available when accounting for cryptocurrencies from the perspective of the holder.
Description
The announcement by the FCSA on 20 October 2022 that crypto assets a.k.a. cryptocurrencies, were now recognised as a financial product naturally brought with it questions from accounting professionals. The main questions were:
What is the tax treatment of transactions involving this financial product?
What is the accounting treatment of crypto assets?
This webinar aims to fully answer the second question by first delving into the background of cryptocurrencies, followed by a comprehensive discussion on the correct IFRS-based accounting treatment of transactions involving cryptocurrencies and other digital assets.
Price
The following pricing apply:
Ad hoc: R450 for this webinar
Subscription: Included for free in Accountant in Practice plus Tax and Accountant in Practice package.
Content
The webinar will cover the following foundational to intermediate topics:
What is cryptocurrency?
View of the IASB.
How to account for cryptocurrencies from the perspective of the holder.
Alternatives available for reporting purposes.
Other guidance currently available.
Requirements
There are no preconditions for this course.
Moderate level.
Recorded webinar made available on a specified date.
Presenter
Nestene Botha CA(SA)
Nestene Botha completed her B.com (Hons) at North West University in 2012. In 2014 she completed her professional articles and her Master's Degree in Chartered Accountancy. She then registered with SAICA as a Chartered Accountant in 2015. Nestene has lectured on the audit programme at the University of Cape Town. She started her own audit, tax & accounting practice which she has since grown into a reputable firm in the Table View area .
CIBA Academy Support
Login to CIBA Academy
Select My Dashboard
Select Submit a Ticket to log a new query