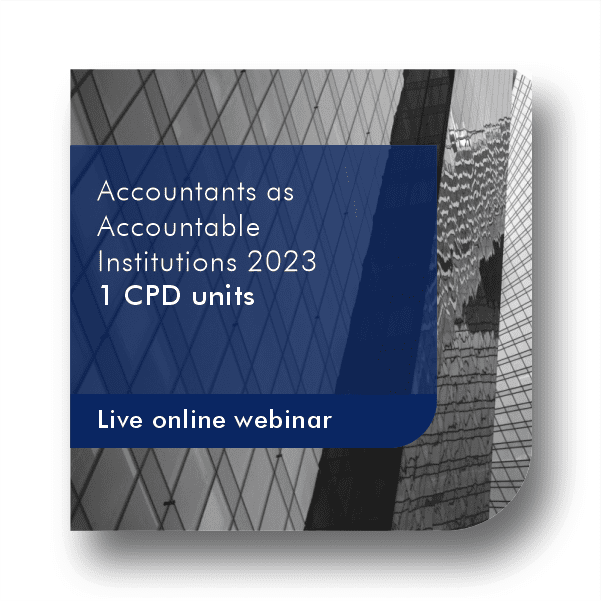 Accountants as Accountable Institutions 2023
The event will provide an overview on the recent amendments made to Schedule 1 of the FIC Act with specific emphasis on the impact these have on accountants. It will explain what services provided by accountants will trigger a requirement for registration as accountable institutions with the FIC. The webinar will include details on registration requirements and also what it means to be an accountable institution registered with the FIC. June 2023
Overview
Schedule 1 of the FIC Act was amended to include more entities as accountable institutions.
There has been a lot of uncertainty regarding the interpretation of the meaning of Trust and Company Service Providers (TCSPs) to establish if an accountant should register with the FIC as an Accountable Institution.
It is anticipated that many accountants will fall within the ambit of the new definition of TCSPs due to the type of services they perform, which will require additional compliance measures and reporting.
CIBA invited the FIC to address the uncertainty with our members. The webinar aims to clarify accountants' responsibilities and the way forward.
What you will learn
By the end of this webinar you will understand the following:
What are Schedule 1 accountable institutions
What changes were affected in response to the threat of Greylisting
What entities need to register as an accountable institution
How does registration requirements apply to accountants
What mechanisms should accountable institutions implement in terms of the risk based approach
How is the risk based approach implemented
What reporting requirements do accountable institutions have to fulfil

What penalties may apply
Information
Date: 19 June 2023, Monday
Time: 10:00-11:00
Format: Online Live Streamed event
Recording: Loaded to your SAIBA Academy profile if you registered prior to the event date
Content/Topics
Introduction Background: The FATF mutual evaluation and greylisting.
The role and mandate of the FIC in the fight against ML and TF
How do accountants fit into this fight – messages from the FATF and IFAC guidance for accountants
Accountable institutions – registration requirements
What are accountable institutions
Changes were made to Schedule 1
Expanded definition for Item 2: TCSPs
The functions that accountants can perform which will fall under item 2
What are the timelines for registration
Requirements for Accountable institutions
Implementing and documenting a risk-based approach
How is this risk-based approach done (entity level and client level assessments)
What are due diligence checks and when should they be undertaken
Explaining the different reporting obligations and timelines
What happens to entities that do not comply?
What penalties are applicable during the initial 18 months and how are they determined.
How to register
Select the Register Now button.
After registration
You will receive an email from Z00m (email: no-reply@zoom.us) with your unique link. Do not share the link publicly to ensure you gain access. The email will be send to the email address you listed under the heading Webinar Attendee in the Checkout Form.
After successful registration, the event will be listed as a course under your SAIBA Academy profile. Login, My Dashboard, My Courses. Select start next to: Accountants as Accountable Institutions 2023. A recording will be made available to all delegates who registered and attended the online webinar.
Price
The event is free to attend.
Presenter
Rhinah Machipi
Compliance and Prevention
Rhinah is employed the Financial Intelligence Centre as an Assistant Compliance Officer in the Guidance and Prevention department. She has a (Bachelor of laws) LLB degree from the University of South Africa; completed a short course for Anti Money Laundering with the university of Johannesburg, where I am currently studying toward the Post graduate diploma in Compliance management. On her spare time she spends it with her family and travelling.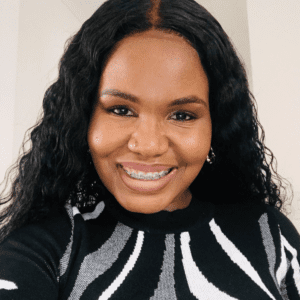 CIBA Academy Support
Login to SAIBA Academy
Select My Dashboard
Select Submit a Ticket to log a new query