2020 Subscriber confirmation of payment and profile details
CONTENT
CPD events varying from 2-4 hours from 1 Jan 2021 to 31 Dec 2021. Topics covered include ethics, financials, reporting, audit and assurance, working papers, law, technology and management.
Value-Added training on how to grow your practice, including budgets, forecasts, cashflow, performing business valuations, POPIA compliance, drafting wills, business rescue engagements.
Soft skills training, including Excel, marketing, networking.
Access to Resource Center.
Access to Technical Support.
INFORMATION
TERMS
Subscription package registration includes an automatic annual or monthly renewal.
Cancellation forms can be requested and submitted via cpd@saiba.org.za.
No cancellations will be considered for the first year after registration, thereafter a month's notice applies from the date the signed cancellation form is received.
Current subscribers do not qualify for future Black Friday specials on subscription packages.
NEXT STEP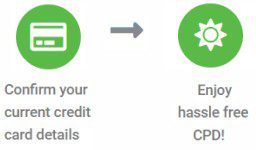 Click REGISTER NOW to confirm details