Accountant-in-Practice CPD Sub 2020 (Black Friday)
Developed for accounting practices to ensure the successful running of a practice. Pay an annual fee and gain access to monthly webinars covering ethics, financials, reporting, audit and assurance, working papers, law, technology and management topics.
WHAT YOU WILL LEARN
Subscribing for the Accountant-in-Practice series will enable you to:
Be aware of the latest legislative changes and what it means for your business, practice, and your clients;
Prepare compliant financial statements fast;
Issue reliable reports on financial statements;
Understand the laws and regulations that govern your profession;
Develop enhanced business advisory skills; and
Have access to the presenter via an online Q & A.
DESCRIPTION
The SAIBA Accountant-In-Practice CPD Subscription option provides access to monthly online webinars recorded with experienced and well known qualified accountants and professors:
The recordings are available 24/7 within your own online CPD portal.
Each webinar is assessed providing 2 – 4, outcomes-based CPD points.
102 CPD points available (Equivalent to 102 CPD hours).
CPD format is in-line with IES 7 of IFAC and recognized by all major professional accountancy bodies for CPD hours.
The subscription option include 12 months' CPD events with automatic renewal.
OVERVIEW
The SAIBA Accountant-In-Practice CPD Subscription option provides you with the knowledge and skills to earn a high income from providing accounting services to SMEs.
Our experts presenters are experienced accountants and lecturers, and they share their many years of experience is short 2 – 4 hour online recordings, making you smarter, faster.
The webinar series include:
Slide presentations for future reference;
Interactive session with the presenter; and
Online Q&A.
Electronic certificate of attendance for sharing in social media.
CPD logbook.
Access to online recordings 24/7.
PRICE
Once-off Annual Cost – Was R4,050.00 Now R2,025.00 unitl 18 Dec 2020!
The subscription package consists of a predetermined list of CPD events from 1 Jan 2020 to 31 Dec 2020.
DATE AND TIME
Online recorded webinars available last week of every month.
Uploaded to your online CPD profile and accessible for 12 months.
CONTENT
Monthly Update – Compliance And Legislation – Jan to Dec 20
Ethics, Independence And NOCLAR 2020
Reporting engagements Update 2020
IFRS for SME Update 2020
IFRS Update 2020
Companies Act Update 2020
Preparing and interpreting financial statements
Annual Accounting Update 2020/2021
Preparing accountants to thrive in the Fourth Industrial Revolution (4IR)
Accounting for Trusts and Deceased Estates 2020
Business Rescue Update 2020
Compliance with SARS, CIPC and Regulatory Body Requirements
Corporate Governance during Covid-19 Pandemic
Covid-19 Implications for audits and reviews
Getting to grips with GRAP
Immigration Accounting
Independent Reviews Engagements 2020
Management Accounts 2020
Technology in Accounting
Tech Talk with Caryn: Business Valuation
Tech Talk with Caryn: Independent Reviews
Tech Talk with Caryn: Assurance and Risk Assessment (Part 1)
Tech Talk with Caryn: Quality Management in Audit and Reviews (Part 2)
Security against Cybercrime
XBRL Filing with CIPC
PRESENTERS
Various vetted and experienced presenters that we source from successful firms and Universities.
BLACK FRIDAY EXTENDED FOR LIMITED CLIENTS
Additional Course Information
| | |
| --- | --- |
| Category | Subs |
| Accredited | SAIBA |
| Verifiable CPD Hours | 102 |
| Non-verifiable CPD Hours | N/A |
| Effort | 8 hours |
| Duration | 4 hours |
| Format | Webinar |
| Level | Moderate |
| Assessment | Yes |
| Study Material | Yes |
| Course Date | 1 January, 2020 |
The SAIBA Accountant-In-Practice CPD Subscription option is ideal for:
Accountants in Practice,
Financial managers,
Senior practice support staff,
BAP(SA), CA(SA), PA(SA), IAC members
This event is included in the following subscription packages: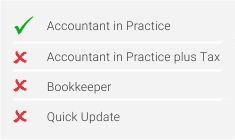 If you are not a subscriber, you need to purchase the event as a stand-alone event or subscribe to a SAIBA subscription package.
Subscribers pay less for their CPD points.
SAIBA offers 4 subscription packages that provides access to everything to run a successful accounting and tax practice.

Pay a small monthly amount and gain access to monthly webinars covering ethics, financials, reporting, audit and assurance, working papers, law, technology, management topics, and tax.