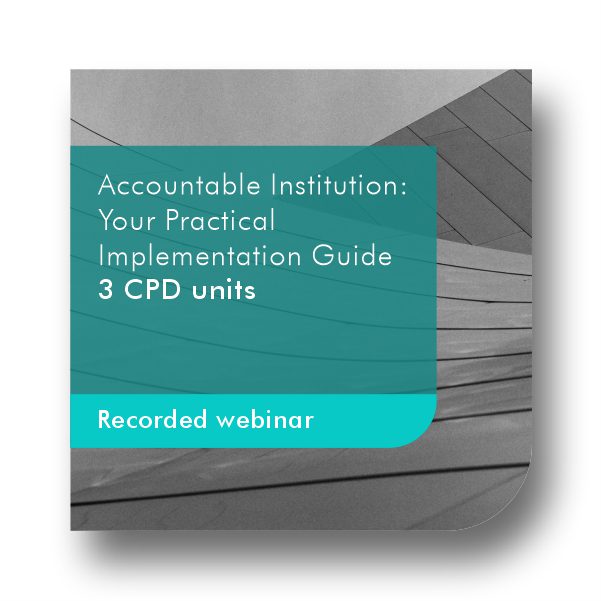 Accountable Institution: Your Practical Implementation Guide 2023
To discuss the FICA obligations attendees must fulfil to ensure they are FICA compliant. July 2023
What you will learn
By attending this webinar you will gain the following competencies: 
Possess background information on the 

Financial Intelligence Centre Act (FICA).

Have complete knowledge of who the new Accountable Institutions are as introduced under Schedule 1 of FICA.

Gain insights into the 7 key steps required to become FICA compliant.  

Get an overview of the consequences of non-compliance with FICA. 

Have a practical FICA compliance guide that you can implement in your firm. 
Description
Schedule 1 to the Financial Intelligence Centre Act (FICA) gives a list of new categories of Accountable Institutions (AIs) that are required to comply with the full suite of the Act's requirements. Some of these institutions include:
Credit providers subject to the NCA.

High-value goods dealers.

Trust and company service providers.

Crypto assets service providers.
Price
The following pricing apply:
Adhoc: R450.00
Subscription: Included for free in Accountant in Practice, Accountant in Practice plus Tax, Bookkeeper.
Content
The webinar will cover the following topics:  
Who are Accountable Institutions?

How do I register with the FIC?

What is a Risk Management and Compliance Programme (RMCP).

How to perform proper customer due diligence (CDD).

How to identify and verify  the identity and address of the client.

How to identify and verify related parties.

How to identify and verify a Ultimate Beneficial Owners (UBOs).

How to identify and verify Domestic Politically Exposed Persons (DPEPs).

How to identify and verify Foreign Politically Exposed Persons (FPEPs).

How to identify and verify Prominent Influential Persons (PIPs).

What is Sanctions Screening?

How can FoxDox help you?
Requirements
There are no preconditions for this course.
Moderate level.
Recorded webinar made available on a specified date.
Presenter
Caryn Maitland CA(SA) 
Caryn Maitland is a registered auditor and chartered accountant since 2002. Caryn has lectured Auditing and Accounting at various institutions and has conducted independent workshops and seminars for professional accountants since 2006 on various topics.
Tertia Barrett  
Tertia Barett is the Sales Director at DocFox. She is passionate about engaging with people and moving business forward through smart technology. With over 20 years' experience in the B2B SaaS environment, working in a variety of highly competitive and fast-paced industries, Tertia has become accustomed to easily identifying and solving business issues and processes through the use of technology. 
CIBA Academy Support
Login to CIBA Academy
Select My Dashboard
Select Submit a Ticket to log a new query