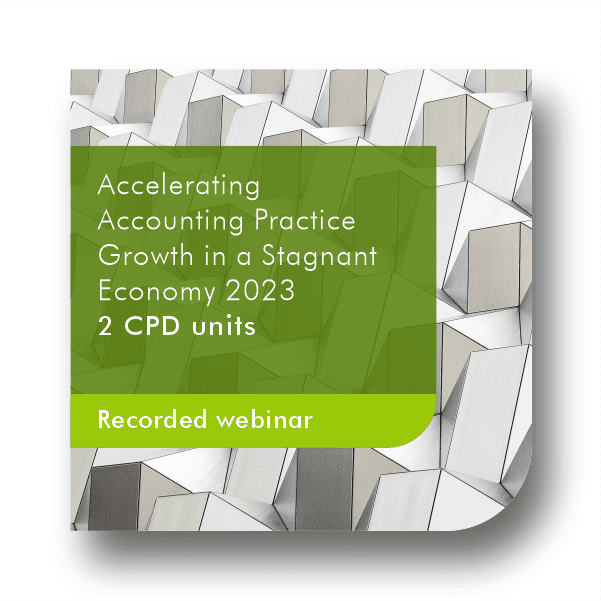 Accelerating Accounting Practice Growth in a Stagnant Economy 2023
To show attendees how they can gain expertise in accurate and transparent share register management.  July 2023
What you will learn
By attending this webinar you will gain the following competencies: 
Understanding of how to identify and attract your ideal clients through targeted strategies.

The ability to construct an efficient sales process and customer journey that effectively transforms leads into loyal customers.

Knowledge to establish and manage a strong online presence that attracts and retains clients.

Actionable insights to execute successful email marketing communication with sequences that nurture connections and converts prospects into clients.

Practical tips for utilising technology to enable you to reach a wider customer base and effectively communicate your services.
Description
In the current stagnant economic climate, accountants must go beyond their technical expertise and embrace marketing and sales techniques to unlock growth for their accounting practice. 
Nestene and her co-presenters will provide attendees with valuable, and actionable insights on: 
Identifying the ideal customer.

Mastering the sales process.

Establishing a robust online presence.

Leveraging the power of email marketing.

Harnessing the productivity-enhancing capabilities of artificial intelligence.

Utilizing LinkedIn for lead generation.

Leveraging podcasts for content marketing.

Creating a client-centric brand.

Harnessing the power of networking. 
Attend this webinar and gain actionable insights and practical tips that can be implemented immediately to enhance marketing and sales focus, resulting in accelerated growth for your accounting practice. 
Price
The following pricing apply:
Adhoc: R0.00
Content
The webinar will cover the following topics:  
Client Acquisition Strategy:

Ideal Customer Avatar Identification

Value Proposition Formulation

Sales and Marketing Messaging

Creation of Conversion-oriented Offers

Sales Process Architecture:

Ideal Sales Process for Professional Services Firms

Customer Journey Mapping

Conversion Strategy

Digital Presence Building:

Business Listings and Directories

Social Media Client Generation Strategies

Content Marketing Guidelines

Website Layout and Optimization for Client Attraction

Search Engine Optimization (SEO)

Testimonials, Reviews, and Case Studies Utilization

Email Marketing:

Email Marketing Mechanism

Email List Segmentation and Growth

Lead Magnet Development

Conversion-focused Email Sequence Planning

Artificial Intelligence in Marketing:

Utilizing ChatGPT for Content Creation

Employing Dall-E for Image Generation

Using Bluecap for Sales Process Optimization

LinkedIn Lead Generation:

LinkedIn Profile Optimization

Ideal Client Connection Strategy on LinkedIn

Post-Connection Engagement Tactics

Podcasting for Content Marketing:

Podcasting as a Client Attraction Tool

Podcasting Best Practices

Podcasting Ideas for Professional Services Firms

Brand Development:

Psychology of Shape and Colour in Branding

Essential Branding Elements

Creation of a Client-centric Brand

Networking and Referrals:

Networking for Client Attraction

Networking Best Practices

Comprehensive Client Acquisition Strategy:

Integrating Various Strategies

Future Steps

Follow-up Webinar Opportunities
Requirements
There are no preconditions for this course.
Moderate level.
Recorded webinar made available on a specified date.
Presenter
Nestene Botha (CA)SA 
Nestene is a registered Chartered Accountant with a passion for equipping accounting professionals with the entrepreneurial and other skills they need in order to succeed in a modern business environment. She brings to the table 10 years experience in academia, 10 years experience in entrepreneurship and 7 years experience running her own accounting and audit firm.
Peter Hingston
Peter Hingston a team and culture building specialist, with 35 years experience building, directing and managing various teams in various environments around the world. He is one of the co-founders of Explore ProTech Entrepreneurial Haven and passionate about creating opportunities for entrepreneurs around the world through teamwork, joint ventures and access to global markets.
Megan Deers – Copywriting and Marketing Agency Owner
Megan Deers is a Technical & Creative Copywriter, Content Creator/ and Communications Mentor.
She is the founder of Paradox Rocks, a content creation agency.  She brings to the table 20+ years of experience in Heavy-duty Tech Sales, Scientific Research, and Mentorship.
Janine Lingenfelder – Sales Coach & Sales Agency Owner
Janine Lingenfelder is a sales mentor and business owner. She is the founder of Jelani Sales, and co-founder of Explore VAN (Virtual Assistant Network). She brings to the table 14+ years of experience in corporate and small business sales.
Marlon August
Marlon is a Marketing Strategist. He is the founder of Story Advantage – a marketing agency that specialises in providing tailor made marketing campaigns to B2B entrepreneurs. He brings to the table 20+ years' experience in Marketing & Business Strategy as well as a 08 & 16' Olympian (Judo).
Rhona MacCormack – Copywriting Agency Owner
Rhona is a content creator and copywriter who is passionate about creating engaging content that drives action. In today's digital age, building and nurturing an engaged email list is crucial for professionals in your field. By growing your email list, you can establish a direct line of communication with your clients, providing timely updates, sharing valuable insights, and fostering lasting relationships – and it's important to remember that you own your email list unlike your social media following! I'm delighted to guide you on effective strategies to expand your email list, maximize engagement, and ultimately drive business growth in the competitive world of accounting and law.
Justin Hacker and Fuad Miah
Fuad Miah and Justin Hacker, founders of Bluecap.ai, bring over 15 years of experience in utilizing AI and digital marketing to optimize business processes and attract new clients. They have successfully helped various intricate businesses transform their operations using AI, including CAA, one of Canada's largest business entities. Their in-depth knowledge in implementing AI tools such as ChatGPT, Midjourney, Adobe Firefly, and their own Bluecap for sales process optimization makes them ideal instructors for this topic. With their unique blend of experience, they are excited to help attorneys and accountants uncover the potential of AI in their profession.
Sommerville Lombard
Sommerville Lombard is an Online Business Manager (OBM) based in Limpopo, South Africa.
She is also the Founder of The Sommerville Agency (VA Services), Co-Founder of Explore VAN (Virtual Assistant Network), a Lead Generation Coach & an Online Project Manager.
She has almost 20 years in the teaching industry, specifically IT, Graphics and Web Design, and CAT for all ages. She has a bustling Global Virtual Assistant Agency, with multiple VAs working for her. Explore VAN is very close to her heart as it helps and supports global VAs in their businesses. She is a Lead Generation Coach teaching budding entrepreneurs from around the world the art of Lead generation and giving them practical techniques. One of her greatest passions is to see others succeed in their businesses which includes how they present themselves to the public, including perception and the psychology of design and branding. To to it all, the lady of many talents, is an Online Business/Project Manager for several global businesses, supporting the business' growth and assisting in reaching their goals.
Hendrik & Ethan Baird
Hendrik Baird is a seasoned professional with over 40 years of experience in dramatic performance, online media, and arts management. With a master's degree in media and journalism, earned at the age of 56, Hendrik showcases his commitment to lifelong learning. His passion lies in voice acting, which led him to discover the power of podcasting as a medium perfectly aligned with his expertise. Hendrik's extensive knowledge and experience make him the ideal candidate to discuss podcasting for business, specifically attracting new customers for attorneys and accountants. As an author of two comprehensive books on podcasting, "Become a Podmaster: Everything You Need to Know to Master the Art of Podcasting" and "Purposefully Repurposed for Profit: How to Save Time When Creating a Marketing Plan Simply by Repurposing a Podcast," Hendrik provides invaluable insights into leveraging podcasts for effective content marketing campaigns.
Ethan Baird is a South African Radio Award radio producer that has edited hundreds of podcast episodes and is a producer for Breakfast with Martin Bester on Jacaranda FM. 
He has managed and trained many teams of radio broadcasters, and runs a podcast mentorship and production company with his father.
He is passionate about teaching business owners how to generate a steady stream of content for their marketing campaigns so that they can demonstrate thought leadership and make new connections.
Steven Levy
Steven Levy is a global leadership coach and the founder of Dare2Be Coaching and Beyond. He works with many bluechip corporate clients around the world and has been involved in creating incredible success stories where he has helped entrepreneurs gain clarity and achieve incredible results. He brings to the table 45+ years experience in business development and leadership coaching.
CIBA Academy Support
Login to CIBA Academy
Select My Dashboard
Select Submit a Ticket to log a new query