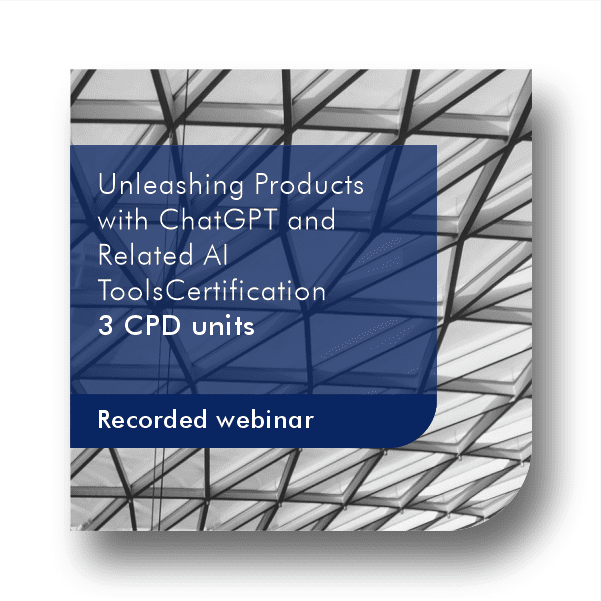 Unleashing Products with ChatGPT and Related AI Tools Certification 2023
To discuss how attendees can increase their productivity by harnessing the power of ChatGPT and other related current technology 2023.
What you will learn
After attending this webinar you will:
Gain an understanding of how ChatGPT can automate everyday tasks, resulting in heightened productivity and liberating time for more intricate, value-added assignments.

Acquire a comprehension of the profound insights and data-driven financial analyses that AI can deliver, empowering you to make more knowledgeable decisions.

Learn about the potential of ChatGPT to enhance speed, precision, and error reduction, thereby leading to a more streamlined workflow.

Uncover how ChatGPT can transform client interactions, ensuring prompt and personalized responses, and ultimately enhancing the overall client service experience.

Develop an understanding of how the efficiencies and capabilities unlocked by ChatGPT can facilitate the expansion and scalability of your accounting practice.
Description
ChatGPT has the potential to revolutionise accounting and bookkeeping operations through the application of its transformative capabilities. 
This webinar showcases how AI can elevate operations, enhance financial analysis, streamline processes, improve client communication, and drive business growth, all the while addressing the limitations and best practices associated with the technology.
Price
The following pricing apply:
Adhoc: R450.00
Subscription: Adhoc
Content
The webinar will cover the following topics:
Streamlined Processes

Automating routine tasks with ChatGPT

Examples of tasks that can be streamlined with ChatGPT

Benefits of freeing up time for more complex, value-add tasks

Case study / practical

 

Enhanced Financial Analysis

Leveraging AI for deeper insights and data-driven financial analysis

Use cases demonstrating improved decision-making through AI

Exploring the potential of AI in identifying patterns and trends in financial data

Case study / practical

 

Higher Efficiency

Improving speed, accuracy, and reducing errors with ChatGPT

Case studies highlighting time-saving benefits through AI automation

Strategies for maximizing efficiency gains in accounting and bookkeeping processes

Case study / practical

 

Client Communication

Managing client interactions with ChatGPT

Utilizing ChatGPT for timely and personalized responses

Enhancing client service and satisfaction through AI-powered communication

Case study / practical

 

Business Growth

Understanding how AI efficiencies and capabilities drive business growth

Exploring scalability opportunities with ChatGPT

Strategies for leveraging AI to expand your accounting firm

Case study / practical

 

Limitations of ChatGPT and best practice

Conclusion and Q&A Session

Recap of the top five ways ChatGPT can elevate accounting and bookkeeping operations

Emphasizing the transformative potential of AI in the industry

Closing remarks and encouragement to embrace AI for growth and success

Open floor for questions and answers from participants

Addressing specific inquiries related to ChatGPT in accounting and bookkeeping
Requirements
There are no preconditions for this course.
Moderate level.
Recorded webinar made available on a specified date.
Presenter
Nestene Botha CA(SA)
Nestene Botha completed her B.Com (Hons) at North West University in 2012. In 2014 she completed her professional articles and her Master's Degree in Chartered Accountancy. She then registered with SAICA as a Chartered Accountant in 2015.
Nestene has lectured on the audit programme at the University of Cape Town. She started her own audit, tax & accounting practice which she has since grown into a reputable firm in the Table View area with 60 clients and two staff members.
CIBA Academy Support
Login to CIBA Academy
Select My Dashboard
Select Submit a Ticket to log a new query