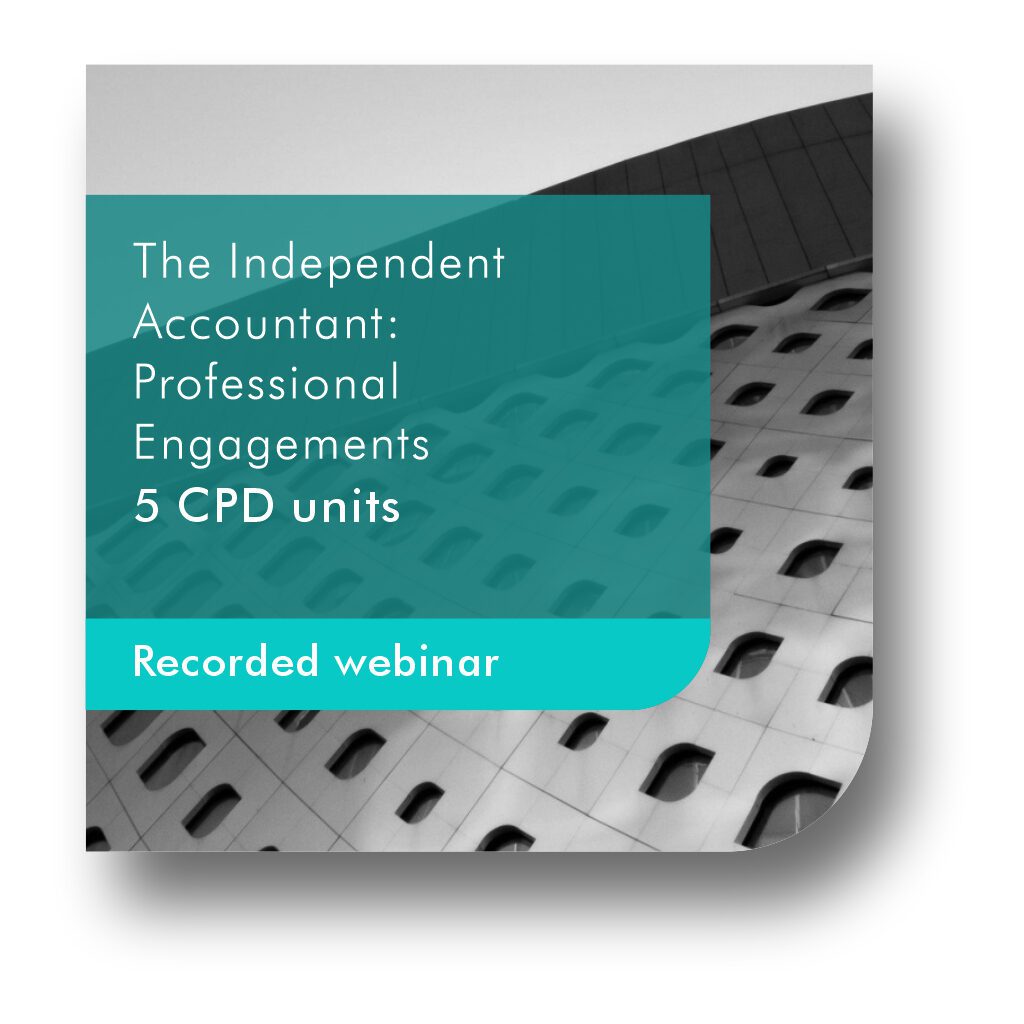 2022 The Independent Accountant: Professional Engagements
To inform participants how to perform the different types of reporting engagements with a discussion on the applicable standards for each. May 2022
What you will learn
By the end of this webinar the participant should:
Successfully implement the different types of reporting engagements.

Be competent to accept, perform, and complete the various types of reporting engagements.

Understand common law, law of contract, and relevant statutory law obligations applicable to accounting professionals in South Africa.

Apply the frameworks and standards applicable to each professional accountancy engagement.

Understand independence and other ethical considerations related to each type of reporting engagement.
Description
Although the accounting profession is not formally regulated, designated professional accountants in South Africa enjoy statutory recognition for services rendered as envisaged under various national legislation.
Statutory Recognition of Accounting Professionals:
Provisions of various Acts of Parliament apply to the professional work and engagements undertaken by independent accounting professionals, including: 
Companies Act No. 71 of 2008 

Close Corporations Act No. 69 of 1984.

Sectional Titles Schemes Management Act No. 8 of 2011.

South African Schools Act No. 84 of 1996 

Financial Advisory and Intermediary Services Act No. 37 of 2002 

Co-operatives Amendment Act No. 6 of 2013
Further, the services and reporting engagements of accountants are regulated by specific international standards and frameworks, including:
ISRS 4410: Compilation engagements (preparation of financial statements).

ISRS 4400: Agreed-upon-procedure engagements (accounting officer report on the financial statements).

ISRE 2400: Conducting independent review engagements.  
Price
Non-subscriber Ad hoc: R575.00 incl. VAT
Subscriber: Included for free in Accountant in Practice, Accountant in Practice plus Tax, Bookkeeper
Content
What is a reporting engagement?

Assurance vs non-assurance engagements. 

Audit vs Independent Review vs Compilation vs Agreed-upon Procedures.

Reporting engagement standards: 

ISRS 4410 – for compilations.

ISRS 4400 – for agreed-upon-procedures.

ISRE 2400 – for independent reviews.

Practical procedures for reporting engagements:

Accepting

.

Performance

Completion

Reports

Code of conduct and quality control requirements. 
Requirements
There are no preconditions for this course.
Moderate level.
Recorded webinar made available on a specified date
Presenter
Jako Liebenberg CA(SA) 
Jako became a Chartered Accountant and Registered Public Auditor in 2001. His entire career has been in public practice except for a stint as CFO in the Free State Provincial Government from 2010 to 2012.
Jako consults for clients across South Africa on Accounting Standards and Compliance, Broad Based Black Economic Empowerment, Tax and Business Development. He serves as an assessor in the Free State High Court of Appeals as representative in Public Practice. Jako is also a registered SAICA assessor for Trainees. 
SAIBA Academy Support
Login to SAIBA Academy
Select My Dashboard
Select Submit a Ticket to log a new query